Written by Sebastian Huhn Sunday, 29 July 2012 15:25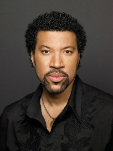 Gerry Weber Stadion, Halle/Westfalen, Germany
9th October 2012
Lionel Richie

LIONEL RICHIE today is known as the king of ballads, having loads of hits under his belts. It all started many years back with THE COMMODORES maintaining more of a funky and danceable sound. But with time Ritchie's interest turned to the romantic, emotional type of songs which surely helped his eponymous solo debut getting the status it achieved and established a reputation that lasts until the present day, decades later and with success having multiplied a hundredfold at least.


His latest milestone is the release of 'Tuskegee', an album featuring only reinterpretations of previously released songs in cooperation with various guest artists. 'Tuskegee' also is the reason for him to return to the stages of the world and especially Germany where he was last seen live three years ago, so go and grab your tickets before they're all sold.

Additional Concert Info
Doors Open: 6 PM
Starts: 7 PM
Ticket Fees: 57.20 EUR – 85.95 EUR + Pre-Selling Fees
Tickets available online at EVENTIM