Details

Published on Saturday, 02 February 2013 14:04
Written by Anne Kuhfuß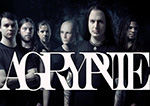 Magnet Club, Berlin, Germany
4th March 2013
Agrypnie, Der Weg Einer Freiheit & Heretoir

The "Aetas Cineris" tour 2013 comes along with the high class bands AGRYPNIE, DER WEG EINER FREIHEIT and HERETOIR. AGRYPNIE already toured Germany in the previous year but made sure that 2013 will be filled with great sounds as well. This time, they have DER WEG EINER FREIHEIT and HERETOIR on their side which promises a great constellation for an evening you should not miss!


AGRYPNIE's new album 'Aetas Cineris' will be out in February 2013. Make sure to find your way to the Magnet Club in order to listen to some new material live. Also, the band will cover cities like Hamburg, Stuttgart and Hamburg. Additionally, shows at this year's Ragnarök Festival and TNT Open Air are also on the menu.

Additional concert info
Doors: 7:00 pm
Start: 8:00 pm
Ticket fee: 12 EUR excl. charges (evening: 15 EUR)
Tickets: Trinity Concerts, Eventim

Tourdates
01.03.2013 Siegen – Vortex Club
02.03.2013 Oberhausen – Helvete
03.03.2013 Hamburg – Bambi Galore
04.03.2013 Berlin – Magnet
05.03.2013 Mainz – Kulturcafé
06.03.2013 Leipzig – Moritzbastei
07.03.2013 Wien – Viper Room
08.03.2013 Stuttgart – Club Zentral
09.03.2013 Ingolstadt – Ohrakel
10.03.2013 Zürich – Werk 21
04.04.2013 Ragnarök Festival 2013 – Lichtenfels
22.06.2013 TNT Open Air – Würzburg



Event Calendar
Search Event Tickets