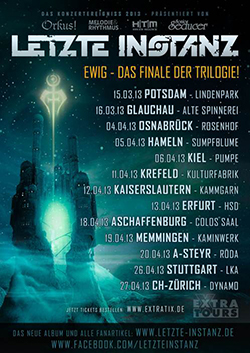 Lindenpark, Potsdam, Germany
15th March 2013
Letzte Instanz & Lost Area

The first part of the "Ewig" Tour is done but the guys of LETZTE INSTANZ are not done presenting their new album yet! 14 additional shows are coming up including the one in Potsdam. The Swiss band LOST AREA will accompany them except for the shows in Leipzig - where ZIN is opening the show - and the concert in Zürich where FEUERSCHWANZ will be the opener. For the last 15 years, LETZTE INSTANZ released several records, played many, many shows and became one of the biggest German bands. They became a band that can be found on every good festival line-up.


The last part of the trilogy is done and you should not miss the concert. The band will mainly focus on the record but also show some older material, so there will be something for everybody. The pre-sale has already started. So be quick and get your tickets as soon as possible. Whoever needs more of LETZTE INSTANZ, should also keep the 19th October 2013 in their heads. Then, the band will celebrate its 15th anniversary including special guests and a great program.

Additional concert info
Doors: 8:00 pm
Start: 9:00 pm
Ticket fee: 20 EUR incl. charges
Tickets: Extratix, Eventim

Tour Dates
http://www.letzte-instanz.de/upload/site/news/news_251.jpg