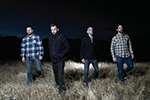 Columbia Hall & C-Club, Berlin, Germany
27th and 28th April 2013
Monster Bash 2013: Rise Against, Ska-P, Pennywise, Flag, Less Than Jake and other bands

This year's edition is offering a really great line-up: SKA-P, founded in 1994 in Madrid, are one of the most important Ska bands in Europe and surely the most famous Spanish band. The guys of RISE AGAINS, originally from California, are enchanting their audience since 1999 with their political Hardcore music, whereas their colleague from PENNYWISE are the pioneers of Melodic Hardcore. Surely an event worth to see, not only for fans of Hardcore, Punk and Punkcore, but for all addicts of alternative music!


Line-Up
Saturday
SKA-P
FLAG
LESS THAN JAKE
SPARTA
POLAR BEAR CLUB
TRASH TALK
THE FLATLINERS
ROCKY VOTOLATO
VINNIE CARUANA
THE FRONT BOTTOMS
NOTHINGTON
RADIO HAVANNA
THREE CHORD SOCIETY
SMOKE OR FIRE
TIM VANTOL

Sunday
RISE AGAINST
PENNYWISE
GRADE
STREETLIGHT MANIFESTO
TITLE FIGHT
AC4
A WILHELM SCREAM
THE STORY SO FAR
ATLAS LOSING GRIP
FAR FROM FINISHED
NATIONS AFIRE
DEAD END PATH
APOLOGIES, I HAVE NONE
TEMPLETON PEK
ANTILLECTUAL
KMPFSPRT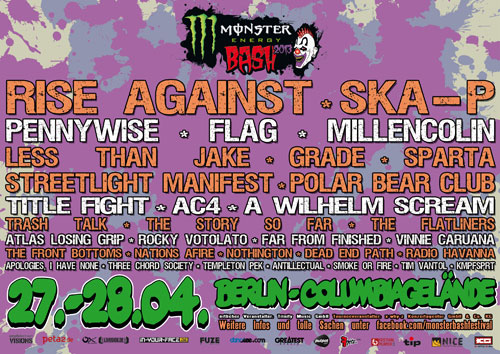 Additional concert info
Doors: 12:00
Start: 13:00
Ticket fee: 79.90 EUR
Tickets: http://www.trinitymusic.de/product_info.php/info/p5302_Monster-Bash-2013.html
Info: http://www.monster-bash.de/