Details

Published on Wednesday, 13 February 2013 20:41
Written by Daniela Vorndran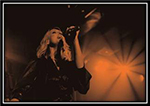 Zeche, Bochum, Germany
20th March 2013
Claudia Brücken

With her band PROPAGANDA she gain world fame. She's well-known for her contacts in music business and now she is back on stage: CLAUDIA BRÜCKEN, the First Lady of Electro Pop. She is considered THE icon of electronic music who already carved her way in the 80s with dramatic and eccentric performances.


With PROPAGANDA, CLAUDIA BRÜCKEN did not only propagandise music, but she even revolutionised music scene. No wonder when the very first single is called 'Dr. Mabuse' which is so extravagant, surreal and different that it enters – against all expectations – the Top Ten Single Charts. Just because it is new and differs from the musical monotony with new synth sounds. The first, 'A Secret Wish', today still counts as one of the best and ground-breaking electronic albums ever.

Today, CLAUDIA BRÜCKEN has 30 more years of experience, collected numerous musical contacts and is much more placid than back then. Also her new album, 'The Lost and Found', shows a lot of her ease of mind and calmness. The album was released on 11th January 2013 and will be presented live during a few selected live dated in Germany. 'The Lost and Found' [read our review] is a cover album concentrating on a lot of songs that did not get the attention they deserved when being released – at least in the eyes of Claudia and her producer, legendary Stephen Hague. Don't miss the chance to attend one of the shows!

Additional concert info
Doors: 7:00 pm
Start: 8:00 pm
Ticket fee: 25 EUR plus Charges
Tickets: http://www.LB-EVENTS.de
Information: http://www.zeche.com/konzert.php?nummer=10

Tour Dates
20.03.2013 – Bochum, Zeche
21.03.2013 – Frankfurt, Nachtleben
23.03.2013 – Berlin, Postbahnhof
24.03.2013 – Hamburg, Grünspan



Event Calendar
Search Event Tickets