Details

Published on Friday, 22 February 2013 18:35
Written by Daniela Vorndran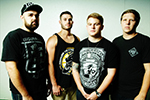 Tuscaloosa, Alabama's melodic hardcore band Gideon have just finished the Fight the Silence tour with For Today and Memphis May Fire and are gearing up for their European headline tour in March. The band will be joined by Fathoms and Here Lies A Warning, kicking off their run of dates in Blackpool (UK) on March 1st. Vocalist Daniel McWhorter shares: "It seems like when we are on tour and Europe gets brought up, all everyone can talk about is how amazing the people are there. Bands that have been there, talk about how nice and welcoming people are, but then also talk about how insane they can get at shows. I am beyond stoked to finally get the chance to experience what all my friends keep telling me about."


Die-hard fan Marco Müller from Germany comments: "FINALLY! The first album was outstanding, and now the second album was released a few months ago, it is about time they come over!" Tim Houtman from the Netherlands adds: "Looking forward to a mic grab and sing along to Brave New World!" The band released their highly anticipated album Milestone last summer viaFacedown Records, after spending time in the studio with Brian Hood. The band clearly matured as songwriters and performers, and received acclaim from international press all-over: "The sound is huge and the music sticks together damn good" - Aardschok (79/100).

Gideon's European tour kicks off in Blackpool (UK) on March 1st, and leads the band through seven countries in the days to follow. The stretch of dates will be rounded up at Satan's Hollow in Manchester (UK).

Gideon European Tour Dates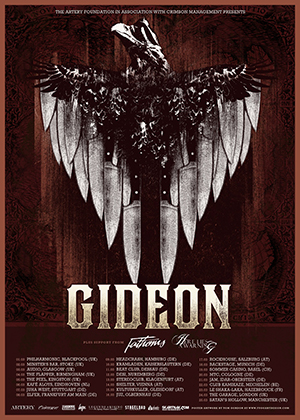 March 1st @ Philharmonic, Blackpool (UK)
March 2nd @ Minster's Bar, Stoke (UK)
March 3rd @ Audio, Glasgow (UK)
March 4th @ The Flapper, Birmingham (UK)
March 5th @ The Peel, Kingston (UK)
March 6th @ Kafee Aloys, Eindhoven (NL)
March 7th @ Juha West, Stuttgart (DE)
March 8th @ Elfer, Frankfurt Am Main (DE)
March 9th @ Headcrash, Hamburg (DE)
March 10th @ Kramladen, Kaiserslatern (DE)
March 11th @ Beat Club, Dessau (DE)
March 12th @ Desi, Nuremburg (DE)
March 13th @ Stero Club, Klagenfurt (AT)
March 14th @ Shelter, Vienna (AT)
March 15th @ Kulturkuller, Gleisdorf (AT)
March 16th @ Juz, Olbernhau (DE)
March 17th @ Rockhouse, Salzburg (AT)
March 18th @ Backstage, Munich (DE)
March 19th @ Sommer Casino, Basel (CH)
March 20th @ MTC, Cologne (DE)
March 21st @ Jam, Idar-Oberstein (DE)
March 22nd @ Club Kamikaze, Mechelen (BE)
March 23rd @ Le Shaka-Laka, Hazebrouck (FR)
March 24th @ The Garage, London (UK)
March 25th @ Satan's Hollow, Manchester (UK)

In addition, Gideon have released a brand new video for 'Bad Blood', off of their Facedown Records summer release Milestone. Filmed in the allegedly haunted boiler room of a North Carolina civic center, the video has a dark undercurrent that perfectly suits the mood of the song and makes a compelling backdrop for Gideon's provoking lyrics. Check out the video for 'Bad Blood' here.

Connect with Gideon through: Facebook / Twitter / Spotify



Event Calendar
Search Event Tickets