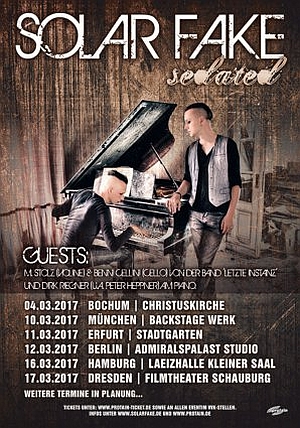 Admiralspalast - Studio, Berlin, Germany
12h March 2017
Solar Fake - Acoustic Show "Sedated Tour 2017"

SOLAR FAKE means Electro, full dance floors, club hits, melodies that you never forget and a distinctive voice. Sven Friedrich and André Feller have often proved that they can bring the audience to boil on every stage in the world. But what if unplugged?
Sure! Already in 2014 on the ship of Amphi festival and at two secret fan club concerts, this very different version of SOLAR FAKE performed with huge success. With M.Stolz (violin) and Benni Cellini (cello) from the band LETZTE INSTANZ and Dirk Riegner (among others Peter Heppner) on the piano, three exceptional artists have joined the duo. Songs from all of their albums and, of course, some cover versions by this new guise will be performed at extraordinary locations.
It is not bombastic, but intimate. Not a big orchestra, but five musicians who love what they do. This tour is named after the bonus album, 'Sedated', which accompanies the fan box of the current album 'Another Manic Episode'. It contains piano versions of most songs from the album. The "Sedated" tour 2017 is not just a must for sunbathing fans. Do not miss these concerts!
Additional Concert Info

Starts: 8:00 pm
Doors: 7:00 pm
Tickets: can be bought for 28.60 euros at
https://www.amphi-shop.de/display.0.6.198.1.html
Info Event:
http://www.berlin-buehnen.de/en/schedule/solar-fake-acoustic/events/134524/?locations=53
Info Solar Fake:
http://solarfake.de