Raffle
Written by Daniela Vorndran Tuesday, 27 August 2013 12:56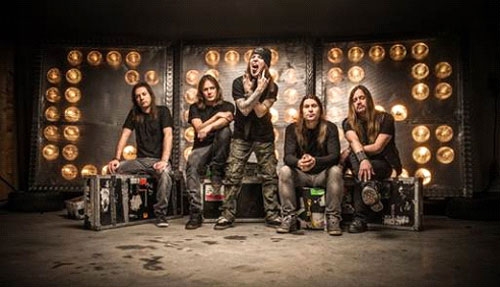 Postbahnhof, Berlin, Germany
2nd October 2013
HALO OF BLOOD OVER EUROPE 2013 - CHILDREN OF BODOM + INSOMNIUM + MEDEIA

Founded from youngsters in 1993, CHILDREN OF BODOM were already causing a stir in worldwide music scene with their debut album, 'Something Wild'. That was the beginning of a success story for the Finnish quintet. The last four albums reached position 1 in Finnish album charts. All albums of the band reached gold status, 'Follow the Reaper' even Platinum. Besides that, the band was extensively touring and played all big festivals like Wacken, Hellfest, Graspop or Bloodstock.


Written by Daniela Vorndran Tuesday, 27 August 2013 12:13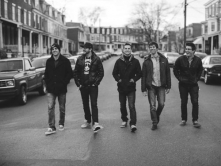 AUGUST BURNS RED – Dynamic in Metal! The US Metalcore band currently has released their sixth studio album and comes to Germany for nine concerts in September and October. The band rose Metalcore to a news level. Their third album 'Constellations' from 2009 made it to position 24 in US Billboard Charts. The 2011 album 'Leveler' even climbed to position 11 in USA and had high positions also in England and Scandinavia.


Written by Daniela Vorndran Monday, 10 June 2013 17:48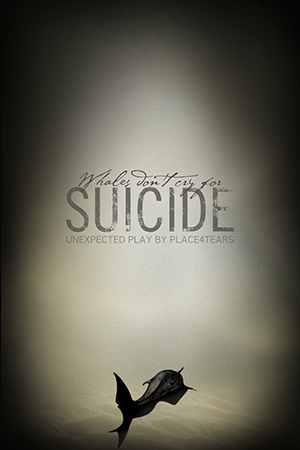 Somewhat undecided between a completely new album and a new compilation, PLACE4TEARS mastermind Tyves Oben decided to simply combine the two and finish his 10-year-project at the same time. That's how 'Whales don't cry for suicide u.p.' came about. A PLACE4TEARS compilation album which consists of the typical sound backdrop, cover and remix versions of their last long player 'The Silent Flame'. The musical spectrum ranges from Darkwave / Shoegaze and old school gothic rock to aggressive industrial parts that remind you of Nine Inch Nails. Today, we are giving away three albums 'Whales Don't Cry For Suicide u.p.'. If you like to win one of them, please send an email until 25th June 2013 with the headline "Place4Tears" to This e-mail address is being protected from spambots. You need JavaScript enabled to view it and include your full name and your postal address. Winners will be notified. Good Luck!


Written by Daniela Vorndran Thursday, 06 June 2013 14:02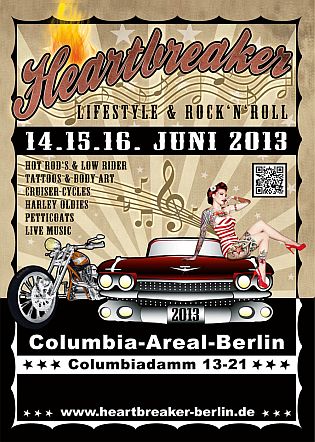 In the middle of Berlin, a very special festival will take place from 14th to 16th June at the Columbia Area: the Heartbreaker Festival bringing back the good ol' times. It is an event for all Rock'n'Rollers enjoying Old-school with especially selected vehicles like Hot Rod & Low Rider Cars, Harley Oldies and Cruiser-Cycles. Ladies have the chance to dress with Petticoats and also there will be styling for the men available. You'll have the chance to get fresh tattoos by 20 tattoo artists. And last but not least, there will be an extensive musical program with different live bands of the 50s, 60s and 70s. Just a weekend with everything the heart could wish for: music, food, drinks, cars, dance, show and lots of good mood!


Written by Daniela Vorndran Wednesday, 05 June 2013 10:07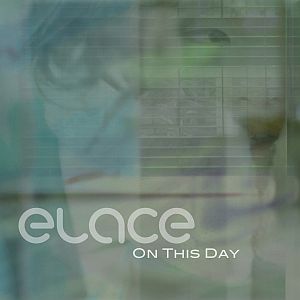 Only a few weeks ago, Hamburg based band ELACE was touring together with MESH. Now on 24th May 2013, the band released the new 5-Track EP 'On This Day'. The EP offers fine electronic Indie-Pop being danceable and guarantying good mood with the title track, followed by the individual club piece 'Well (This Is How I Always)'. 'Infinite Garden' is a calmer and dreamy melodic-hymnal instrumental. As little present for the fans, ELACE added a live version of their song 'Home', recoded during their support tour for DE/VISION in Hamburg last year. Last but not least, the EP offers the shortened Radio version of 'On This Day'. Today, we are giving away five EPs 'On This Day'. If you like to win one of them, please send an email until 20th June 2013 with the headline "Elace" to This e-mail address is being protected from spambots. You need JavaScript enabled to view it and include your full name and your postal address. Winners will be notified. Good Luck!

Check out the band at their YouTube Channel: http://www.youtube.com/user/ELACEme



Page 1 of 2
«
Start
Prev
1
2
Next
End
»