Interview with

Rob Miller (lead vocals) of Amebix

The facts are these: after a hiatus of more than 20 years AMEBIX came back with their latest CD 'Sonic Mass', which was one of the greatest Metal releases in 2011. We've had the chance and the pleasure to discuss with Rob Miller, the lead vocalist of the band, about their past, their new CD, the plans for the future, swords making and the Scottish referendum.


Reflections of Darkness (RoD): It took the band 24 years to make another album. Can you give us a brief description on what followed the 'Monolith' (1987)? Do you think there were deeper issues that caused the hiatus and prevented the band to release new material within these 20+ years?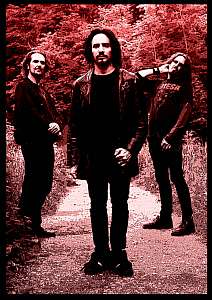 Rob Miller (Rob): Yes, I do believe there were deeper issues, Stig and I are brothers which can make working together difficult at times, I think that can both add to the creative process and also be an obstacle, I guess these same issues have come around again, but ultimately we have managed to achieve something we are both very proud of. Back in 1987 it seemed that we were the only people who wanted to hear AMEBIX, the sound was simply not acceptable to a broad audience at all, we sort of made our own ghetto really ,it wasn't until years later that our type of music became the template what we now call "metal".

RoD: Usually when a band re-unites after so many years the results often don't match up to the expectations, new tensions are created, how did you avoid this?
Rob: I don't know if we started off with any expectations, everything that happened since we came back together was a surprise really, we didn't set out trying to be a carbon copy of our younger selves, but instead we wanted to find out what it was that AMEBIX had leant individually and collectively in all those 20 or so years.

RoD: You used to sing about themes more closely related to Anarchy and yet in this album you seem to have infused mystical Christian beliefs with Old Norse imagery. How this amalgam became possible?
Rob: I think the more esoteric lyrical imagery has always been at the forefront of AMEBIX, ever since Winter, we have never had a particular temporal political outlook, but through association people expected something of the anarcho-punk from us which is not really there, if you read the lyrics throughout the years there is always a slightly different perspective, a concern with more perennial issues than party politics, a desire to understand our place in the universe, not just in society.

RoD: What was the progression from your older style to the way your new album has breached into new levels and utilised more genres?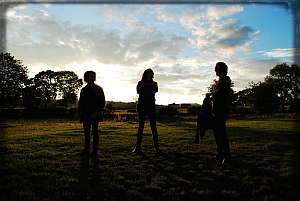 Rob: Nowadays we are playing with a professional drummer, who is also a producer and engineer. Roy has brought a lot more focus and discipline into the way we are writing as well as understanding the landscapes that we were always trying to portray. For myself I have had no exposure to new music for almost 20 years, as I simply did not listen to anything or have access to anything new once I disappeared to Skye, so I do not have a genre influenced perception of our newer music.

RoD: How has your influences changed over the years and what inspires you nowadays?
Rob: Many of the influences that I had as a young man are still with me, there has been very little recently that has inspired me, I look for depth and soul in music, at the moment I am listening to a lot of Choral work, the Rustavi Choir, some Monteverdi.

RoD: I have been especially awed by 'The Knights Of The Black Sun', can you tell me more about the creation/composition of this song?
Rob: This song really appeared at the end of the writing for the album, I thought we had everything and then one day just started to play a simple tune on the bass, which really stays pretty much constant throughout the song, a gradual building of intensity. I anted to introduce a very visual element into the lyrics that would take us on a journey, a condensed Saga really. The idea was to convey the sense that the corrupt forces of this World are ultimately impotent against the strength of the Human spirit, how the buried evil of the Nazi ideology is trapped under its own ice, how a desperate sense of disconnection and loneliness is the driving force for evil men, and the desire to withhold the truth, that we are free.

RoD: Can you tell us more about your cooperation with Andy Lefton and Fin McAnteer? The video clip of 'Knights Of The Black Sun' was created upon your specific ideas or even your guidance or they had complete artistic freedom?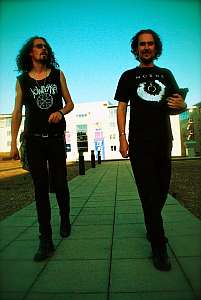 Rob: I did some initial sketches for the idea, Andy brought these to life, at times some of the imagery was very literal but I think it works overall, Andy and Fin really gave so much of their time and effort to that, we had no money to spend on anything, so it was about good will and friendship and the ability to return after 24 years with a brilliant animation rather than a standard rock video.

RoD: How have you perceived the differences in the music scene and/or the music industry?
Rob: Obviously I am becoming aware that people don't pay for music anymore, and the result of that is that they do not engage with it so deeply either, in my opinion, no investment makes everything more frivolous, this is something that will result in a decline in the artistic merit of music, also ultimately in internet censorship and the curbing of the freedom of information.

RoD: Considering that downloading is a more anarchic aspect, what's your opinion on the present pressures to curb it together with some other freedoms internet has presented? It's a controversial issue for many bands as they want to make a living out of the sale of CDs yet they criticise the capitalist aspect of society at the same time. What's your take?
Rob: As I said above, I don't think free downloading has any positive side to it, apart from maybe a taste of a band's songs, but most people simply don't buy if they like, they just keep their free download, the band never gets anything back so consequently they cannot invest in making music the way they may want to. Sonic Mass leaked three days before release, and within 24 hours it was everywhere, then I start to read peoples criticisms based on an album that they stole for free, as I pointed out at the time ,that is like someone stealing my car and then phoning me up to tell me it drives like shit. This is the product of a spoiled society which expects everything for nothing, it makes the listeners experience shallow and meaningless unless they have had to make some kind of commitment to the music. I am a sword-maker; I do not have people demanding that I make them a sword for nothing; they invest in my art so that I can continue that and continue to evolve as an artist, that's the deal.

RoD: What is your opinion regarding Scotland's referendum for its independence? As I know it is something that troubles many Scottish.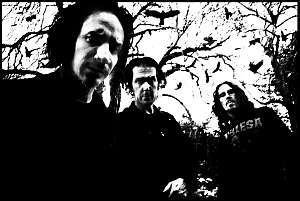 Rob: When the underlying issue is fundamentally one of Racism then I do not have any support for the idea of Scottish independence, I see this whole Country as my own, the British Isles, this is the place of my own connection to the realms of Myth and mystery, it is not a 'Country' or 'countries' these are ideas perpetuated by the same people who govern all over the World, greed, money and power dressed in some ridiculous costume of a fabricated national identity. This is all my land in a spiritual sense, it does not belong to any clan or family, and it belongs to us all. Nationalism is an ignorant and divisive idea; it is at the root of so much that is wrong in this world.

RoD: I've read that you are a self-taught sword smith. Can you tell us what got you into it and what it takes for a good sword?
Rob: I have been making swords here for over 20 years, this is what I turned to after AMEBIX split the first time, I turned my back on the World and came here. www.castlekeep.co.uk

RoD: What are your plans for the future?
Rob: I would like to continue writing music. 'Sonic Mass' has been a deeply enriching experience for me which I aim to pursue further.

RoD: Thank you for this interview!

Pictures by Fin McAteer