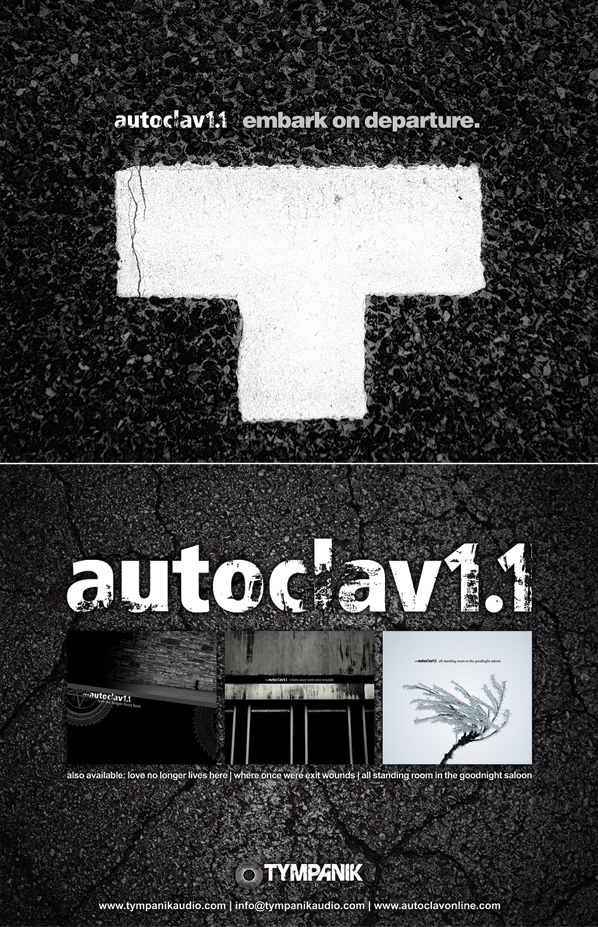 Interview with

Tony Young of Autoclav1.1

With the new album 'Embark On Departure' released this March, an era comes to an end for Tony Young's AUTOCLAV1.1. I got together with Tony to learn about past, present and future of the project as well as about some interesting bits and pieces that I hope you will enjoy when reading the interview.



Reflections of Darkness (RoD): What was the impetus for you to start Autoclav1.1 in the first place?
Tony: To be honest mate, it just happened. I had worked for labels in the past and wanted to do something myself. When I was in my early teens I always wanted to be in a band, I used to look at old Iron Maiden vinyl and told myself that one day I would have an album out too *laughs*. It took me until 2004 to just start looking into working on stuff myself and I just thought "hey, I can do this too", as I already could play instruments and stuff... I had a go and here we are seven albums later.

RoD: Why calling the project Autoclav1.1? What's the intention of choosing that name?
Tony: An old question, but I will let you off *smiles*. I don't know now to be honest, I think at the time I was thinking of sterilising music or something like that. It just became a name. I don't particularly care for it now if truth-be-told. Hey ho...such is life.

RoD: Is there a specific reason you chose to play the piano
Tony: Not really mate, I did a bit on an old track 'By my Own Admission', and it went from there. I just really like piano. You will see less of it from now on; I have different ideas for the future.

RoD: What do you think is most difficult about working primarily without others, or do you feel it's rather an advantage?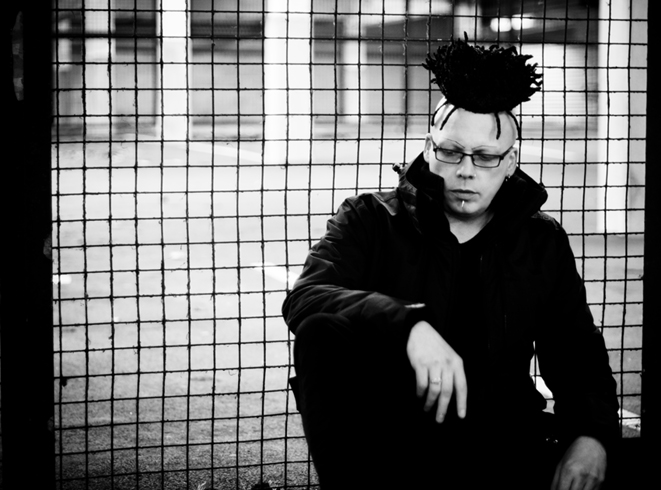 Tony: It's definitely easier. I don't think you will find one electronic artist who isn't a control freak at heart when it comes to writing. I like having input sometimes, as you will have seen from guests on my releases. But even then it's me asking them to write something and I change it and fold it into my songs. It is an advantage because there is no one to argue with but you.

RoD: You recently mentioned a theme that goes throughout the four albums, starting with 'Love No Longer Lives Here'. You wanna tell us what kind of theme that is?
Tony: Well after the first two albums, I tied them together with the remix album. I then went on a different route with a different idea for progression. Each of the last four tells a different story, but musically they tie in together with subtle changes on each and they are all based around different emotional states. The idea is that you can pick them up individually, but if you had the time or mental frame of mind to do so then you could play them back to back and it would make sense. It's cool they tie in together on the same label too, Tympanik are wonderful.

RoD: 'Embark On Departure' is the album closing that circle. Are there already plans for the next one and if so, what's it going to deal with?
Tony: There is, and it will take some time I reckon. I already have 12 song titles and the album has a working title of 'Pledge'. It will be a lot different musically, less, if hardly any piano and other ideas I have will take precedence. You will have to wait for the theme... I want to see how it pans out first. It will not tie in with the last four and is a new phase. I have some people wanting to do me limited vinyl EP's too to discard of unused tracks, which hopefully will make an appearance at some point.

RoD: While listening to the album, I felt there are a great deal of connections to time itself like time that is forever lost, waiting too long for something that never happened, remembrance of the past. Was that a source of inspiration for the album for you?
Tony: Ahhh, it's cool that the new album invokes peoples' own interpretations of it. Actually as you are aware now, the title ends a run of four albums, hence 'departure'. It does evolve again round personal emotions and life experiences and I based these experiences around time, hence 12 tracks, like counting down on a clock face. I think it's best however if each listener has their own interpretations and personal references when they listen, so if it means something individual to you, keep it that way. It's nicer.

RoD: While we're at it, how do you go about composing an album or a track in particular?
Tony: It's different each time mate. I will be at home on the keyboard composing a melody maybe, or just faffing around with beats and something happens and it all comes together. Or I will be travelling and a tune pops in my head and I go home and lay it down.

RoD: How does the artwork of the new album connect to its theme?
Tony: I am lucky to have had the input on the last three from Stefan Alt (Ant-Zen/Hymen). I told him the tracks and album details, gave him a brief and he came up with these amazing images that just work. He got this one from a runway I think, an image on tarmac... it works and that's all that matters to me. I wouldn't want anyone else doing my album art now... he's a great person to deal with and talented as well.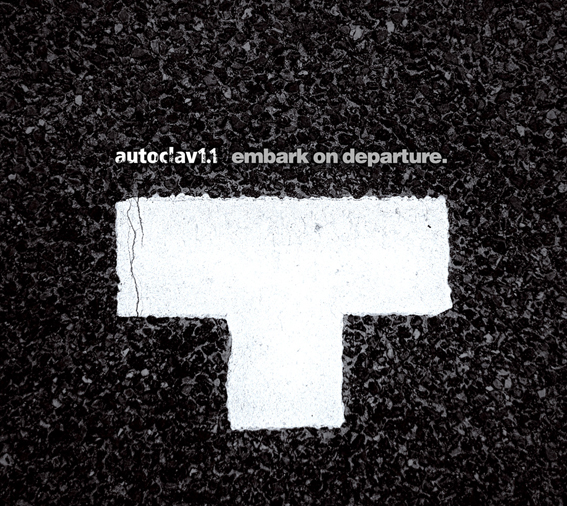 RoD: 'Scars' features vocals of Claus Larsen. Why did that particular song need a vocal contribution?
Tony: Well, it probably would sound pretty crap without it *laughs*. I wanted to do an old school industrial track and Claus is an awesome person who can lay down lyrics and record in no time at all. I sent the track, he got the vocals done and sent back to me to lay down in like a day or something... I have a lot of respect for Claus.

RoD: Are you planning on incorporating acoustic drums at some point in the future? I mean, you had bass and guitar already, so it would be a logical move.
Tony: There already are acoustic drums on the last four albums in places *smiles*.

RoD: As someone whose unfortunately never had the chance to attend one of your live shows. Are you performing alone, or occasionally inviting guests on stage?
Tony: Mainly alone mate. A long time ago I let some guy do visuals next to me on stage but he never changed them and they were pretty rubbish so I got rid *laughs*. My mate Kev played synth for me a couple of times and that was fun. Jamie from ESA played at a gig on guitar once. Luckily the promoter did a shit job and it was just after new year so there wasn't that many there as everyone was broke, Jamie and I drank a bottle of Jack Daniels and we were all over the shop, fun though even though the show was rubbish and me and my mate Doc stole the other bottle off Jamie other at the end of the night; messy.

I think if I did another big show I would probably get Kev and Jamie in again. Would be nice to do two songs with Claus singing someday or pull in other mates too. I don't know, logistically I want to do more shows abroad and it costs less to just bring me, I aint a rock or pop star and don't want to be like some of the people in the scene with misconceptions they are famous (which they're not) and insist on tons of cash. Just get me there and I will do the rest and we can get drunk after or something.

RoD: On a related note, is it more difficult playing alone or doesn't it make any difference at all. How are the crowd's reactions?
Tony: It can be difficult mate although I tend to try gage a reaction. When I played Infest I threw beer and T Shirts into the audience and yelled at people, it worked. Depends on the place and type of crowd really, I have seen insane drunken industrial dancing to Goth's clapping, to IDM geeks nodding their heads making a mental note of everything I am doing with a list of questions to bore the hell out of me later when we could be having a beer. I only care for electronic geek chat when something's not working or arguing that Macs are better than PC's (which they are), not what new patch Ableton has or what new amazing lead fits into what *yawns*. I would much prefer to talk about bands I like, or boxing, Formula 1 or Hammer Horror *laughs*.

RoD: Any chance of some live gigs in Germany in the near future?
Tony: Find me one *laughs*. Played WGT and that was weird as it was a seated venue, which was a challenge as I came out to people sat in a theatre ready for a play or something. The promoters heard my slow ambient numbers and thought that's what I was all about. I have spoken to people, I would like to support Xotox over there or something, or I am merely open to offers. It is hard getting time away to do these things though. If people ask, I will be there.

RoD: That's it from me. Any last words?
Tony: If you are reading this, buy my album. In fact buy all the albums from everyone on Tympanik Audio as it's one of the most quality driven labels out there. Like the plug Paul? Love you. Thanks for the interview Sebastian mate; it's appreciated.
Photo courtesy of Nad