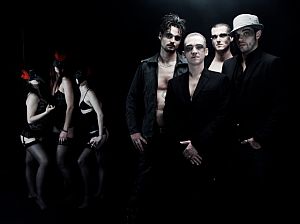 Interview with
V.V. Arkames and V. Orias A. of Ad Inferna

I was lucky enough to interview two members of AD INFERNA, French band, whose style can be described as an intricate combination of industrial and EBM with some elements of gothic metal. The band's latest work 'Trance :N: Dance' will be soon released in Germany and in the light of this event I caught up via email with V.V. Arkames (VVA) and V. Orias A. (VOA) to talk about the album, their music in general and also discuss some near-musical subjects.
Reflections of Darkness (RoD)
: Your album was released in September. So how do you feel about it right now? Are you satisfied with everything or do you want to go back in time to change or improve anything?
VVA
:
First of all, 'Trance: N: dance' will be out in Germany in few days as well: Soulfood Music has planned the release date for the 29th of January 2010. Overall, I'm pretty happy with this album but if I had the possibility to go back, I would vary several details. As modifying some vocal parts, adding more effects on its or a few Synth lines that have disappeared. And we have evolved musically since we made these songs… imagine that all the tracks were composed since august 2008!
RoD
: If you compare 'Trance: N: Dance' with the previous album, what can you say about the band's progress?
VOA
:
'Trance: N: dance' has been a kind of "test" for us, we didn't have anything to lose and we would like to make the music we wanted to play before our 7 years of silence. 'L'Empire des Sens' was the aggressive and mystic part of AD INFERNA; it was a kind of "passion" that we have released with this album. Several years later, we had evolved, took some "maturation" and 'Trance: N: dance' was the proof that you could make EBM in playing some real guitars, real drums and with real musicians. Right now, we have still evolved, and we will once again make a little more for the next opus. We don't want to rest over here.
VVA
:
Yes, I think so. We're evolving each time we're creating new stuff or remixing tracks for other bands. Above all, we mainly have no limits! We only do what we want, what we like and what we are… not what we're supposed to compose. I think you'll understand what I mean when you listen to our new songs. It's like a travel inside of ourselves: so intense, so dark & sad! But I think, our public is the only one who can tell if we're really doing real progress or not, ah ah.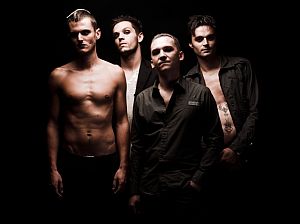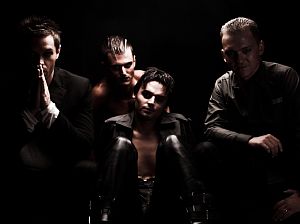 RoD
: What is more difficult for you, record your own songs or make cover versions?
VOA
:
Both are complex, both ask a lot of creativity. I wouldn't say "difficult" but more "interesting". In this case, I would like to tell that the most interesting activity is of course to compose new songs, but I have to admit that covering songs is as well fun…
VVA
:
No cover versions will feature in our next album.
RoD
: How would you personally describe your sound?
VOA
:
Unique *lol*
RoD
: Who is responsible for lyrics in your band?
VVA
:
That's me.
RoD
: Is there someone you would like to work with or share a stage with?
VVA
:
Honestly, I'm already happy to work with Vasi Vallis (FROZEN PLASMA, REAPER) as producer on our next album. And to cross the way of talented & nice guy as Magnus of COLONY 5, Stefan of BEBORN BETON or Kolja of SOMAN is already a great adventure for us. I would like to work with Simon Posford (HALLUCINOGEN, SHPONGLE), Ben Watkins (JUNO REACTOR) or …. David Gilmour (PINK FLOYD): a dream?
VOA
:
Scarlett Johansson
RoD
: What made you decide to become a musician?
VVA
:
An album like 'Wish You Were Here' (PINK FLOYD) gave me so many times pleasure, dreams, fears… that I was sure I can't spend my time only listening to good stuff. I told myself I had to give all I have to those who are like me and feel things like I do. Perhaps the wish to change the world as much as I can too!
VOA
:
I've begun drum lessons when I was 6 years old, then piano, guitars and keyboards, so I've never decided to become a musician; it's because of my mother. *lol*
RoD
: Who was the person who most influenced you, and how? Who are your idols if you have any?
VVA
:
Carl McCoy (FIELDS OTN), Andrew Eldritch (SOM) or Dave Gahan (DM) perhaps.

RoD
: What is your favourite song of all time?
VVA
:
So hard to say… It's changing all the time you know: 'Marian' of THE SISTERS OF MERCY is probably one… and 'Last Exit for the Lost' of THE FIELDS…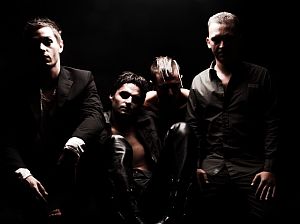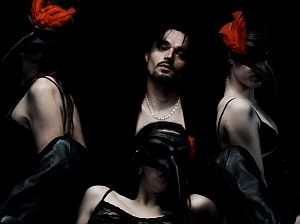 RoD
: What's your most embarrassing experience?
VVA
:
All the shit some few people in the French music industry have said when we have taken the decision that AD INFERNA will get back to life in 2008. Now, I admit that the wheel turns and it pleases me enormously!

RoD
: What's your proudest achievement?
VVA
:
Our next album… so proud of it & love it so much!
VOA
:
I agree.
RoD
: Your band consists of five people. Could you please tell us a bit about each of them?
VVA
:
Ok, things are changing so rapidly in AD INFERNA! Actually, we're only 3 permanent members: VOA (composer and musician), VNA (drummer for the gigs) and me (vocals and lyrics). Some musicians like Asphodel are session-members: some others will momentarily take part of AD INFERNA for shows or if we go on tour.

RoD
: What's the weirdest thing someone has ever asked you?
VVA
:
To pay 4,000EUR to get a RMX… by FRONT LINE ASSEMBLY?!
RoD
: And is there any question you want to answer but have not been asked before?
VVA
:
Are you really mad or is it a character that you play? Unfortunately, I'm.
VOA
:
Yes, I would like to answer to the following question : "why have you decided to sign for this tremendous record company ?"
RoD
: If you could be in any reality show what would it be?
VOA
:
The Kinetics X story.
RoD
: Are there any films or books that you can't understand why you ever liked?
VOA
:
Can't understand? Hmm… nope! I always understand why I like a movie lol but yes, why not "Match Point". I rather can't understand why I so liked this movie as I hate Woody Allen but I rapidly understand when I look at it again.
RoD
: What was the last occasion on which you suffered guilt?
VVA
:
Some months ago. I think I was too nice and this behaviour allowed a bastard to escape the responsibilities of what he's done to me.

RoD
: And how does your typical day look like?
VVA
:
Actually… like hell. Except when I spend time for the persons I love & of course to AD INFERNA. Hope we'll have the opportunity to play all day & night long music and that AD INFERNA will become our full time job.
RoD
: And what are your musical preferences?
VVA
:
The musical genres I prefer? Synth Pop / EBM / Psy - Goa trance & ambient.
RoD
: If you had only three colours to draw your reality what colours would you choose?
VVA
:
Red, blue & silver.
VOA
:
Black, red, white (yes, white is a colour).
RoD
: And finally please tell something to people who will read this interview.
VVA
:
Many thanks to you Nataly for this interview & to Reflections of Darkness for supporting AD INFERNA. We're actually working hard on RMX for bands you'll probably like but surprise! We'll tell you more in few weeks. In the meanwhile, I hope our German friends will like and buy 'Trance: N: dance'! 'Redemption' (REAPER "BUM" RMX) will burn in few days the dance floors…
{jos_sb_discuss:21}