Interview with

Vincent Vega (vocals, guitars, synthesizers, drum machines) from Hate Inc.

First time I have listened to this band a few years ago, during selecting a line-up for CyberFront Festival, found them good, unusual, powerful, young and aggressive. I was very happy to meet the guys in Kiev and we had a great time together. And now after a few years I have met Vincent again, this time in Rome. Many things have changed in this time, and it was too much to discuss, especially when a new album is released.


Reflections of Darkness (RoD): It's already one year ago since you have played on CyberFront Festival 2012. Currently it's the last CyberFront Festival. What have changed for you in this time? (Watch a video from show in Kiev!)
Vincent: One year is already gone but we're still there at the Bingo Club having fun with all the staff of the CyberFront and with our great friends Project 2501, one of the bands who shared the stage with us. That was our first abroad experience and really changed us all: great concert, famous headliner, lovely people. Obviously that was a great step in HATE INC.'s story that helped us growing up professionally and personally.

RoD: Do you like your time in Ukraine? Do you want to come back? What were your highlights about this trip?
Vincent: As we said before, we had great time in Ukraine and obviously we'd love to come back there as soon as possible :-)

RoD: What will expect as in new album? I know that Victor Love (Dope Stars Inc.) has taken a part in work on it. Tell us more about this.
Vincent: Bipolar Spectrum Disorder is an "higher level album" in Victor's opinion. In our opinion it's certainly a different album with many influences coming from each one of us. There're different songs and also different sonorities, in fact we decided not to use same sounds for each song, such as the drums that are sometimes real and sometimes they're not. We recorded a bunch of stuff during its session but only 12 were been selected. We think Victor made a great job as he did with our first album (Art of Suffering). For this work he decided to get totally involved in it, even in drums recording session! Then he proceeded with the editing and the mastering of it. It's been a long time working for this album contrary to the first one that was pretty fast.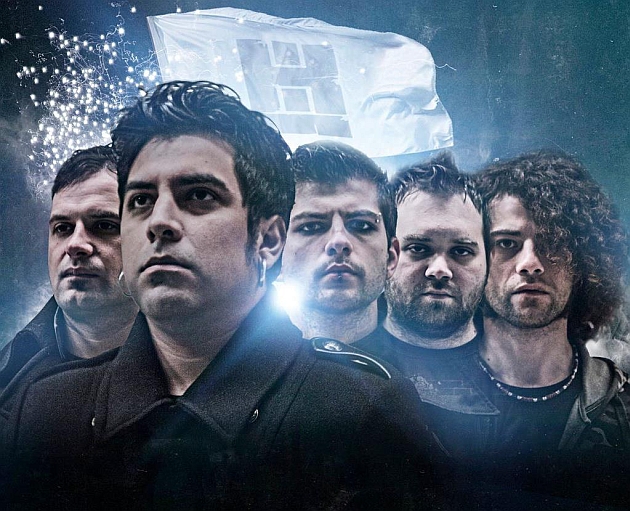 RoD: I have seen the picture of cover to your new album and find it very, very good and unusual. Who has made artwork for you?
Vincent: The artwork was made by Paolo Soellner (Klimt 1918) who is a great artist in our opinion. He also worked for Dope Stars Inc., Spiritual Front, and many others for whom he made great works and that's the reason why we decided to engage him for this album. We also found the way he works as unusual as efficient! He asked us nothing about our artwork's ideas but only the tracks and lyrics, then he made it just listening to our music. A real artist, a warranty.

RoD: Do you plan new Videos to new album?
Vincent: Yes, at the moment we are involved in promoting the new album, but the next step will be thinking about making a new video and it's very difficult to decide which of the songs would be the chosen one… However we have a couple of choice such as Eternal Return, No Love and Deathfloor that could be good for this scope.

RoD: I have a small question about your video 'Art of suffering'. I this moment when a man sitting and smoking is it a body in plastic in a background? Who was the author of idea for this Video? This song was the first one that I have heard and I like it so much.
Vincent: Hm, actually there's no body in plastic, maybe it's an optical illusion because of the claustrophobic location, but it could have been a good idea indeed!

RoD: Where do you prefer to perform a show on festivals or small concerts?
Vincent: Festivals or small concerts, the most important thing is to play and have fun! Last year we mostly spent time in studio, but now it's time to play. So get ready, HATE is coming back on scene!

RoD: Alternative scene in Italy is not very big and most part of musicians knows each other. Which bands are your friends? Have you ever thought to make something together with some of them?
Vincent: We are really close friends with many bands, especially from south Italy (the zone where we came from), and we really support us each other, just watch our friends who have recorded some viral teaser for our new album. No envy, no competition just sincerity and support. Here in the roman scene one of our best friend is our producer Victor Love, actually a brother.

RoD: Do you have a band that has mostly inspired you?
Vincent: Absolutely yes, but more than one: Ministry, Rammstein, Nine Inch Nails, Marilyn Manson, Killing Joke, Korn and... Nirvana.

RoD: Your plans for nearest future?
Vincent: We want to spread our new album as much as possible and play as much as possible. We also want to start thinking to our third album. We never stop our creative process, and we already got some rough songs.

RoD: I have heard that alternative scene in Italy has no perspectives. I have heard this from musicians that have moved to other countries. What do you think about this? Never thought to move to another country?
Vincent: The situation in Italy it's not so funny for underground bands: it's not easy to play, it's not easy to have spaces on TV or music press (if you are not an easy listening product). But we think nowadays, being in a particular place is not so important as it was in the past, internet has destroyed distances and social networks give you the possibility to being in contact with supporters who live in the other side of the planet. We just have to continue to work hard and never give up!

Website: http://www.hateinc.it/ / https://www.facebook.com/thehateinc
Song from new Album: https://www.youtube.com/watch?v=_scBmxQCiaA

Written by Daria Szegeda (Ukrainian Gothic Portal). The Russian version of the article is available here.
Band photo: Roberto de Giorgio
Photo edit & graphic artwork: Paolo Soellner