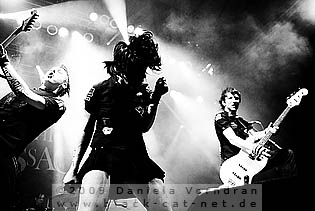 THE BIRTHDAY MASSACRE' s singer Chibi was just asked a very special task: Well known WWE-Organisation (World Wrestling Entertainment) asked her if she'd like to add her powerful voice to the theme song (entitled "Hurt You") for girl wrestler Katie Lea Burchill (
http://en.wikipedia.org/wiki/Katie_Lea
). Chibi confirmed and flew to NYC where a limo from the WWE picked her up and took her to their headquarters to record her vocals. A short impression of the result is available here:
http://www.youtube.com/watch?v=09vxh-t7elM
In her MySpace blog (
www.myspace.com/darth_mittens
), Chibi comments on this great opportunity:
"So check this out. When I was a kid, I was totally into WWF Wrestling. You know, Rowdy Roddy Piper, the Ultimate Warrior, the Undertaker... ahhh, the Undertaker!! Hehehe!!! (I actually saw the Undertaker and the Ultimate Warrior when they were a tag team once here in Toronto. I was super-excited). Well, I don't watch it too much anymore but I definitely retain an affection for the whole thing. So I was completely freaked out when the WWE (which is what they're called now) called us with a song, and wanted ME to do the vocals for it!! I was totally excited to do it. The song is for a girl wrestler named Katie Lea Burchill. I got to go to the headquarters in Stamford, Connecticut to record it! You can look up her new theme song on Youtube, it debuted this week. The song is called "Hurt You". Now, remember - the band didn't write this song, I just recorded the vocals for it. It was hilarious and fun to do this!"


More information:
http://thebirthdaymassacre.com
/
http://www.myspace.com/thebirthdaymassacre
Source: Newsletter