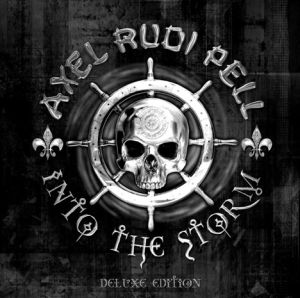 Artist: Axel Rudi Pell
Title: Into the Storm
Genre: Thrash Metal
Release Date: 17th January 2014
Label: SPV/ Steamhammer
Album Review

AXEL RUDI PELL is around as a musician for about 25 years by now and he just released a new album called 'Into the Storm' but first a little introduction on the guitar hero from Bochum. AXEL RUDI PELL's career began in 1980 with his first rock history relevant band named STEELER, the band sold over 30,000 copies of their commercially most successful release, 'Strike Back', and brought out their fourth and final album 'Undercover Animal' in 1988. In November of that year, Pell founded his own group together with Jörg Deisinger (ex-Bonfire), drummer Jörg Michael, bassist Thomas Smuszynski (ex-U.D.O.) and the American vocalist, Charlie Huhn (Ted Nugent, Gary Moore, and Victory).
Their debut album 'Wild Obsessions' arrived at the stores in the year that saw the downfall of the wall of East- Berlin 1989, for the follow up 'Nasty Reputation', Pell enlisted the American front man, Rob Rock (M.A.R.S, IMPELLITTERI), who was replaced during the subsequent German tour by former MALMSTEEN vocalist, Jeff Scott Soto. Soto`s gig with the band lasted for four studio albums (1992: Eternal Prisoner, 1994: Between the Walls, 1996: Black Moon Pyramid, 1997: Magic), he left the band in 1998 and was replaced by Johnny Gioeli. Gioeli seems to be with the band to stay, he released 10 albums with AXEL RUDI PELL. Fun Fact: Johnny Gioeli owns a few Software Companies together with his older brother.
Now to the new album 'Into the Storm'. If you know (and love) AXEL RUDI PELL`s past work you will get into the new album pretty fast, it`s what you expect from the band. Good melodic rock/ metal without any nasty surprises or unnecessary experiments. Those guys have found their definite sound a decade ago and they don`t intend to change the very successful recipe… but why should they? It`s always pleasant to listen to a AXEL RUDI PELL record and the new one is no exception to that rule.
Tracklist

01. The Inquisitorial Procedure
02. Tower of Lies
03. Long way to go
04. Burning Chains
05. When Truth hurts
06. Changing Times
07. Touching Heaven
08. High Above
09. Hey Hey My My
10. into the Storm
Line-up

Johnny Gioeli – Vocals
Axel Rudi Pell – Guitar
Volker Krawczak – Bass
Bobby Rondinelli – Drums
Ferdy Doernberg – Keyboard
Website

http://www.axel-rudi-pell.de
Cover Picture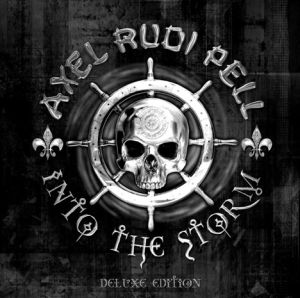 Rating

Music: 7
Sound: 8
Extras: Deluxe Box and Vinyl
Total: 8.5 / 10