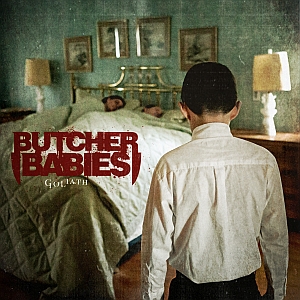 Artist: Butcher Babies
Title: Goliath
Genre: Modern Metal
Release Date: 14th February 2014
Label: Century Media
Album Review

BUTCHER BABIES is not only a song title out of PLASMATICS debut 'New Hope for the Wretched' (of course it was also an EP), but it also gives shelter to a band from Los Angeles. It's fronted by two women, who are also inspired by Nu Metal of SLIPKNOT kind or the likes of LAMB OF GOD. In a certain place they were compared with Tairrie Murphy, but I think that they sound more natural with pushing the boundaries of female singing within Metal, they give it really all they got and it fits their music better also, so maybe giving them the mantle of running on the heels of the Queen of Metal, the one and only, Wendy O'Williams - is more deserved than comparison to Tairrie.
They produce brutal onslaught, which also shows that the two ladies work together seamlessly and can compete on their own terms in still mostly men's club of a genre and kick some arse with occasional softer vocal melodies piercing the wall as in 'C8H18 (Gasoline)' or being totally deceptive at the start and through the 'Grim Sleeper'. However, there aren't many pronounced variations between the songs to call it diverse, the grooves, riffage and the details of music are more or less sludged (by which I don't mean it's bordering on Sludge Metal) into one matter pulsing in the background behind the two ladies, and so the whole rather comes out as too much of the same. But it's a high octane Modern Metal and it's to be expected and as such can still be enjoyed for that alone. It's for sure that they have a stage presence to match.
If you want a catalyst for your rage and/ or piss off the neighbours it's for you indeed. If you suffer from delusion that women can't be aggressive by nature this will shatter it, because they give an impression, with which you cannot argue, that their genes are permeated with it and it's only nurture that suppresses it - but not in their case. 'Goliath' is only a debut but there's going to be more – you just know that there is more to come.
Tracklist

01. I Smell A Massacre (03:34)
02. Magnolia Blvd (04:05)
03. C8H18 (Gasoline) (03:45)
04. Grim Sleeper (04:01)
05. Goliath (03:29)
06. In Denial (04:05)
07. Give Me Reason (03:24)
08. The Mirror Never Lies (04:02)
09. DeadPoet (04:34)
10. The Deathsurround (03:05)
11. Axe Wound (04:15)
Line-up

Carla Harvey – vocals
Heidi Shepherd – vocals
Henry Flury – guitars
Jason Klein – bass
Chris Warner – drums
Websites

www.facebook.com/ButcherBabiesMusic
/
www.twitter.com/ButcherBabies
Cover Picture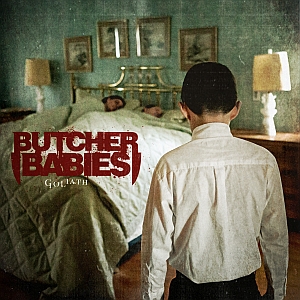 Rating

Music: 7
Sound: 7
Total: 7 / 10