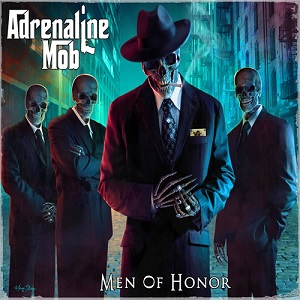 Artist: Adrenaline Mob
Title: Men of Honor
Genre: Hard Rock / Heavy Metal
Release Date: 21st February 2014
Label: Century Media
Album Review

ADRENALINE MOB is an American super group that arose in 2011 consisting of members of DREAM THEATER (Mike Portnoy on drums from 2011 to 2013), SYMPHONY X (Russel Allen 2011 - today) and DISTURBED (John Moyer on bass 2011 until today). The band plays a very powerful riff oriented style loaded with breaks. The Mob (as I call them since… well now) played their first gig in June 2011 in New York City. They recorder their debut 'Omerta' in the summer of 2011 and released it on March 13th in the United States, the record came out on March the 16th in Germany. In 2012 the US metal heads toured with KILL DEVIL HILL through North America and Europe (where they played the Graspop in Belgium). In March 2013 Adrenaline mob released the EP 'Covertà' consisting of eight cover tracks. In June 2013 Portnoy left the band due to appointment with his two other projects FLYING COLORS and THE WHINERY DOGS.
The band started the recording to the very record I am listening to right now in October 2013. The band around Russel Allen make their standpoint clear, the sound is very heavy most of the time and Allen makes it clear that he is a very good singer and the right guy for the job as the bands frontman. To make it clear if you like the way he sings on records like STARONE's 'Space Metal' or anything from his fellows of SYMPHONY X you might expect something entirely different this band here plays hard rock/ heavy metal and there is nothing progressive about The Mob. The riffing is tight as can be and the attitude is rigorous. The band sets raw aggression to music and Russel Allen breathes life into that aggression. Verbally elbowing his way through to the listener. These guys mean it when they say
"this is a rock 'n' roll mafia. We're here, and we mean business. 'Men of Honor' is a stamp that says we honor this music, and we're never going to betray it".
Tracklist

01. Mob Is Back
02. Come On Get Up
03. Dearly Departed
04. Behind these Eyes
05. Let it go
06. Feel the Adrenaline
07. Men of Honor
08. Crystal Clear
09. House of Lies
10. Judgment Day
11. Fallin` to Pieces
Line-up

Russel Allen – Vocals
Mike Orlando – Guitar
John Moyer – Bass
A.J Pero – Drums
Website

http://adrenalinemob.com
/
https://www.facebook.com/adrenalinemob
Cover Picture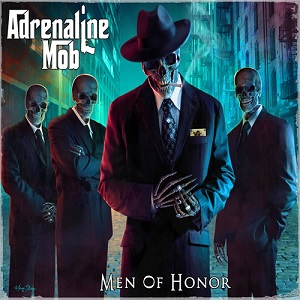 Rating

Music: 8
Sound: 9
Total: 8.5 / 10