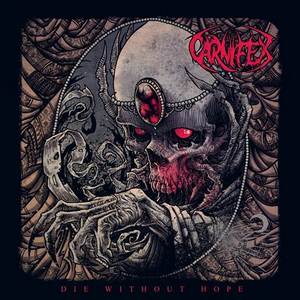 Artist: Carnifex
Title: Die Without Hope
Genre: Deathcore / Death Metal
Release Date: 7th March 2014
Label: Nuclear Blast
Album Review

Here we go with the fifth Album of the band CARNIFEX (Latin: executioner), a US Deathcore group. This is the first Album they release on the German label Nuclear Blast. Deathcore is the cruel brother of Metalcore. For Old-school ears sometimes not very delicious, but no risk no fun, so this is my first time listening to a so called Deathcore band by free will.
Okay not as much core as I expected, modern Death Metal I would say. Some guitar parts are even classic metal, sometimes even a keyboard is used, but in a supporting way not the dominating way which in my opinion always ruins the sound. I think the most influences are from Sweden. Sometimes it even reminds to THE ROTTEN or IMPALED (I know that these both are not Swedish bands). The lyrics are about hate, desperation and depression for example "This is a world where I am loved only by death, dragged into the grave, an ocean of my own regret" from 'Dragged into the grave'.
In the end I think it is a good album for fans of modern metal, metal/ Deathcore and open minded death-maniacs, for me it is not my pair of shoes. My pair of shoes are white Nikes, if you know what I mean with that.
Tracklist

01. Salvation Is Dead
02. Dark Days
03. Condemned to Decay
04. Die Without Hope
05. Hatred and Slaughter
06. Dragged into the Grave
07. Rotten Souls
08. Last Words
09. Reflection of the Forgotten
10. Where the Light Dies
Line-up

Scott Lewis - Vocals
Cory Arford - Rhythm Guitars
Jordan Lockrey - Lead Guitars
Shawn Cameron - Drums
Fred Calderon - Bass
Website

https://www.facebook.com/CarnifexMetal
Cover Picture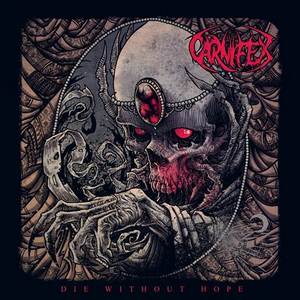 Rating

Music: 6
Sound: 7
Total:6.5 / 10