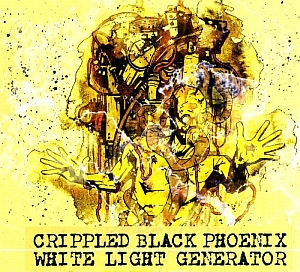 Artist: Crippled Black Phoenix
Title: White Light Generator
Genre: Alt-rock
Release Date: 14th March 2014
Label: Mascot/ Cool Green Recordings
Album Review

The wonderfully named CRIPPLED BLACK PHOENIX are a UK based band whose fluid membership and recruitment from other bands ought to have led to a half-baked side-project feel, or worse 'a collective' (shudder). Surprisingly, this is absolutely not the case, and the band have a solid, easily recognisable and individual sound, a strange, macabre cohesion, and a fearsome live reputation. To describe them as alt-rock is a bit of a miss-fire, since there are elements of any number of genres fighting for attention here, and also a black sense of humour running throughout.
Don't be fooled by the slo-mo sad cowboy folk of opener 'Sweeter Than You', it's ROY ORBISON feel and sixties production giving away nothing as to what's ahead on 'White Light Generator'. 'No!(Pt1)' sounds like the more dramatic brother of SNOW PATROL's 'Run', showing off with big old minor chords and some crashing percussion. 'No!(Pt2)' is more restrained initially but soon heads off into doom/prog rock territory reminiscent of ANATHEMA at times. It's very good. Things get bleak and stompy on the chanted 'Let's Have An Apocalypse Now' and there's a huge vocal soaring over the bluster on 'Black Light Generator'. A change of pace is beginning to feel overdue by 'Parasites' and this comes with the rolling rock dynamic intro of 'Northern Comfort', which then settles down with a good melody sung over restrained guitars and a piano. But it's 'Wake Me Up When It's Time To Sleep' that really shakes things up. Dreamily slow and beautifully sad, it shows how complex song-writing can sound simple, and how pulling back on the reigns can sometimes produce the most unexpectedly wonderful moments.
A spooky banjo and swathes of echo add layers to the unsettling 'Caring Breeds The Horror' and we're back sitting around a campfire for the wearily gorgeous blues of 'We Remember You'. Which just leaves 'A Brighter Tomorrow', an exhausted come-down, softly sung as the sun slowly sets. It's rich in atmosphere, patiently guiding us on to wherever we need to go, and the perfect ending to such an eclectic mix of styles and textures. Inventive, assured and with good use of vocal samples, multi-instrumentation and flashes of light amongst the bleak and black atmospherics, this is a complete album in every way. Fat-free and justifiably proud of itself, this will stand up as one of the best rock albums of 2014. Just don't call them a collective.
Tracklist

01. Sweeter Than You
02. No! (Pt1)
03. No! (Pt2)
04. Let's Have An Apocalypse Now!
05. Black Light Generator
06. Parasites
07. _
08. Northern Comfort
09. Wake Me Up When It's Time To Sleep
10. Caring Breeds The Horror
11. You'll Be Murdered
12. We Remember You
13. A Brighter Tomorrow
Line-up

Justin D Greaves
Daniel Änghede
Karl Demata
Christian Heilmann
Mark Furnevall
Ben Wilsker
Website

https://www.facebook.com/pages/CRIPPLED-BLACK-PHOENIX-official/111441865546099
/
http://www.crippledblackphoenix.co.uk/
Cover Picture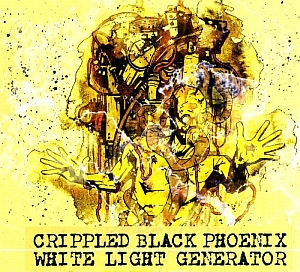 Rating

Music: 9
Sound: 9
Total: 9 / 10