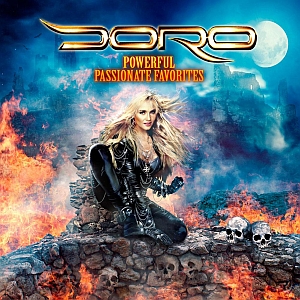 Artist: Doro
Title: Powerful Passionate Favorites
Genre: Heavy Metal
Release Date: 2nd May 2014
Label: Nuclear Blast Records
Album Review

To celebrate her 30 years stage jubilee, successful German rock singer DORO PESCH will release a new record entitled 'Powerful Passionate Favorites'. The nine tracks on the album appear to be not only new and unreleased compositions, but also some cover versions but let everything be in its turn. Actually I heard several of DORO's songs before and could expect something really impressive but unfortunately the opening piece didn't impress me much. The monotonous repetition of one and the same line sounds even a bit pop. Of course the guitars add some heaviness but in general the ballad is still too mild and light, at least according to my taste. However the vocals that turned to be the main component of the song is really great. Yet the surges of despair in that very line 'it still hurts' may make a listener bored especially at the end. So let's see what's coming up next. And the next composition really deserves attention and it's able to please and to smooth over the impression produced by the opening piece.
The French version of the single 'Raise Your Fist in the Air' is rather interesting. Here one can find the rich sound, powerful vocals and good arrangements. Besides, the lyrics in French sound quite peculiar. The cover version of LED ZEPPELIN's 'Babe I'm Gonna Leave You' is more anxious than the original and it seems that the harmony is lost so the whole thing sounds experimental, I would say. As for the cover version of TINA TURNER's 'Nutbush City Limits' it's just great and nothing to add, but that is one of the best songs on the album. Another good piece is the cover version of RONNIE JAMES DIO's 'Egypt (The Chains Are on)'. And I think only the laziest ones didn't make the covers of METALLICA's 'Nothing Else Matters'. The song is wonderful indeed and it's always pleasant to listen to it taking into consideration that DORO did a good job. The new song entitled 'Warfare' also impresses in a good way yet I can't say that about the home-recorded demo-version of 'NYC Blues' as it produces a dubious impression.
Well, in total the new release is not so bad as you may decide after reading this review. It's just too specific and is meant mostly for the devoted fans of DORO. If you only start your introduction into her music, it's better to begin with the debut album and then in turn.
Tracklist
01. It Still Hurts – 4:27
02. Raise Your Fist (French Version) – 3:55
03. Babe I'm Gonna Leave You – 7:08
04. Nutbush City Limits – 2:41
05. Only You – 4:20
06. Egypt (The Chains Are on) – 6:10
07. Nothing Else Matters – 5:59
08. Warfare – 3:49
09. NYC Blues – 5:05
Line-up

Doro Pesch – Vocals
Bas Maas – Guitar
Luca Princiotta – Guitar
Nick Douglas – Bass
Johnny Dee – Drums
Website

http://doromusic.de
/
https://www.facebook.com/DoroOfficial
Cover Picture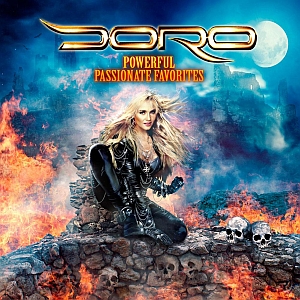 Rating

Music: 7
Sound: 6
Total: 6.5 / 10