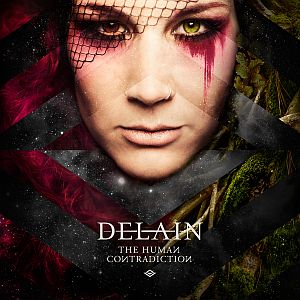 Artist: Delain
Title: The Human Contradiction
Genre: Symphonic Metal
Release Date: 4th April 2014
Label: Napalm Records
Album Review

'The Human Contradiction' is the fourth studio record by DELAIN. This is a "must have" album, if you are a fan of metal music with female vocals and never miss any albums by such bands as WITHIN TEMPTATION, EPICA or LEAVES' EYES. Moreover they have a lot in common. Let's remind that the band was formed by former WITHIN TEMPTATION keyboardist Martijn Westerholt. And Marco Hietala (NIGHTWISH, TAROT), Liv Kristine (LEAVES' EYES), Ariën van Weesenbeek and Ad Sluijter (EPICA), Sharon Den Adel (WITHIN TEMPTATION) participated as guest musicians.
But this is not enough. The actual record was mixed by Fredrik Nordström and Henrik Udd at the legendary Fredman Studio's (where IN FLAMES, SOILWORK and AMON AMARTH worked). Mastering was made by Ted Jensen of Sterling Sound, famous for being awarded by Grammy and collaborating with MADONNA, BILLY JOEL, MUSE, MARILYN MANSON and SLIPKNOT. As for the guests on this album, there are three of them this time. Marco Hietala (NIGHTWISH) took part in 'Your Body Is A Battleground' and 'Sing To Me', Alissa White-Gluz (ARCH ENEMY) screamed for 'The Tragedy Of The Commons', and George Oosthoek (ORPHANAGE) was on 'Tell Me, Mechanist'.
Aside to the epic introduction and unbelievable biography facts there are a lot of interesting stuff in the band's "ideology" or "mythology". The name DELAIN comes from Stephen King's novel 'The Eyes of the Dragon'. This should give you impression of the band members as book loving and thoughtful people. Let's secure this by the explanation of the album's title. 'The Human Contradiction' is taken from Octavia E. Butler's trilogy 'Lilith's Brood'. A post-apocalypse story in which people follow the "us versus the others" logic. As the DELAIN's vocalist Charlotte Wessels said in one interview:
"'Otherness' and how people relate to this, has had my interest for years. Whether it is otherness within our species, so towards people who are perceived as 'different' by other people or in our attitudes towards nonhuman 'others', which is the lyrical addition made by our new record."
If after everything you read here, you have a wish now to replace all of your symphonic metal collection with just DELAIN – you've got the right impression of this band. This album in particular has all the best what this scene could suggest. Having this album, you literally don't need the rest.
Tracklist

01. Here Come The Vultures
02. Your Body Is A Battleground
03. Stardust
04. My Masquerade
05. Tell Me, Mechanist
06. Sing To Me
07. Army Of Dolls
08. Lullaby
09. The Tragedy Of The Commons
Line-up

Charlotte Wessels - Vocals
Martijn Westerholt - Keys
Otto Schimmelpenninck van der Oije - Bass
Sander Zoer - Drums
Timo Somers - Guitar
Website

http://www.delain.nl
/
https://www.facebook.com/delainmusic
Cover Picture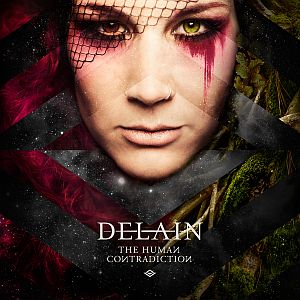 Rating

Music: 6
Sound: 8
Total: 7 / 10