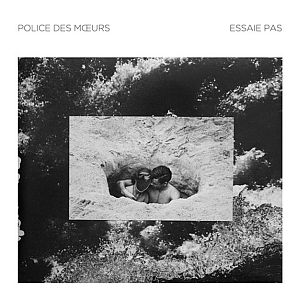 Artist: Essaie Pas / Police Des Moeurs
Title: Split 12"
Genre: Minimal Synth
Release Date: 17th June 2014
Label: Atelier Ciseaux
Album Review

This vinyl EP is a "one shot" joint record ("a split album") by two bands based in Montreal (Canada). The first three songs are provided by POLICE DES MOEURS (Vice Squad in French), the project founded by Francis in 2010, which now also includes Anouk (vocals), Fred (synths) and Cristine (hi). They're playing their typical Minimal Synth-Pop with analogue sounds and female vocals in French. 'Corps Invisible' is a nice, up-beat song that will easily find its place in a DJ set between tracks from XENO & OAKLANDER, OPPENHEIMER ANALYSIS or AUTOMELODI. The two other songs are more "moody", less direct. As a whole, their tracks have the qualities and defects of Minimal Wave songs: they are cold, nostalgic, repetitive, deliciously vintage but at the same time they suffer from a lack of emotion and of inspiration.
The tracks by ESSAIE PAS (Don't Try in French) are much more original and interesting, in my humble opinion. First because this duo composed of Marie Davidson and Pierre Guérineau is not limited to a specific musical genre: they combine Minimal Synth with Nu-Disco, Soundtrack music, House and even touches of Industrial / EBM. Then there is Marie Davidson's unique voice, lingering, hypnotic, like a soft and sad whisper in your ear. And finally there is the touch of genius by which everything they do is deeply emotional and full of inspiration.
'De Menthe Liqueur (Part2)' is a slow Nu-Disco/ House track with a wonderful voice-over by Marie Davidson. On 'Retox', the first part has a more dark atmosphere, slightly industrial thanks to Pierre Guérineau's voice; it sounds a bit like their previous track 'Devotion' (from the 'Nuit De Noces' EP). But then Marie Davidson's voice comes along together with ethereal synth chords. You close your eyes and you are carried away again in a wonderful dream world... The last track, 'Ccaarrccaajjoouu', had already been released on Soundcloud: it is a reinterpretation of their previous song 'Carcajou', but here, the drums and the bass synth have been slowed down (pitched down), which gives a strange effect and both the vocals and the synth melodies have been adapted to suit this new beat.
In a nutshell: a release that will please both the fans of Minimal Wave as well as those who like experimental electronic music.
Tracklist

Police Des Moeurs

1. Corps Invisible
2. Je te Montrerai (feat. Donzelle)
3. Ombre
Essaie Pas

4. De Menthe Liqueur (part II)
5. Retox
6. CCAARRCCAAJJOOUU
Line-up

Police Des Moeurs: Francis, Anouk, Fred, Cristine + Donzelle
Essaie Pas: Marie Davidson and Pierre Guérineau
Websites

http://www.atelierciseaux.com/
/
https://atelierciseaux.bandcamp.com/
http://policedesmoeurs1.bandcamp.com
/
http://essaiepas.bandcamp.com
Cover Picture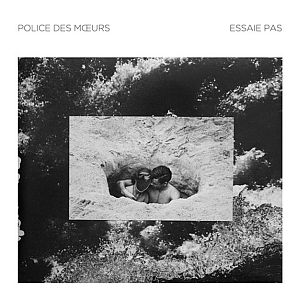 Rating

Music: 7.5
Sound: 7.5
Total: 7.5 / 10