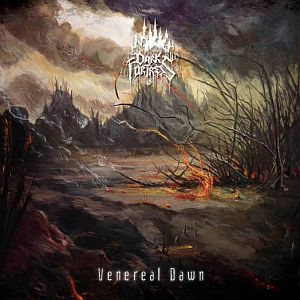 Artist: Dark Fortress
Title: Venereal Dawn
Genre: Black Metal
Release Date: 1st September 2014
Label: Century Media Records
Album Review

DARK FORTRESS is a German (Melodic) Black Metal band, originally founded in Landshut back in 1994. So far, the band has released six studio records, like the cold and atmospheric 'Séance' (2006), the more straight-forward and harsh 'Eidolon' or the latest, more experimental 'Ylem' (2010). Four years later, the seventh work 'Venereal Dawn' compounds different elements of these works, possibly making it the best DARK FORTRESS work thus far.
The eleven minute opener 'Venereal Dawn' starts off in a slow, doomy and atmospheric way, steadily increasing in tension until the main part of the song kicks in with forceful drumming and strong riffs. Alongside Morean's deep and remarkable vocals, choirs are used as an interesting and contrastive musical device. 'Venereal Dawn' does not only offer an extremely strong beginning, but also marks for characteristics of the entire album: versatile and demanding song structures and instrumentation, underlined by an extremely good production, which gives each song its full potential to unfold and breathe. 'Venereal Dawn' also appears as coming together of DARK FORTRESS' strongest elements: a willingness for constant development, stretching and redefining the borders of Black Metal, while intonating dark emotions and thus creating very unique and outstanding atmospheres. The second track, 'Lloigor', commences with a beautiful and melodic guitar phrase, which introduces a dark mid-tempo track, which also contrasts harsh and clean vocals. 'Betrayal And Vengeance' offers a more straight-forward and harsh track, which alternates between faster and slower parts and at the end includes choir elements as well.
'Chrysalis' poses a dense blending of melody and dark mood, which is supported by varied rhythm and technical skill in form of a strong guitar solo. 'Venereal Dawn' is, once again, a concept album and its lyrics play with different languages and images, thus forming a meaningful extension and complement to the music, which is definitely worth a closer investigation. 'I Am The Jigsaw Of A Mad God' again proves to be a more straight-forward track, which contrasts brutality with a sombre vibe and underpins this with ice-cold keyboard sounds. This track also demonstrates that DARK FORTRESS manage very well to maintain suspense throughout longer songs, due to well-balanced song-structures, which also allow the listener to discover certain, new elements and patterns after several listens. With 'The Deep', a more experimental song is included, which does not only display abstract rhythms and acoustic guitars, but also lives from its tension between higher and lower vocals, thus creating a more implicit but nevertheless profound heaviness.
'Odem' is characterized by furious riffs and also forms one of the faster and straightforwardly crushing songs of the album. 'Luciform' continues in a more technical but also grooving manner, offers challenging and dominant guitar work alongside a strong and striking chorus. The last track, 'On Fever's Wings' again offers eleven minutes of playing time and thus, alongside 'Venereal Dawn' frames the album in a formally conclusive way. Moreover, said title also remarks closing an album with an outstanding and unusual song track, similarly to the title 'Wraith' on "Ylem". After a calm piano intro, the song increases in instrumental tension and then veers towards a vocal dominated passage, which also includes female chants with (presumably) Arabic vocals. This addition appears rather unexpected at first, but fits very well to underline the melancholic and also partly epic atmosphere of the song, which forms (yet another) highlight on 'Venereal Dawn'.
With a total playing time of over 70 minutes, the album offers its listeners a variety of intense musicalized emotions alongside technical skill and demand. This is supported by the already mentioned high-quality production of the album. 'Venereal Dawn' surely does not embody pure Black Metal, but rather incorporates a variety of other musical elements. However, precisely this makes the album an innovative and unique work in its respect. Although fans of the early years might not necessarily find their liking in this work, it surely marks one of, if not the strongest releases of the band.
Tracklist

01. Venereal Dawn - 11:04
02. Lloigor - 07:07
03. Betrayal And Vengeance - 07:10
04. Chrysalis - 06:29
05. I Am The Jigsaw Of A Mad God - 08:33
06. The Deep - 03:09
07. Odem - 06:30
08. Luciform - 07:24
09. On Fever's Wings - 11:12
Line-up

V. Santura – Guitars
Morean – Vocals
Asvargr – Guitars
Draug – Bass
Seraph – Drums
Paymon – Keyboards (left the band few weeks ago, but played on the album)
Website

http://www.darkfortress.org
/
https://www.facebook.com/officialdarkfortress
Cover Picture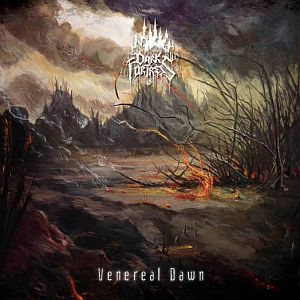 Rating

Music: 10
Sound: 10
Extras: -
Total: 10 / 10