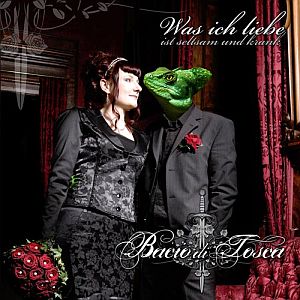 Artist: Bacio Di Tosca
Title: Was Ich Liebe (ist seltsam uns krank)
Genre: DarkWave / Neoclassic
Release Date: 27th June 2014
Label: Caput Medusae Records
Album Review

Classical music slow but sure returns into modern life. And this is a pleasure to mention that particularly the underground scene becomes a cradle for the neoclassic. Among the electronic remakes of the classical masterpieces and the collaborations between modern popular musicians and the philharmonic orchestras there is a bright star by the name BACIO DI TOSCA. This project is leading by a mezzo-soprano singer Dörthe Flemming. Not just beautiful vocals but also the piano arrangements with electronic beats and dark romantic lyrics make the album 'Was Ich Liebe' a precious present for true music lovers.
The name BACIO DI TOSCA (Italian for "Kiss of Tosca") comes from Giacomo Puccini's opera 'Tosca'. The main character beautiful singer Floria Tosca agrees to give her body in exchange of the life of her beloved to the policemen Scarpia. As he triumphantly embraces her, she stabs him, crying "this is Tosca's kiss!" As dark and classy is the whole thing about BACIO DI TOSCA. The first prove of it would be the under title of the album: 'What I love (is strange and sick)'. Before the 'Was Ich Liebe', Flemming used to use the texts of classical poets. However for the current studio album the singer wrote her own lyrics, which are nevertheless as beautiful and romantic. In this case she's chosen the secure path of the immortal themes of love, arts and saints. The titles of the songs tell for themselves: 'Music', 'Ave Maria', 'What I love'. On the piano there is the piano player and the composer of the German chansonnier Tim Fischer Rainer Bielfeldt. The deep and strong voice of Flemming is like a calligraphy-weave on the canvas, made of electronic beats, strings and piano fibre.
As Dörthe Flemming tries to stay on top of what is happening in the music business, near to the releasing the albums, she also invites the listeners to download her songs for free from her web-site! So you are very welcome to enjoy BACIO DI TOSCA on your own and share it with friends. Another important thing to mention is that BACIO DI TOSCA isn't just a music project, but the cultural phenomenon. The site of the project is in fact a web-magazine. Monthly Flemming provides video reports. The topics of the reports are limited just by the theme "art" and cover everything from poetry to architecture. Flemming is sure, the German culture has so much facets and interesting things in it that there is always something to discover, what would be up to the topic even today. So if you're not yet into German arts - BACIO DI TOSCA is a perfect start.
Tracklist

01. O du die mir die Liebste war
02. Ave Maria
03. Das Wasser
04. Musik
05. Sommerbild
06. Was ich Liebe
07. Advent
08. Beginn des Endes
09. Totengräberlied
10. Dünnes Eis
11. Bleib bei mir
12. Liebe
13. Die Eichen (Live)
Line-up

Dörthe Flemming and guest musicians
Website

http://www.bacio-di-tosca.de/
/
https://www.facebook.com/bacioditosca
Cover Picture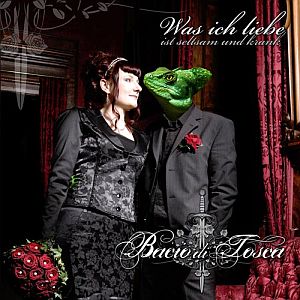 Rating

Music: 8
Sound: 6
Total: 7 / 10