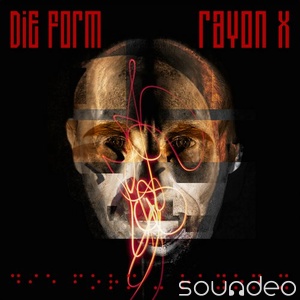 Artist: Die Form
Title: Rayon X
Genre: Alternative Electronic
Release Date: 4th July 2014
Label: Out Of Line Music
Album Review

DIE FORM have been in existence since the late seventies, and is essentially the brainchild of French experimentalist Philippe Fichot. Exploring the dark and erotic side of electronic dance, their live shows are fully immersive affairs, with cages, a live dancer and a compelling backdrop of disturbing yet beautiful images. Not for the faint-hearted, DIE FORM live and breathe, primarily, for themselves, always on the fringes, and always underground. New release 'Rayon X' sees them popping up topside, taking a look around at the musical landscape of 2014, and then presumably heading straight back down again.
'Black Leather Gloves' is a promising start. Having clearly made the decision to actually ignore the musical landscape of 2014 and carry on with what they do best, this is storming disco erotica. The dirty old man whispering of Monsieur Fichot is dominated by the seductive and prettily intoned singing of Elaine P, and the song as a whole could grace many a late-night fetish club dance-floor. It's nearly matched on the scattershot beats of 'Schaulust _Scopic Pulsion', a mixture of fuzzy and clean synth lines and an instantly memorable melody, and on the more industrial, propulsive insanity of 'Re-Birth-Re-Death'.
By 'Mecanomania', the familiar DIE FORM problem raises its head again. How ultimately irritating is Philippe Fichot's voice? In small doses his nasal, heavily distorted monotone works well as the perfect foil to the icily seductive female vocal lines. But throughout a whole album there are times when you wish he'd just shut up. What, for example, is added to the grandeur and mystique of 'In the Void Of Hell' by his burbling spoken-word introduction? Perhaps he gets bored being only the mastermind behind the whole DIE FORM project. To his credit, he does add a seriously massive dollop of Gallic sleaze and danger at times, his "come to bed so I can kill you" lines both chilling and darkly sexual. Just not quite so often, yes?
Elsewhere, 'Bipolarity', despite an intriguing minimalist opening, slides too easily into default setting, whereas 'Perpetual Motion' is a fabulous romp through dark city streets, a driving beat and irresistible synth hooks making this one of the standout songs on 'Rayon X. More of this please. Changing the pace all too rarely, the sludgy sway of 'Iron Cross' works well, partly because it's unexpected, and 'Mon Amour 2' transports you firmly back to the early eighties when scratchy, jittery electronics were the way forward. More experimental and edgy, it's an assured and complete piece, sinister and pitch black. Which leaves the absolute beauty of final track 'Zoanthropia', dreamily stretching its frozen fingers into your consciousness and messing with the nightmare setting. Like all the best DIE FORM songs, there's always something hard and harsh, lurking just out of sight, casting shadows and whispering threats. To close an album with such a mood-piece is canny. It's one of the best things the band have ever produced, and goes some way to allowing in forgiveness for those moments when they sound pedestrian, tired and even bored.
As a whole, this album could have been trimmed – I'm not even going to start on the Bonus CD of superfluous remixes and alternative versions – because when they have their eye on the prize, there's no-one quite like DIE FORM. They inhabit an almost unique place in music, and have a sound that is absolutely theirs. Perhaps this exclusivity and religious sticking to the formula lets them down over a whole album. But when they pop up, topside, to share a little of their world, who can begrudge them? There's no point in having an underground if we don't get to see it occasionally.
Tracklist
CD1
01. Black Leather Gloves
02. Schaulust_Scopic Pulsion
03. Re-Birth-Re-Death
04. La 7eme Face Du De
05. Mecanomania(c)
06. Politik
07. In The Void Of Hell
08. Neo Fiction
09. Bipolarity
10. Perpetual Motion
11. Amnesia
12. Iron Cross
13. Mon Amour 2
14. Zoanthropia
CD2
01. Black Leather Gloves 1
02. Schaulust
03. Re-Birth-Re-Death 1A
04. ReBirth-Re-Death 1B
05. Autolith
06. Politik 1
07. In The Void Of Hell 1
08. La 7eme Face Du De 1
09. Prototype
10. From Dreams To Machines
11. Angeline
12. Perpetual Motion
13. Eros Requiem
14. Mon Amour 1
Line-up

Philippe Fichot
Eliane P.
Dancer : Laina Fischbeck
Website

http://www.dieform.net
/
https://www.facebook.com/DieFormMusic
Cover Picture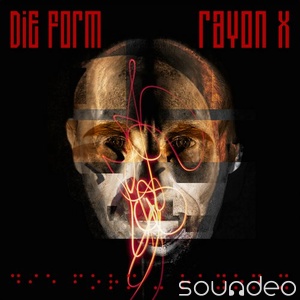 Rating

Music: 8
Sound: 8
Total: 8 / 10