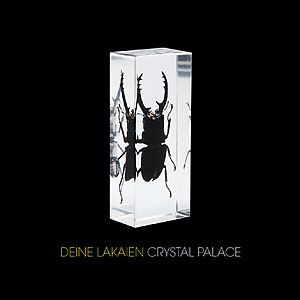 Artist: Deine Lakaien
Title: Crystal Palace
Genre: Darkwave / Electronic / Avant-Garde
Release Date: 8th August 2014
Label: Chrom Records / Soulfood
Album Review

It has been four years since DEINE LAKAIEN released their previous studio album but now the wait is over and the band has made its come back with the 'Crystal Palace' and a video-clip (of 'Farewell'). And with the situation as I've described comes its problem: the absence of the band for so many years has raised the stakes significantly. To be sure, this isn't just a problem only DEINE LAKAIEN has to face but any of the big bands. The mind of the uber-fans runs berserk in the waiting. So the question is: is this album worth its money? The short answer is 'maybe'. Allow me to explain.
This is an uneven album. It starts with a brilliant Darkwave-ish 'Nevermore' which I suppose will be a must in their concerts, continues with an interesting 'Farewell' that has more fun if you watch the video clip than simply listen to it. And after that there exists something akin to a free fall, at times brilliant, like the fast-tempo, neo-folk, but with Darkwave composition 'Those Hills' and the slow-tempo and melodic 'Where the Winds Don't Blow' and the SOPOR AETERNUS reminiscent 'Eternal Sun'. But there are other songs, songs which you don't even pay (or even you don't want to pay) attention to like 'The Light of Our Street', 'Why the Stars' (which also has the weaker lyrics of the album), and the 'Crystal Palace' itself. And this is the case despite of the fact DEINE LAKAIEN's bad moments aren't absolutely bad and you can always find bits and bobs within each song that are actually good, not least their lyrics that are always of outstanding levels.
But overall, this wouldn't be the album to start with if this is the first time you come across DEINE LAKAIEN's name (in this case it would be better if you start with their acoustic albums). It is a release that mostly addresses to the Hardcore fans, or in any case for the "avant-garde" aspect the band wants to promote the album sounds like it succumbs to the (extremely) conservative attitudes and expectations of its fans.
Tracklist

01. Nevermore
02. Farewell
03. Forever and A day
04. The Ride
05. Where the Winds Don't Blow
06. Crystal Palace
07. Why the Stars
08. The Light of Our Street
09. Those Hills
10. Eternal Sun
Line-up

Alexander Veljanov & Ernst Horn
Websites

http://deine-lakaien.com/
/
https://www.facebook.com/DeineLakaien
Cover Picture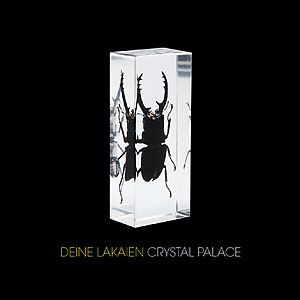 Rating

Music: 7
Sound: 7
Total: 7 / 10