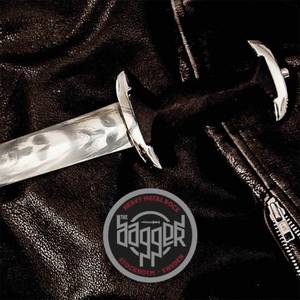 Artist: The Dagger
Title: The Dagger
Genre: Heavy Metal/ Hard Rock
Release Date: 27th June 2014
Label: Century Media Records
Album Review

THE DAGGER is a hard rock/ heavy metal band from Stockholm, Sweden formed in 2009 by Fred Estby (drums), David Blomqvist (guitars), Tobias Cristiansson (bass) and Erik "Tyrant" Gustavsson, who are or have previously been involved in bands such as DISMEMBER, GRAVE or NECRONAUT. After auditioning several possible singers and seeing Tyrant exiting the band, Jani Kataja (MANGROVE, SIDEBURN) joined the fold as vocalist by the end of 2012.
Sitting here and listening to the debut of this fresh new band with the old-school vibes I become quite excited because the retro...ness (yeah I invented that word) feels quite natural and the music really sounds fucking awesome, just like a really great old underground band I just discovered just to tell everyone about them and trade tapes and shit... listening to THE DAGGER I get a very DEEP PURPLE-ish feeling, sometimes reminding me of RAINBOW and sometimes of JUDAS PRIEST. Jani`s voice is hard to describe but it has much of Ian Gillan with some touch of Rob Halford (you have to hear it, it is quite fitting to this already awesome outfit).
The overall musical approach is very epic and classic, very much in the style of 70`s hard rock of the bands mentioned above. It seems like a wonder but at first I want to mention that I can hear the bass!!! It is a fringing miracle of epic proportions! I hear the bass and it sound good (it doesn`t take centre stage but it is definitely there to be heard among the other instruments and it really adds to the picture), the guitar is fine too with the right sound to let a riff sound really heavy (SABBATH heavy), the drumming is un-intrusive but very effective and the vocals are just that one thing that would be missing would someone else sing these songs. I really dig THE DAGGER and if there is one single ounce of trueness in your body you shall dig them too...
Tracklist

01. Ahead Of You All
02. Call Of 9
03. Ballad Of An Old Man
04. Skygazer
05. Electric Dawn
06. 1978
07. Dogs Of Warning
08. Nocturnal Triumph
09. Inside The Monolithic Dome
10. Dark Cloud
11. Mainline Riders
Line-up

Jani Kataja – vocals
David Blomqvist – guitars
Tobias Cristiansson – bass
Fred Estby – drums
Website

https://www.facebook.com/daggerofficial
Cover Picture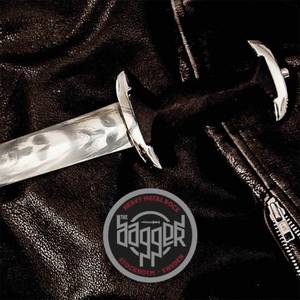 Rating

Music: 8.5
Sound: 8.5
Total: 8.5 / 10