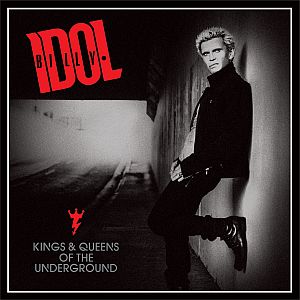 Artist: Billy Idol
Title: Kings And Queens Of The Underground
Genre: Rock
Release Date: 17th October 2014
Label: Bfi Records
Album Review

BILLY IDOL – or William Broad to his mother – has carved out a curious career as both a punk survivor, MTV generation pop superstar and sometime actor and author. He's the rebel it's okay for your gran to like, the sneer that's permanently curling from his lip less angry dismay at the state of the world, more a visual catchphrase, something he's pretty much stuck with now. To his fans, and there are many, he's the embodiment of rock 'n roll, a leather-clad bad-boy forging his own way and never compromising. To the detractors, and there are many, he's a slim MEATLOAF, pouncing around on a bike that's too big for him, surviving on past glories and writing generic rock songs that sound increasingly tedious. So which is it to be on new album 'Kings And Queens Of The Underworld?'
Well, the voice is certainly still there, rich and powerful at times. On opener 'Bitter Pill', a ludicrously bouncy road trip, the vocals are wisely very much to the fore. It's a highly infectious piece of guitar pop, hurtling along merrily and proving that he can still bang out a good tune when he needs to. The jerky new-wave of 'Can't Break Me Down' sounds to have come from several decades at once. There's some late seventies spikiness, classic eighties whoa-oa-oas's and bizarrely a totally up to date boy-band sounding chorus. It's partly horrible, yet strangely engaging.
Elsewhere, there's pace changer 'One Breath Away', a slinking, almost reggae verse sidling easily into a big old chorus, but the first genuinely shuddering moment on the album comes with the title track. Basically a sung autobiography, where we are to marvel at the achievements of Mr Idol's career thus far, feel a bit sorry for him at times, but recognize him as still a king of the underground. Lyrically it's a massive embarrassment, something a fourteen year old might scribble in the back of a school book, and the sickeningly smug feel to the whole mess leaves a very bitter taste.
The bad rhyming of the lyrics to 'Eyes Wide Shut' also detract from the MOR smoky bar room atmosphere he's trying to achieve here, and by this point everything is beginning to slide far too easily into a lazy blandness. 'The Ghosts In My Guitar' is entirely forgettable, as is the completely dull 'Love And Glory', a song that sleepwalks itself towards the album closer 'Whisky And Pills'. And it's a dreadful closer, attempting some hard-livin' no-nonsense rock but sounding dated, jaded forced and unconvincing. This is not a good album. There are good songs on it, nothing explosive or innovative, but solid enough. But the majority of 'Kings And Queens Of The Underworld' is the sound of a man clinging desperately to the image he once created for himself, when all he really wants to do is sing ballads and take the dog for a walk.
Tracklist

01. Bitter Pill
02. Can't Break Me Down
03. Save Me Now
04. One Breath Away
05. Postcards From The Past
06. Kings And Queens Of The Underworld
07. Eyes Wide Shut
08. Ghosts In My Guitar
09. Nothing To Fear
10. Love And Glory
11. Whisky And Pills
Line-up

Billy Idol
Steven Stevens
Stephen McGrath
Billy Morrison
Erik Eldenius
Paul Trudeau
Website

http://billyidol.net
/
https://www.facebook.com/BillyIdol/timeline
Cover Picture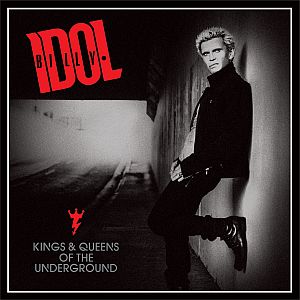 Rating

Music: 4
Sound: 6
Total: 5 / 10