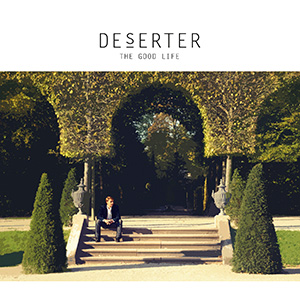 Artist: Deserter
Title: The Good Life
Genre: Electronic
Release Date: 17th October 2014
Label: DeSerter Music / Membran
Album Review

One man and his laptop. The very peak of developing musical soundscapes, styles, possibilities and creativity? Or the total dumbing down of everything that matters, giving every talentless bedroom troglodyte a chance of reaching a mass audience, even if the result is utterly bereft of merit? On 'The Good Life', DESERTER skirts almost exclusively with the latter.
There are moments of shockingly bad quality control. Take the tuneless singing that renders 'Last Days Of Summer' almost comical. It sounds like the guide vocal has been kept in by accident, and the childlike lyrics merely complement its amateurish existence. And the weighty and genuinely laudable concerns voiced in 'First World Third' are completely starved by a lightweight bit of bouncy pop, the music veering somewhere from cheesy Eurovision pap, to children's nursery-rhyme. 'Pictures Of Me' has no more bite to it, a floppy plod through cliché and a completely predictable chorus. 'Dream Of CPU'S' suggests, in its title, something that would reflect the early pioneers of electronic music, but the reality is far less interesting. God, it's dreary.
If you've made it as far as track 7, at least TIBG will be a small reward. It's coherent and atmospheric, and the best song by far on 'The Good Life'. But don't worry. Things soon sink back to murky depths. 'Wtcst' feels good because it's only bland and by the time of the title track the end is in sight. 'The Art Of Falling' points the way out with a massive arrow, more tuneless singing over a dirge of lazy synths ensuring one way only, no U-turns here. There is simply not enough of anything good here to warrant its creation. The songs are weak, the singing poor, the lyrics half-baked, and the possibilities opened up by decades of experimentation with electronic music completely disregarded in favour of some frivolous arsing about on a keyboard. Not impressed.
Tracklist

01. First World Third
02. Pictures Of Me
03. On A Moonlit Day
04. Great Wide Plain
05. Dream Of CPU'S
06. Last Days Of Summer
07. TIBG
08. Wtcst
09. The Good Life
10. The Art Of Falling
Website

http://deserter-music.com
/
https://www.facebook.com/pages/Deserter/1482098638744073
Cover Picture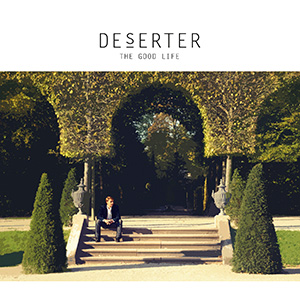 Rating

Music: 2
Sound: 6
Total: 4 / 10