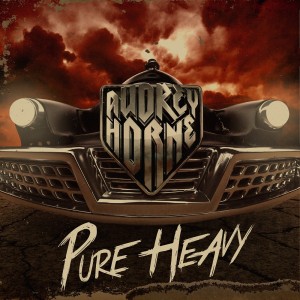 Artist: Audrey Horne
Title: Pure Heavy
Genre: Hard Rock
Release Date: 26th September 2014
Label: Napalm Records
Album Review

In Autumn 2002 in the town of Bergen, Norway, the Rock'n'Roll world was witness to the birth of awesome itself aka AUDREY HORNE. Formed as a fun side project for the involved musicians (guitarist Arve Isdal of ENSLAVED and I, Thomas Tofthagen of SAHG and bassist Tom Cato Visnes of GORGOROTH, I and OV HELL). For their debut album released in 2005 named: 'No Hay Banda', AUDREY HORNE received two Norwegian Grammy nominations in the categories for "Best Newcomer" and "Best Metal Act", and took home the Grammy for "Best Metal Act".
After the release of their first record, the band underwent personal change when bassist Tom Cato Visnes and keyboarder Herbrand Larsen left the band and a label change from Tuba to Indie took place. The follow-up to 'No Hay Banda' named 'Le Fol' came out in 2007 and received praise and critical acclaim. AUDREA HORNE toured until September 2009 where they started production on their self-titled 3rd release 'Audrey Horne'. The third strike (released in 2010) was well received too and helped to build a bigger fan-base for the band. Touring from 2010 until 2012 the guys should support the band KILL DEVIL HILL in 2012 but the tour was cancelled so they decided to use the spare time to record their fourth (and finest) output 'Youngblood'. The album saw the light of day in march 2013. I had the joy to see them live on the 2013 tour where they supported GRAND MAGUS and that gig was a total blast.
You see, dear reader this band worked their asses of during the last 12 years and they are quite successful considering the time of downloads and Spotify. The fact that they have another record that was just recently released is all the more legendary. Almost no one in the industry manages to put two records out in two years (at least not many that are worth mentioning). So I sit here (once again) and listen to awesome music, to foreclose or spoil the whole thing: 'Pure Heavy' is not as good as 'Youngblood', BUT I don't give a flying fuck about that. The band is awesome, the song material rocks in a very efficient way (the guitar sound of this band is the stuff of future legends), Toschi`s vocals are fitting and straight forward. All in all the band is playing very tight and highly energetic melodic hard rock.
In my honest opinion the albums highlights are 'Wolf in my Heart' and 'Out of the City', but I know myself good enough to say that this will change and more will be added as I delve deeper into the compositions. If you know AUDREY HORNE and enjoyed 'Youngblood' then you should buy this piece of music right away, if not buy 'Youngblood' first as gateway drug to total AUDREY HORNE addiction.
Tracklist

01. Wolf In My Heart
02. Holy Roller
03. Out Of The City
04. Volcano Girl
05. Tales From The Crypt
06. Diamond
07. Into The Wild
08. Gravity
09. High And Dry
10. Waiting For The Night
11. Boy Wonder
Line-up

Toschie - Vox
Ice Dale - Guitar
Thomas Tofthagen - Guitar
Kjetil Greve - Drums
Espen Lien - Bass
Website

http://www.audreyhornemusic.com
/
https://www.facebook.com/AudreyHorneOfficial
Cover Picture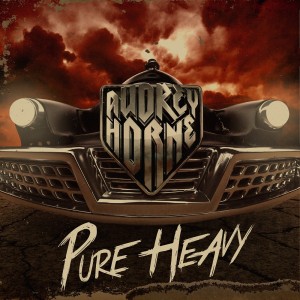 Rating

Music: 8
Sound: 8
Total: 8 / 10