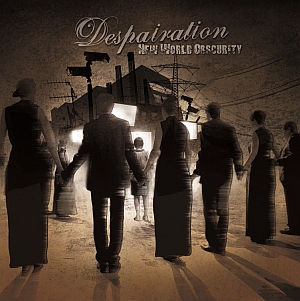 Artist: Despairation
Title: New World Obscurity
Genre: Hard Rock / Metal / Alternative
Release Date: 10th October 2014
Label: Winter Solitude / Danse Macabre
Album Review

The guys of DESPAIRATION can look back on a quite long musical journey, starting in 1994, when they formed a band named ORATORY. Later in their career they changed the name to DESPAIRATION, and so did their music become more professional compared to their very first musical experiences. Together with a variety of other musicians they worked on their musical skills and engaged in numerous musical co-operations and projects as for instance EDEN WEINT IM GRAB and TRANSIT POETRY.
The music of DESPAIRATION which has been compared with the music of DAVID BOWIE and PINK FLOYD, can be best described as metal influenced drum and guitar laden rock. Mid to up-tempo tracks with catchy melodies and intriguing guitar riffs go hand in hand with fascinating lyrics dealing with topics such as the current state of the world, the new world order and mass media, among others. Some songs have ambitious hook-lines with artistic qualities, requiring equivalent know-how. They have recognition value and quickly become earworms, which could also be played on the radio.
The only bitter aftertaste might be that you get used to the sound quickly, also because of the lengthiness of the album with its 14 tracks and the almost always unchanging melody and harmony structures being typical for DESPAIRATION. After all, with 'New World Obscurity' DESPAIRATION have delivered a good and solid piece of music they can actually be proud of.
Tracklist

01. Not Afraid
02. Falling Into Afterlife
03. New World Obscurity
04. The Orwellian Agenda
05. White Voice Random Noise
06. What A Strange Day Today
07. Poison From The Sky
08. Bloody Valentine
09. Aboard The Ship Of Fools
10. Suicide Avenue
11. 23
12. Newspeak
13. Postmodern Mephisto
14. Atomic Blue
Line-up

Sascha Blach – vocals
Martin F. Jungkunz – guitar, bass
Jens Reinhold – drums
Website

www.despairation.com
Cover Picture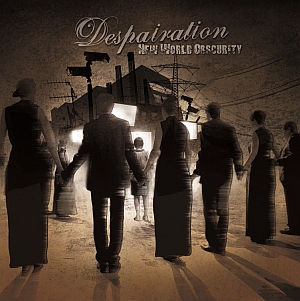 Rating

Music: 8
Sound: 7
Total: 7.5 / 10