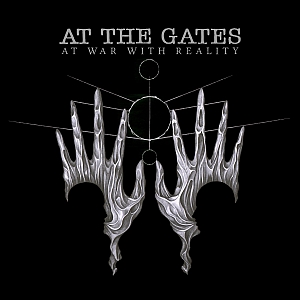 Artist: At The Gates
Title: At War With Reality
Genre: Death Metal
Release Date: 27th October 2014
Label: Century Media
Album Review

AT THE GATES is one of the bands that birthed Melodic Death Metal or what's classed as the Gothenburg style of it, and with turbulent on and off existence and after nineteen years they've just released a new (fifth) album entitled as 'At War With Reality'. Though it's not a concept album in a strict sense the theme is predominantly Magic Realism, inspired mainly by 50's/60's South American writers of that subgenre of surrealism, not just in terms of lyrics but also at times bending the songs with South American music influences (best example is the opening of 'Order From Chaos'). The band's musical focus was not to root themselves to the past but sound as ATG in all but being current.
'El Altar Del Dios Desconocido' starts the album on an enigmatic, menacing, horror-like mood. Intensity doesn't let up during the album and indeed though still true to their roots they are sounding current so they should be indeed very proud to achieve what they had wanted. As I wrote, they were there at the beginning and it should be added that they seem to breathe fresh air into the trend today even if they emphasise the melodic approach with classical sensibilities than an attempt to dismantle them to appear avant-garde, perhaps breaking the frontiers is not always the point. The dark grooves and riffs shade the melodic well enough to give their lyrics an appropriate shading and atmosphere.
The wait has proved to be well worth it for the fans – it's a great album that proves that the band can still stand together and deliver great music.
Tracklist

01. El Altar Del Dios Desconocido (1:06)
02. Death And The Labyrinth (2:32)
03. At War With Reality (3:08)
04. The Circular Ruins (4:27)
05. Heroes And Tombs (3:59)
06. The Conspiracy Of The Blind (3:18)
07. Order From Chaos (3:25)
08. The Book Of Sand (The Abomination) (4:27)
09. The Head Of The Hydra (3:38)
10. City Of Mirrors (2:05)
11. Eater Of Gods (3:50)
12. Upon Pillars Of Dust (2:39)
13. The Night Eternal (5:42)
Line-up

Tomas Lindberg – Vocals
Anders Björler – Guitars
Martin Larsson – Guitars
Jonas Björler – Bass
Adrian Erlandsson – Drums
Websites

http://www.atthegates.se
/
https://www.facebook.com/AtTheGatesOfficial
Cover Picture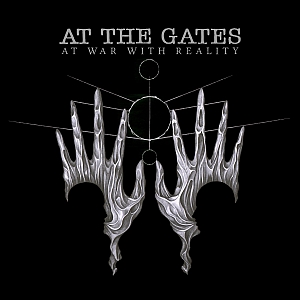 Rating

Music: 8
Sound: 8
Total: 8 / 10