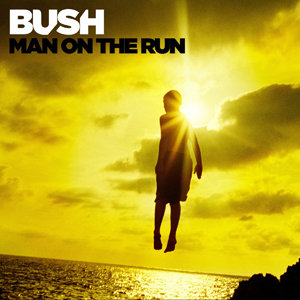 Artist: Bush
Title: Man On The Run
Genre: Rock
Release Date: 17th October 2014
Label: Sony Music
Album Review

Here are a few things about BUSH. They have a crap name. They have been around since the early 90's. Singer Gavin Rossdale makes many a heart go flutter. He doesn't age either. They have sold millions of records. No-one really knows why. To be fair to them, every so often they release a single that's big, bold and ballsy enough to make the charts take note and briefly make you think they are a fabulous alternative rock band who can do no wrong - 'Swallowed' and 'Glycerine' still sound as passionate and vital as they did back in the day - but really, it's pub rock given a sprinkle of stardust. And they like that kind of thing in the US of A, despite the band being British.
On 'Man On The Run', they have a perfect radio-friendly single in 'The Only Way Out', Rossdale's distinctive vocals wrapping themselves comfortably around the clichés and skipping "through the tripwires in your head". It's good nonsense, drive-time rock music by, and for, middle-aged dudes. The album starts, surprisingly, with the disjointed mess of 'Just Like My Other Sins', which is unmistakably BUSH, but absolutely stuck in the tired old Grunge that earmarked their nineties output. Chucking in a synth does not make this modern. The title track, which you would imagine to be the signature tune here, meanders about in similar fashion, fat and lazy, and entirely forgettable. Even the song titles seem bland and obvious for this kind of pseudo-angsty emotional rock. 'Bodies In Motion', 'Broken In Paradise' and 'Loneliness Is A Killer' fail to spark anything imaginative, and hint at the blandness within.
Things improve when BUSH drop the tempo, 'Surrender' being pleasant enough and having just enough restrained huff and puff to rescue it from the rest. 'Let Yourself Go' is okay too, with its flashes of oddness and the vocals bizarrely resembling PETER GABRIEL. But there is far too much on this album that's like wading through rock 'n roll treacle, best summed up on the horrendous final track 'The Golden Age'. This oozy mire is so saturated in lyrical and musical cliché, that BUSH have merely succeeded in making a mockery of their own sound, the journey to stodge and pointlessness almost complete now. I'm sure they'll still chuck the odd good single out, and Gavin Rossdale will continue to defy Father Time, but really, that's not enough is it?
Tracklist

01. Just Like My Other Sins
02. Man On The Run
03. The Only Way Out
04. The Gift
05. This House Is On Fire
06. Loneliness Is A Killer
07. Bodies In Motion
08. Broken In Paradise
09. Surrender
10. Dangerous Love
11. Eye Of The Storm
12. Let Yourself Go
13. Speeding Through The Bright Lights
14. The Golden Age
Line-up

Gavin Rossdale - Vocals/Guitar
Robin Goodridge - Drums
Chris Traynor - Guitar
Corey Britz - Bass
Website

http://bushofficial.com/
/
https://www.facebook.com/BushOfficial
Cover Picture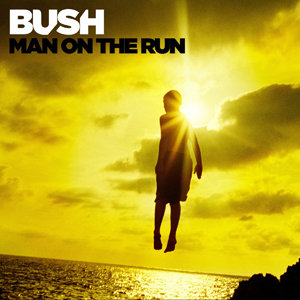 Rating

Music: 3
Sound: 5
Total: 4 / 10