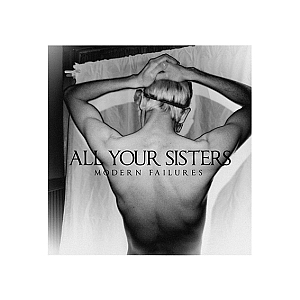 Artist: All Your Sisters
Title: Modern Failures
Genre: Post-Punk
Release Date: 15th January 2015
Label: Weyrd Son Records
Album Review

When I first heard this album, it had just been released on tape by the Swedish label Beläten. I immediately loved it. I sent the Bandcamp link to Michael Thiel, the label owner of Weyrd Son Records, because I know he likes this kind of music. He immediately fell in love as well and decided to reissue the album on vinyl. Now, a few months later, here is the wonderful object: a superb transparent vinyl. ALL YOUR SISTERS is the work of Jordan Morrison and Mario Armando Ruiz from San Francisco, California. Rooted in a JOY DIVISION post-punk style while possessing a contemporary perspective, AYS create brooding and aggressive atmospheres. Heavy rhythms propelled by drum machine and Ruiz' bass lend a perfect foundation for Morrison's haunting guitar and vocals.
The album opens with noises and samples which mainly come from the movie 'The Devil Master' (1977). Then 'Tension' brings a lot of... tension! The basic building blocks are there; heavy drum machine rhythms, pumping melodic bass lines, swaths of atmospheric guitars and cold synth melodies. On top of this, powerful vocals with a megaphone effect that sound like dark incantations. 'Whites' has a clear JOY DIVISION atmosphere but the frantic rhythm and the heavy guitars take the post-punk style even further to another summit of intensity. And then comes this little bomb of only 1 minute 46 seconds: 'Pressures of Faith', a gorgeous descending riff on the piano/ synth combined with screaming vocals: a pure jewel, but too short! Definitely one of the strongest tracks of 2014/2015!
The rest of the album is in the same vein: inspired, haunted and incredibly powerful. The sound is not minimal: it is wide and clear, on the brink of EBM. What strikes the most is, like for JOY DIVISION, the hyper-melodic quality of the music. After one or two hearings, you find yourself anticipating every sound, every note. Of course there are many references in here, but where many bands are content to wallow in the shadows of their influences, All Your Sisters sounds like the future. Great job, guys: you deserve one of my highest ratings ever: 9/10! The album was recorded at Mission Records, SF, CA in October-November 2013 by Sébastien Richard. It was mixed and mastered in January 2014 by ALL YOUR SISTERS and Sébastien. The superb cover photo is by Mar Brisa Aceves and the design/ layout of the vinyl edition by Michael Thiel (Weyrd Son).
The vinyl comes in two editions:
EDITION #1
Limited to 200 hand-numbered copies.
140gr clear vinyl with black haze, deluxe cardboard sleeve with inside printed in silver laminated coat
Printed inner sleeve
Extra cover sheet, back printed in silver laminated coat
EDITION #2
Limited to 300 hand-numbered copies.
140gr black vinyl, deluxe cardboard sleeve with inside printed in silver laminated coat
Printed inner sleeve
Tracklist

01. *
02. Tension
03. Whites
04. Pressures Of Faith
05. A Perfect Body
06. **
07. Modern Failures
08. Enemies
09. Come Feel
10. Good Clean Men
Line-up

Jordan Morrison and Mario Armando Ruiz
Websites

https://www.facebook.com/ALLYOURSISTERS
/
https://weyrdsonrecords.bandcamp.com/album/modern-failures
Cover Picture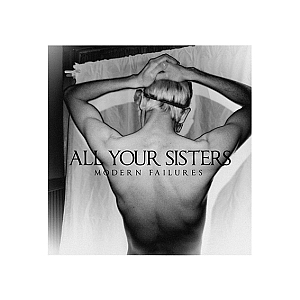 Rating

Music: 9
Sound: 9
Total: 9 / 10