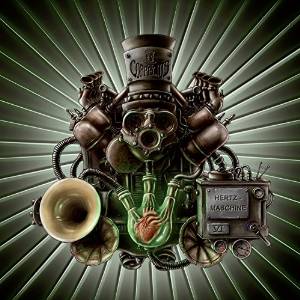 Artist: Coppelius
Title: Hertzmaschine
Genre: Metal / Rock
Release Date: 30th January 2015
Label: F.A.M.E. Recordings
Album Review

1815. Manor house COPPELIUS.
Alchemists, astrologers and acoustician work by order of Messrs COPPELIUS for a method to enhance the acoustic instruments Cello, Contrabass and Clarinet in an unprecedented volume: The galvanic amplification! The rock history has begun.
2015. Manor house COPPELIUS.
The 'Hertzmachine' is completed! Acoustic instruments unfold into roaring sounds of thunder: The cello roars, the bass creaks, the clarinets cut through drums and vocals. Guitarists to shame a pack their amps. Gaslight romantics, Steam Punk and lovers of handmade music - COPPELIUS are back, louder than ever!
Already in the first song 'Tragisches Ende eines Luftpiraten' it comes to an unusual meeting high above the clouds. 'Der Luftschiffharpunist' operates at high altitudes and comes along clearly sounding more like rock. It continues with 'Herzmaschine'. This is a song about a beating heart, which does not want to fall in love and tries to keep his emotions under steam boiler and pressure under control. After this powerful piece follows with 'Sternenstaub' a sad ballad in which the acoustic properties of instruments are used. Here relatively atypical for COPPELIUS, a piano sets tone what I feel, however, as very pleasant. The subsequent 'Reise' is then again a bit faster and shows - to the beat of a steam locomotive to go racing - especially the skills of the clarinets. The love ballad 'Es fiel ein Himmelstaue' covers a classic folk tune which dates from the years around 1539. The instrumentation is classic, again in conjunction with the harpsichord. 'Des Bettlers Traum' is far less classical. The song is about a beggar whom no material goods can make happy, however, his inaccessible love.
Then follows a rather unusual form of presentation: The setting of Heinz Max Aid's poem 'Konzert'. The setting is perhaps a little too much: the melancholy sounds of acoustic instruments, the text is read aloud, which his torn from the back and forth for a concert reports. I think a very successful piece on the album. The new album 'Hertz machine' is less critical of society than its predecessor, but clearly for the masses. But because of it, unfortunately it happens that the specificity of COPPELIUS, namely the classical instruments, are overheard. There are striking ballads and quiet pieces on the board, but nonetheless, also a lot of rock songs. All in all, COPPELIUS here has delivered an album what is worthwhile in any case and you can get an impression of the album during their upcoming tour.
Tracklist

01. Tragisches Ende eines Luftpiraten
02. Der Luftschiffharpunist
03. Moor
04. Harmonie
05. Herzmaschine
06. Sternenstaub
07. Reise
08. Ein Experiment
09. Glad to be dead
10. Contenance
11. Killers
12. Es fiel ein Himmelstaue
13. Des Bettlers Traum
14. Black is the colour
15. Der Musenkuß
16. Konzert
Line-up

Max Coppella - Vocals, clarinet, harpsichord
Nobusama - Drums
Graf Lindorf - Vocals, cello
Le Comte Caspar - Vocals, clarinet, harpsichord
Sissy Voss - Double bass
Bastille - Vocals, servant
Website

www.coppelius.eu
/
https://www.facebook.com/CoppeliusHilft
Cover Picture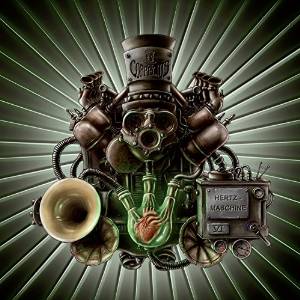 Rating

Music: 8
Sound: 8
Total: 8 / 10