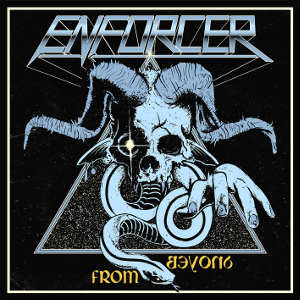 Artist: Enforcer
Title: From Beyond
Genre: Heavy/ Speed Metal
Release Date: 27th of February
Label: Nuclear Blast
Album Review

Founded 2004, in the secluded town of Arvika, Sweden, ENFORCER have established themselves as the spearhead of a new generation of metal bands: devoted to the roots of real metal, with its old-school spirit, sound and trueness. After unleashing their debut 'Into The Night' (2008), a sophomore attempt 'Diamonds' (2009) and their tireless and energy-driven touring onslaughts, ENFORCER found their musical footing with the 2013 album 'Death By Fire'. 2015 sees the release of the fourth ENFORCER record, entitled 'From Beyond'.
I must admit that I really wasn't a fan of ENFORCER when I accepted to review their newest output, I bought their debut 'Into The Night' a year ago and was not impressed at all (maybe I was lush or spoiled at that time?) so I gave this new record a spin just out of interest and was pleasantly surprised by the light years of development this band underwent since 2008. I really enjoy this record and can even highlight a few songs (and that is always a good sign for me). Musically the guys around Olof Wikstrand were good from the start but now everything falls into place. The drumming, the guitars, the bass and the vocals everything fits together a lot better than a few years ago and now I see the bands potential too.
My highlights on 'From Beyond' are: 'From Beyond' and 'Below the Slumber' which are two very catchy songs, old-school and heavy as fuck. So go out there and buy this nice piece of Music!
Tracklist

01. Destroyer - 3:41
02. Undying Evil - 3:53
03. From Beyond - 3:22
04. One With Fire - 2:52
05. Below The Slumber - 6:21
06. Hungry They Will Come - 4:32
07. The Banshee - 4:17
08. Farewell - 4:12
09. Hell Will Follow - 3:19
10. Mask Of Red Death - 6:12
Line-up

Olof Wikstrand - vocals, guitar
Joseph Tholl - guitar
Tobias Lindqvist - bass
Jonas Wikstrand - drums
Website

http://enforcer.se
/
www.facebook.com/enforcerofficial
/
www.nuclearblast.de/enforcer
Cover Picture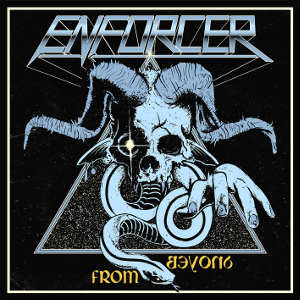 Rating

Music: 8
Sound: 8
Total: 8 / 10