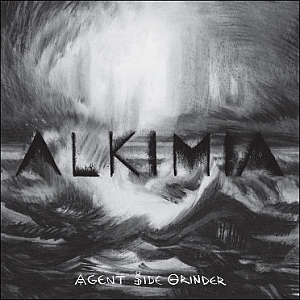 Artist: Agent Side Grinder
Title: Alkimia
Genre: Post-Punk / Synth-Pop
Release Date: 27th March 2015
Label: Progress Productions
Album Review

If you don't know AGENT SIDE GRINDER (ASG), it's a real shame! Fix this right away! This band from Sweden is simply one of the two or three best acts to appear on the "dark" scene in the last five years. They present a unique blend of post-punk and synth-wave, all this with touches of industrial and Krautrock. Their previous album, 'Hardware', was the best album of 2012, in my humble opinion. Today, they're coming back with a brand new album, released by a new label for them: Progress Productions. When I met the band in Antwerp at the BIM Fest, they told me that the new album would be more pop-oriented but always in the typical ASG style. I must admit I was a little bit afraid because the first single, 'This Is Us', sounded a bit too "mainstream" for me. Now that the new album has arrived, I can reassure the fans: 'Alkimia' is indeed a bit more pop-ish but overall this is another 100% ASG master piece! In fact, as Kristoffer Grip, the singer, told me in December 2014,
"the album presents everything that Agent Side Grinder is".
The best proof is that it opens with a quintessential ASG song. 'Into The Wild' presents all the features of what made us love ASG a few years ago: a fantastic post-punk bass guitar riff, the hypnotic repetitive analogue keyboard sounds and the strong baritone voice of Kristoffer Grip, here in its more aggressive version. 'New Dance' is the perfect transition song: it is still post-punk but already goes in the direction of NEW ORDER with more pop-ish vocals and catchy melodies. A perfect introduction for 'Giants Fall', the most "mainstream" song of the album. The synth riff is irresistible, a bit kitsch but so beautiful. And the melodies are 100% synth-pop, reminiscent of LADYTRON, DEPECHE MODE and of course NEW ORDER. At the end, Johan Lange's vocals are amazing. Johan has a wonderful, soft voice that comes as a perfect counterpoint to Kristoffer's harsh vocals, a bit like when Martin Gore responds to Dave Gahan. As a whole, Johan Lange's backing vocals are excellent on this album and I would love to see him evolve as a full-fledged second singer: that would be great!
The album goes on with a very original song, 'Void (The Winning Hand)'. The atmosphere is burlesque, with an accordion synth and a slow, sensual rhythm. Grip's voice is haunting, Morrison-esque. You're in a sort of Fellinian dream and the chorus takes you away on waves of harmonic beauty. 'For The Young' is another synth-pop song in the style of 'New Dance' but it introduces a new thing: a female singer doing backing vocals: Nicole Sabouné. Apparently, this singer participated to the Swedish "The Voice" competition. When 'Hexagon' starts, you can't help standing up and starting to dance. Its technoid, hypnotic rhythm seizes you and never lets you go. The chorus consists of devilish whispers evoking SKINNY PUPPY and NIN: tantalizing! A dance-floor killer for sure! Can't wait to play it at a party at ca. 4 am, when people are in a trance...
'This Is Us' is the single and it works perfectly as a potential radio hit. The bass riff comes directly from JOY DIVISION's 'Shadowplay' and the melodies are, like in 'New Dance' and 'Giants Fall', at the limit of kitsch pop. The organ sounds and the atmosphere gives you the impression you are at a funfair, carried away by a swirling merry-go-round. The last song, 'Last Rites', is the album's "magnum opus". A long, hypnotic song with a waltzing rhythm, on which Nicole Sabouné sings the choruses as main singer. Here, the sounds are more 'industrial' and the structure, more progressive, which allows the song to make the perfect link with the band's more industrial past and to close the album in a beautiful manner.
As a conclusion: this album is a jewel of post-punk / synth-pop. I sincerely hope it will allow the band to reach a higher level in their career because they deserve it! With its amazing songs, its unique versatility and its wonderfully crafted sounds, 'Alkimia' might eventually end up as my 2015 favourite album... Grattis, mina vänner!
Read the interview of Agent Side Grinder (dating from December 2014):
http://www.reflectionsofdarkness.com/artists-a-e-interviews-85/15349-interview-agent-side-grinder-december-2014
Tracklist

01. Into The Wild
02. New Dance
03. Giants Fall
04. Void (The Winning Hand)
05. For The Young
06. Hexagon
07. This Is Us
08. Last Rites
Line-up

Henrik Sunbring
Johan Lange
Kristoffer Grip
Peter Fristedt
Thobias Eidevald
Website

www.agentsidegrinder.com
/
https://www.facebook.com/agentsidegrinder
/
https://soundcloud.com/agent-side-grinder
Cover Picture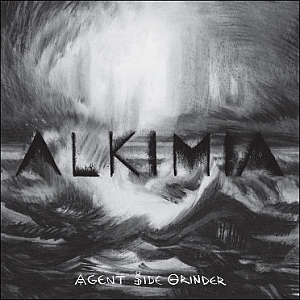 Rating

Music: 9
Sound: 9
Total: 9 / 10