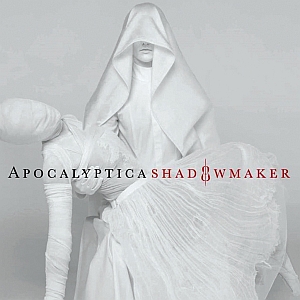 Artists: Apocalyptica
Title: Shadowmaker
Genre: Classic Metal
Release Date: 17th April 2015
Label: Harmageddon Records / OMN Label Services
Album Review

First of all: I am not a huge metal fan apart from smaller exceptions so my account on this record may be a bit biased. I am not familiar with any APOCALYPTICA records either but I was surprised that almost every song on 'Shadowmaker' was accompanied by a guest vocalist. After a bit of research, I now know that APOCALYPTICA have hired Franky Perez for the whole record and this decision is considered by many as a big career step. I agree with that. Perez is certainly a good vocalist in his genre but I personally do not really dig his contribution all too much. And that is why I enjoy the instrumentals on the record way more. APOCALYPTICA is a group of incredibly talented musicians and it only truly stands out when there are no vocals involved.
'Seed of Chaos', 'Riot Lights' and 'Till Death Do us Part' are incredibly powerful songs and do not need a human voice to stand out as beautiful and incredibly expressive pieces of music. I find their mix of metal and classic elements quite felicitous but for me it only works without vocals. But to not be too hard on Perez, I do find his contributions on 'Sea Song (You Waded Out)' and 'Dead Man's Eyes' quite good because there he really goes with the flow of the instruments and mingles with them instead of simply asserting his vocals on the piece of music. See it as you want, maybe the first half of the record is simply too metal to me or maybe Franky Perez only unfolds his talents at the end of the record.
'Shadowmaker' is a record that breaks with the band's tradition and fans need to see for themselves whether they like the constant singing or whether they prefer their favourite band to simply swing their strings while creating perfectly harmonious and also disturbing music.
Tracklist

01. IIIV Seed of Chaos
02. Cold Blood
03. Shadowmaker
04. Slow Burn
05. Reign of Fear
06. Hole in my Soul
07. House of Chains
08. Riot Lights
09. Come Back Down
10. Till Death Do Us Part
11. Dead Man's Eyes
Line-up

Eicca Toppinen – Violincello
Paavo Lötjönen – Violincello
Perttu Kivilaasko – Violincello
Mikko Siren – Drums
Website

www.apocalyptica.com
Cover Picture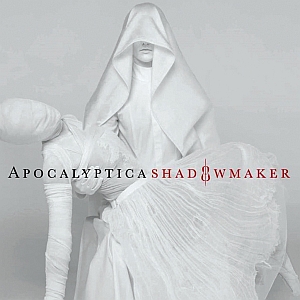 Rating

Music: 5
Sound: 8
Total: 6.5 / 10