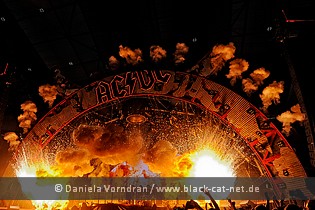 Veltins Arena, Gelsenkirchen, Germany
12th July 2015
AC/DC, Vintage Trouble & The Whiskey Foundation

The most legendary band of all times is back! 200 million sold records worldwide! 250,000 sold records of 'Rock or Bust' within one week in Germany! 300,000 tickets sold out in 77 minutes in 2009! AC/DC are back in Germany with their new album 'Rock or Bust' and played their last show in Gelsenkirchen in front of 55,000 fans. Needless to say that also this show was sold-out.
The Whiskey Foundation

Swirling basses, piercing riffs and dragging beats – the five-piece is deeply rooted in Blues and creates its own interpretation of the blues spirit on their second album 'Mood Machine'. Contrary to the expectation that this band must have its origin in the US Southern States, they are coming from Munich/ Germany where the band already gathered a true fan base with their debut album 'Take the Walk'. Since its foundation, the quintet managed to expand its fan base who celebrates the band for what they are: a unique band with cult potential playing Blues as it needs to be played – rough, dirty and loud. THE WHISKEY FOUNDATION is Murat Kaydirma (vocals, harmonica), Julian Frohwein (piano), Pascal Fischer (guitar), Franz Klein (bass) and Janis Gursky (drums).
http://www.thewhiskeyfoundation.de
/
https://www.facebook.com/thewhiskeyfoundation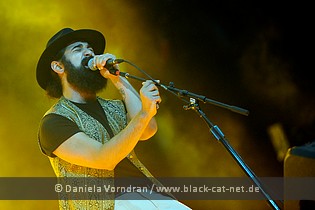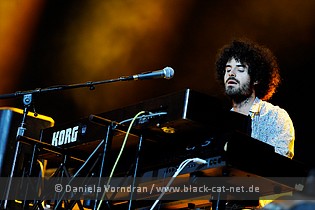 Music & Performance

The arena was already well-filled when the Bavarian band finally entered the stage about fifteen minutes past six. And when you saw the band, you first might think of a Southern States bar, cigar smoke and a sparsely illuminated stage. The unique voice of singer Murat combined with the dirty, unpolished sound of guitar, bass, drums and Hammond and the well-thought songs immediately catch you. Still it feels a bit odd to have a Blues Rock band supporting Australian super heroes AC/DC. But well, band and audience have aged and maybe Blues is exactly the right thing to serve. And even though the audience was still a bit restrained I must say that this Munich five-piece convinced with their southern charm and their dirty Blues Rock.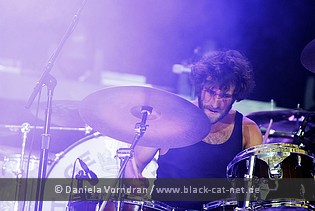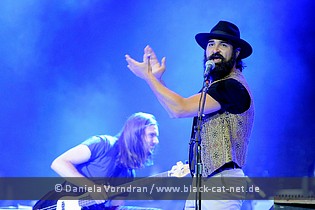 Setlist

01. Buried My Body
02. Waterman
03. Liars
04. Do You Need My Love
05. Secrets
06. Drunken Monkeys
07. Whole Lotta Lovin'
08. Ridin'
09. Do You Like Huggin'
10. Man Of The Mood
Rating

Music: 8
Performance: 7
Sound: 8
Light: 7
Total: 7.5 / 10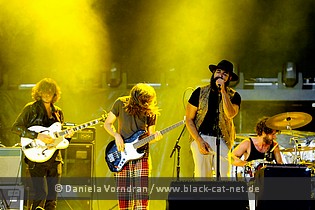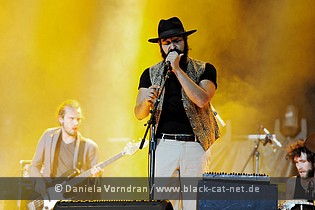 Vintage Trouble

This American Blues Rock band heads from Hollywood, California and is active since 2010. The have released their first studio album, 'The Bomb Shelter Sessions', in 2011. Their sound can be best described as retro, reminiscent of a number of late 50s and 60s blues and rock artists, such as THE ROLLING STONES, CHUCK BERRY and THE ANIMALS. One of their songs called 'Today is Pretty Great' was featured in a Honda Civic commercial with the artists seen at the very beginning for a few seconds. The band joined Brian May (guitar player of rock band Queen) and Kerry Ellis for a tour starting in early May 2011, and in June 2011 supported rock band Bon Jovi in UK. In summer 2014, VINTAGE TOUBLE release an EP with acoustic songs, called 'The Swing House Acoustic Sessions'. In August of 2015, the band's second studio album, '1 Hopeful Rd.', will be out. VINTAGE TROUBLE consists of Ty Taylor (vocals), Nalle Colt (guitar), Rick Barrio Dill (bass) and Richard Danielson (drums).
http://www.vintagetrouble.com
/
https://www.facebook.com/vintagetrouble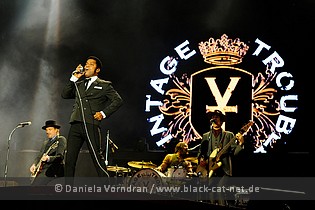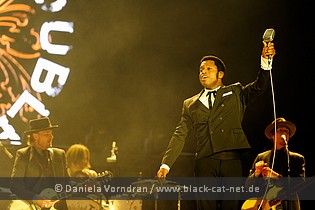 Music & Performance

Oh yeah, what a surprise! Wanna have more Blues? Wanna have more Rock? Here it comes with VINTAGE TROUBLE and a James Brown-like performance! As the band's description says, they reconnect us all to one universal vibration of Rhythm & Blues and Rock & Roll. They say, "their live shows feel like a sweet southern down-home revival mixed with a gritty, downtown edge". And jeez, they are right! You simply could not stand still. The swinging mood and the unbelievable power and joy of the band was catching you, if you wanted or not! VINTAGE TROUBLE were taking you to the swinging Sixties and even the old-fashioned microphone fitted into the overall setting. It was pure joy to watch the band and listen to the song. Singer Ty was everywhere and even left the stage to be carried on the audience's hand forward to the first barrier in the middle of the arena. Amazing! Shall I tell you something? You really, really need to check out a show of this band! Also the audience was excited and rewarded the band with huge applause.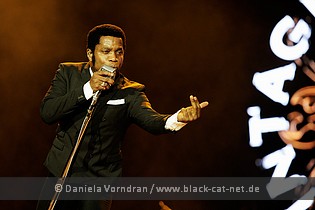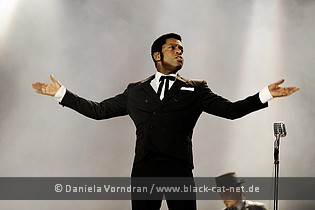 Setlist

01. Intro: Hound Dog (Big Mama Thornton song)
02. High Times (They Are Coming)
03. Blues Hand Me Down
04. Total Strangers
05. Nancy Lee
06. Angel City, California
07. Run Like the River
08. Strike Your Light (Right on Me)
Rating

Music: 9
Performance: 10
Sound: 8
Light: 8
Total: 8.8 / 10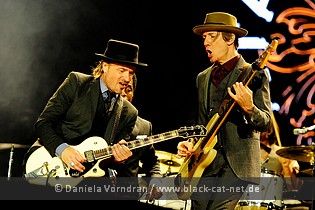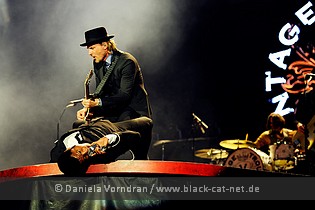 AC/DC

I guess there is no need to say much about this cult band anyone knows or at least had heard of. But at least a few words about the Australian Rock'n'Roll masters… The band was founded in 1973 by the Scotland born brothers Angus and Malcolm Young. Latter one left the band in 2014 after being seriously ill. People even feared the band could split up, but they are still here, even with a new album. During the recording sessions for 'Rock or Bust', Malcolm was replaced by Stevie Young, his nephew, who now also joined the band live on stage. Due to Malcolm's state of health he will steadily being replaced by his nephew who already played a tour with the band in the eighties. Furthermore it was announced in 2014 that long-time drummer Phil Rudd won't return to the band after he had "troubles" with New Zeeland's judiciary. Finally, 'Rock or Bust' was released in November 2014 and is now followed by an extended tour. In February 2015, Chris Slade returned to the band to replace Phil Rudd as steady drummer. The current band line-up is Angus Young (lead guitar), Chris Slade (drums), Cliff Williams (bass), Brian Johnson (vocals) and Stevie Young (rhythm guitar).
http://www.acdc.com
/
https://www.facebook.com/acdc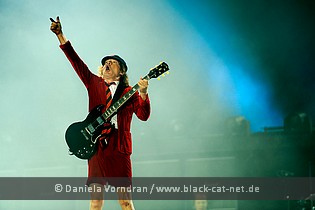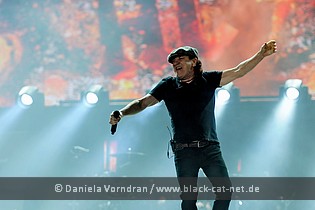 Music & Performance

Yes, there is something special at AC/DC concerts. I think this is the band when I really see most people wearing a band t-shirt. And besides, lots of people were wearing blinking red devil horns, the AC/DC trademark, being sold at the venue for ten euros. When the starting time was coming closer, each seat of the venue was occupied and the infield was packed. There were people from all over the world and some of them were even following the band throughout the entire tour. Amazing! And there was no age limit. You saw parents with their children; you saw the old-school rockers, fans of the first hour and even people who could be AC/DCs parents. Finally towards 20:45, then it went silent in the hall and under loud screams the intro movie started. The animation on three big screens showed mankind landing on the moon and those men finding a burning comet with name AC/DC soon rising up into the sky and making its way towards earth, hitting the planet in a big explosion. And with this explosion, huge pyro effects set the stage into fire while the band appeared on stage to start with the title track of their current album 'Rock or Bust'.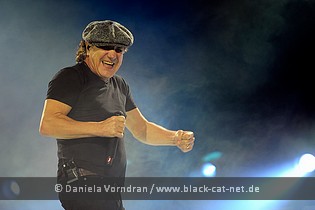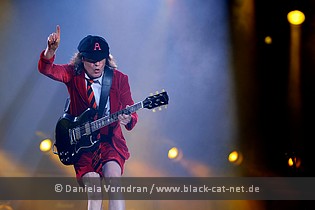 Already with the first riffs, the mood was exploding and the fans were freaking out. It took five long years for the band to return to Germany and the audience was more than eager to celebrate a big party. Brian Johnson's voice is good, but still you realize that he and the rest of the band had aged. But well, so has the audience and the Australians are still good for an extraordinary show. One hit was following another. The set moved on with 'Shoot to Thrill' and 'Hell Ain't a Bad Place to Be' before the first highlight occurred with 'Back in Black'. Soon afterwards, one of the mega hits, 'Thunderstruck', made people loudly sing along. In the middle of the set, a huge bell was let down from the sealing, swinging over the stage loudly ringing and introducing of course the bells from hell, 'Hells Bells'. Songs like 'You Shook Me All Night Long' or 'Sin City' followed and then, with 'T.N.T.' another fan favourite followed. There was no holding back; the whole arena was just pure mass hysteria. With 'Let There Be Rock' ending the main set, finally the "catwalk" was used. A hydraulic system was lifting it up so Angus could walk to a platform in the middle of the hall which was raised even further and where he played a guitar solo during the song.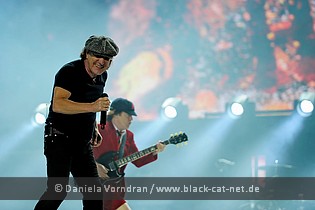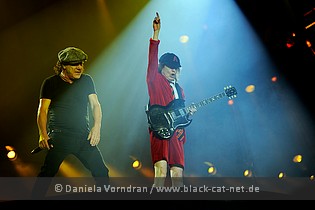 Needless to say that the band had to come back, especially THE AC/DC song was still missing. On the 'Highway to Hell' we came finally to the end of the concert Anyone, really anyone, knows this song, fan or not. And so, the band was accompanied by loud crowd chants. Traditionally, 'For Those About To Rock (We Salute You)' was thrown into the masses and the fans saluted AC/DC at a grand finale when canon beats and fireworks were ending the show. AC/DC definitely still belong to the best Rock bands and presented a fantastic concert. The only thing I might mourn about: please, if you build up such a "catwalk", use it more often! And maybe, add some more pyros, it would fit perfectly to your show.
Setlist

01. Intro
02. Rock or Bust
03. Shoot to Thrill
04. Hell Ain't a Bad Place to Be
05. Back in Black
06. Play Ball
07. Dirty Deeds Done Dirt Cheap
08. Thunderstruck
09. High Voltage
10. Rock 'n' Roll Train
11. Hells Bells
12. Baptism by Fire
13. You Shook Me All Night Long
14. Sin City
15. Shot Down in Flames
16. Have a Drink on Me
17. T.N.T.
18. Whole Lotta Rosie
19. Let There Be Rock (with Angus Young guitar solo on a raised platform in the crowd)
---
20. Highway to Hell (with Angus Young guitar solo in intro)
21. For Those About to Rock (We Salute You)
Rating

Music: 9
Performance: 9
Sound: 8
Light: 9
Total: 8.8 / 10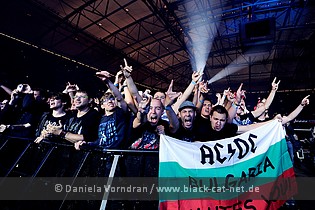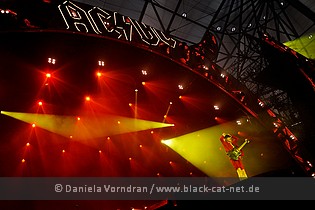 All pictures by Daniela Vorndran (
http://www.vorndranphotography.com
/
http://www.facebook.com/blackcatnet
)
See also (all categories):