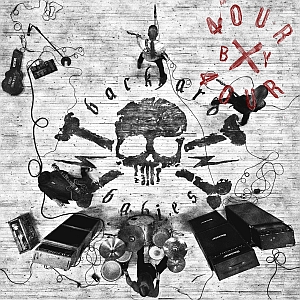 Artist: Backyard Babies
Title: Four by Four
Genre: Rock'n'Roll
Release Date: 28th August 2015
Label: Gain / Sony Music
Album Review

When people hear about Swedish scene, many of them start thinking either about pop music, like ABBA or E-TYPE, or about brutal metal, as Sweden is a homeland of an absolutely unique death metal. And don't forget about Doom, of course! But this time we have a chance to listen to a band with a strange name, playing good old Rock'n'Roll. Or Garage Rock… Or Pop Punk… Or altogether. BACKYARD BABIES presents a great and fine mixture of styles. The formation was founded in 1987, the line-up mostly remained unchanged and somehow all the time and influence can be noticed even now – a sort of blast from the past. Musical industry came through a crisis of ideas, when artists didn't know what to do to create something totally new. A melody was changed with a technique and songs about simple human emotions more and more often had been turning into epic compositions. During the last 15-20 years people finally got tired of such experiments and realized that the most important thing was to make a good song and to be able to sincerely perform it. Music can be only good or bad, regardless its genre.
BACKYARD BABIES despite the 20-year history still symbolizes a return to the roots. Working on the border of different styles the musicians don't forget about tunefulness and quality. The band doesn't seem to be dreaming about popularity and used to make prolonged gaps between records. The previous album came out in 2009 and in whole the discography is not too rich, but at the same time it makes music even better and more interesting, like a breath of old school air in the stranglehold of machine sound. Thus 'Four by Four' is a perfect album to listen to and have a good time, to dance or to walk out in a sunny day or to cheer up when it's raining. The songs are mostly punk-like, the last track 'Walls' reminds a little bit about 'Born to Run' by LYNYRD SKYNYRD, a similar road romance of a lonely wanderer. The bright, vibrant music doesn't demonstrate any modern sonic effect and samples, the vocals can be cheerful and loud or husky and meditative. The album charge listeners with energy. 'No solution, no problem' from 'Never Finish Anything' sounds like 'don't worry, be happy' and actually it's a nice line to characterize the record.
As for the audience, everything was written at the beginning: 'Four by Four' will be definitely appreciated by hard rockers, punks, lovers of old school stuff, cowboys.
Tracklist

01. Th1rt3en or Nothing – 3:53
02. I'm on My Way to Save Your Rock'n'Roll – 2:54
03. White Light District – 3:29
04. Bloody Tears – 3:51
05. Piracy – 3:16
06. Never Finish Anything – 3:44
07. Mirrors (Shall Be Broken) – 3:28
08. Wasted Years – 2:58
09. Walls – 7:20
Line-up

Nicke Borg – Lead Vocals, Guitar
Dregen – Lead Guitar, Vocals
Johan Blomquist – Bass
Peder Carlsson – Drums
Website

http://backyardbabies.com
/
https://www.facebook.com/backyardbabies
Cover Picture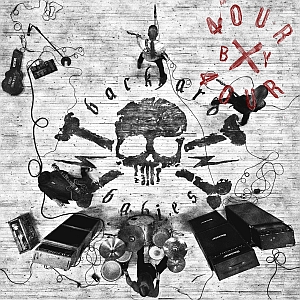 Rating

Music: 10
Sound: 10
Total: 10 / 10