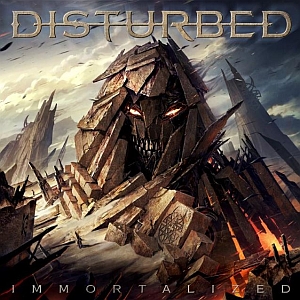 Artist: Disturbed
Title: Immortalized
Genre: Heavy Metal/ Alternative Metal/ Hard Rock
Release Date: 21st August 2015
Label: Reprise Records
Album Review

Almost five years ago, DISTURBED, who have already immortalized themselves with the much celebrated nu-metalish anthem 'Down with the Sickness', declared to go on hiatus. Now, after years of silence, apart from the release of the compilation album 'The Lost Children' in 2011 and the box set 'The Collection' in 2012, the boys and their grinning mascot named "The Guy" are back. With a big bang, I have to add!
Same as the previous four records ('Believe', 'The Thousands Fits', 'Indestructible', and 'Asylum'), 'Immortalized' deputed at No. 1 on the Billboard 200. The way vocalist David Draiman sees it, the hard rocker's sixth record
"is one of the most diverse and unique albums"
in their history. For the recordings, he and his band buddies, guitarist Dan Donegan, who also replaced bassist John Moyer on this album, and drummer Mike Wengren got together with producer Kevin Churko (OZZY OSBOURNE, FIVE FINGER DEATH PUNCH, PAPA ROACH) in the Hideout Recordings studio in Las Vegas. This was their first collaboration and as Donegan tells us, it's been quite fruitful:
"The goal was to find a producer [...] who could challenge us and spark a new evolution. Churko did that. We had chemistry together right out of the gate. We were prepared to change things."
And so they did – 'Immortalized' really stands out and I have to say that most of the tracks totally rocked my socks off. DISTURBED are bursting with new energy and, in addition to that, surprise us with a big goose bump moment! But let's take one track at a time...
The opener 'The Eye of the Storm' is an instrumental pleasing our ears with calm keyboard arrangements and an on-going guitar solo performed with virtuosity. The calm-before-the-storm-tune seamlessly bleeds into the roaring title track that is definitely DISTURBED: Draiman's distinct voice and percussive singing style, rhythms rapid like a river, vibrant guitars, and "Hey! Hey!" shouts towards the end make it great hymn. And it gets even better as 'The Vengeful One' approaches! Draiman explains that it
"is the personification of The Destroyer, the Angel of Death, Gabriel, or the Hand of God looking over humanity. In the song, it's the End of Days. Things are getting worse, and we're becoming more destructive. The media is playing everyone against one another and baiting the entire world. It's judgment day. This is that entity's voice speaking and passing judgment."
The song kicks off with a massive drum beat and a grooving bass leading to a bone-jarring riff. Next to the DISTURBED typical staccato leads 'The Vengeful One' presents one of the most powerful head-banger-choruses on the album which makes it another big hit to be performed live, no doubt about it. With "Ohhoohhoohhh, open your eyes!" and further "Hey!" shouts in the chorus, the following 'Open Your Eyes' is yet another hard rocking ear worm – even heavy head-banging won't help you to get rid of it.
So far it's been a rampant ride on 'Immortalized'. 'The Light' shifts down a gear, however, without losing the energy. There's an into and outro presenting slightly uncanny sounding keyboards, also clear melodic vocals before they hulk up again, and another catchy chorus concluding with the observation: "Sometimes darkness can show you the light". I enjoyed 'The Light' a lot and would only wish for a slightly longer fade away in the end, something like just one more second, to make the atmospheric keyboard tune that's framing the song even more successful and have a more fulfilling fade-out, but maybe it's just me. Since variety is the spice of life, the great and more aggressive 'What Are You Waiting For' follows, just to be taken over by the grooves of 'You're Mine', which appears to be the first "love song" in DISTURBED's catalogue. The way they sequence the tracks make this diverse album a fun listening experience. The band shouting united the words "Who?! Who?!" in the beginning and end of the song 'Who' and a combative chorus going "Whooo, whooo, whooo the f*ck are youuu?!" heat things up again.
What follows then, is another highlight, the emotional and sincere 'Save Our Last Goodbye', a song dedicated to a close friend of Donegan's who died from cancer. They immortalized him by playing a voice message he left on Donegan's answering machine in the intro. 'Immortalized' is indeed a roller coaster ride. And so, after the touching and powerful "telephone tune" of loss and farewell we get the uplifting party song 'Fire It Up' which presents an ode to weed. It's introduced with the humble-bumble sounds of a bong, the band talking about "not [being] afraid of having a good time", and laughter. Music-wise 'Fire It Up' isn't that impressive, however, DISTURBED immediately make up for it with a surprising cover version of SIMON & GARFUNKEL's popular folk rock classic 'The Sound of Silence' (1964). Let me praise it in its own paragraph.
In general, cover songs are, let me put it this way: always interesting; often failing and, therefore, unnecessary, but nevertheless entertaining; at times, however, they are even more successful than the original masterpiece. Cover songs make sense, when a band that plays a song they like by other musicians doesn't simply imitate the original – boring – or forcefully tries to put their mark on it – imagine, for instance, a rocking band "metalizing" a Christmas carol just for the sake of it – but when a band actually presents their own version of song they appreciate and consider worth covering and, in doing so, also enriches the original. That's exactly what DISTURBED did with 'The Sound of Silence'. If you say, their expressive and truly more dramatic version and particularly Draiman's exceptional vocals didn't give you any goose bumps, you're either simply afraid to admit it, or you're a robot made of steel. The vulnerability in Draiman's clean vocals next to an amazing orchestration of piano and acoustic guitar sounds and growing strings gave me the shivers. As Donegan points out,
"It's something that might shock people"
as with this cover song DISTURBED
"went down a new path altogether";
they
"did what felt right and saw the vision through."
The album concludes with the fast-paced and angry 'Never Wrong' and the heavy rocking 'Who Taught You How To Hate'. In the former, the rhythmic of the harshly whispered words "You're never ever wrong, no, you're never wrong, never / No, you're never ever wrong, no you're never wrong, never wrong" in the intro, kind of remind me of the drums and guitar riff in the beginning 'Down With the Sickness'. In the latter, Mike Wengren shines with his vigorous drumming and Draiman with his impressive, low-pitched baritone asking, "Tell me now, who taught you how to hate? / Because it isn't in your blood / Not a part of what you're made" before repeating and concluding the chorus with "So let this be understood / Somebody taught you how to hate / When you live this way, you become (You become) / Dead to everyone" using his unique, distorted voice we're familiar with.
All in all, am I right to assume that fans must be happy with DISTURBED's sixth release feeling like it's been worth the wait? What's for sure, is that the band's excited and full of zest of action:
"To be away [...] for almost five years, get back in a room, write together, and tap into that fire is awesome,"
as Donegan says,
"Part of me didn't want to leave the studio! We still have a lot more to say. We still have a lot more to do. We're returning stronger than ever. I think 'Immortalized' shows that."
Concluding, I have a confession to make: Apart from being a huge fan of the classic "Ohh-Wah-Ah-Ah-Ah"-firecracker and Draiman's collaboration with Jonathan Davis (KORN) on one of the incredible Queen-of-the-Damned-songs, namely 'Forsaken', I haven't been an avid listener of DISTURBED. That's going to change, thanks to 'Immortalized'. After listening to it for the first time, it made me wanna jump to my feet and go for a run – and I never ever go out for a jog! So, when Draiman explains,
"I just want people to walk away feeling powerful. That's it. That's what we wrote this record to do,"
I can only say: Mission accomplished, guys!
Tracklist

01. The Eye Of The Storm
02. Immortalized
03. The Vengeful One
04. Open Your Eyes
05. The Light
06. What Are You Waiting For
07. You're Mine
08. Who
09. Save Our Last Goodbye
10. Fire It Up
11. The Sound Of Silence
12. Never Wrong
13. Who Taught You How To Hate
14. Tyrant*
15. Legion of Monsters*
16. The Brave And The Bold*
*only on Deluxe version
Line-up

David Draiman – Vocals
Dan Donegan – Guitars, keys, bass, backing vocals
Mike Wengren – Drums, percussions, backing vocals
John Moyer* – Bass, backing vocals
*did not perform on this album
Website

http://www.disturbed1.com
/
https://www.facebook.com/Disturbed
Cover Picture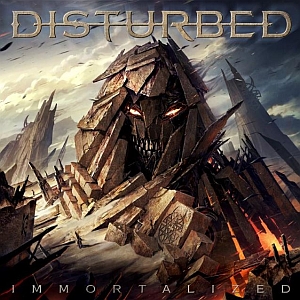 Rating

Music: 8
Sound: 9
Total: 8.5 / 10