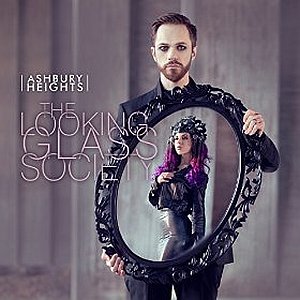 Artist: Ashbury Heights
Title: The Looking Glass Society
Genre: Synth Pop, Electro
Release Date: 24th July 2015
Label: Out of Line
Album Review

The future of ASHBURY HEIGHTS has been uncertain for quite a while, the fans never knew whether there would be a new record or whether they have stopped making music for good. But Anders Hagström has teamed up with the gorgeous Tea and the outcome is 'The Looking Glass Society' which was released on 24th July 2015 – five years after 'Take Cair Paramour'. ASHBURY HEIGHTS have remained true to their trademark – the intermingling of male and female vocals and lyrics written for misfits who are fed up with society but musically, they have advanced quite a lot. One can tell that Hagström has concerned himself a lot with the structure of pop and dance songs but nevertheless, the gloomy, melancholic undertone has not diminished. Beware, those songs will get stuck in your head immediately.
ASHBURY HEIGHTS sound more pompous than ever before which 'Glow' triumphantly suggests with a baroque-like intro and a powerful chorus, emphasised by a repetitive, drilling dance melody: "And I don't need to be/ A model of conformity/ You know?/ And I don't need an alibi for sanity/ Cause I'm my own". Yes, right in the face of society's unrealistic expectations. That's what I have always loved about those Swedes: their bravery to speak out what so many people think, and realising it with powerful melodies. But, as one can tell from the album title, the record is also dedicated to the crazy, colourful world of 'Alice in Wonderland' but much rather deals with the strange alienation from oneself as 'Phantasmagoria' suggests: "Life is phantasmagoria now/ And all that's left is the stranger part of me". Furthermore, the element of baroque is quite dominant on the record which fits thematically as in the past, rigid social structures were even harder to break through.
'The Looking Glass Society' is an experimental child which attempts to fuse together different genres uncompromisingly: dance melodies kiss baroque harpsichords, contemporary pop dances with synthesizers from the 80s and the outcome are very unique melodies which only Ashbury Heights can call their own. I'll be honest and admit that I needed some attempts to get a hold of this record but it really IS exceptional and something completely new on the horizon of Out of Line's usual output. My personal favourite is the melancholic and dreamy 'Starlight' which Ashbury Heights have already presented at previous live performances like the Out of Line Weekender 2014 in Berlin. I am excited for what is to come, Anders Hagström has recently announced that he's almost done with the next record and I am pretty sure it's going to have the fine sanding and common theme I am still looking for in 'The Looking Glass Society'.
Tracklist

01. Masque
02. Heart Of Darkness
03. Glow
04. Hollow
05. Phantasmagoria
06. Piano
07. Leave Off At Seven
08. The Number 22
09. Gravitational Man
10. Ghost Spirit Mother
11. Starlight
12. November Corrosion
Line-up

Anders Hagström – vocals, music
Tea Thime – vocals
Website

https://www.facebook.com/ashbury.heights/
Cover Picture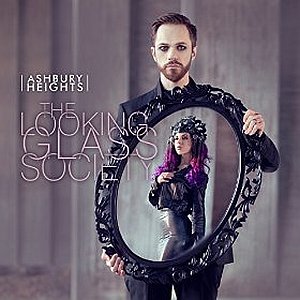 Rating

Music: 7
Sound: 8
Total: 7.5 / 10