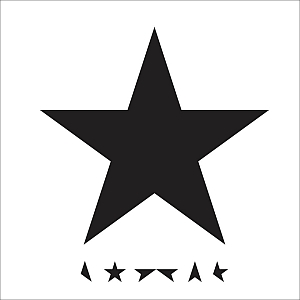 Artists: David Bowie
Title: Blackstar
Genre: Bowie
Release Date: 8th January 2016
Label: Columbia
Album Review / Obituary

"A great artist is always before his time or behind it." (George Moore)
Monday, 10th January 2016
Two days ago I was sitting here to start something that should become some few reviewing thoughts about an album called 'Blackstar'.
And now everything has changed.
Three days ago I was listening for the first time to something, what was meant to be the latest and 28th studio album of a certain Mr David Robert Jones, who became as David Bowie one of the most significant, substantial and challenging artists of the last 50 years´ popular culture and who should become the most important and actually only constant in my musical galaxy for the last 20 years.
And now everything has changed.
Faces appeared and faded away, names changed and became smoke and mirrors, styles and zeitgeists shown up for wandering straight under the daisies, but Bowie was shining through all of this. Through half-lives and sonic vacuum, through ephemerality and artistic banalities, through predictions and memories, through time, space and evanescence. And even when his body of work couldn't keep pace with his reputation constantly, he was still an entity, a criterion, a cultural measure. Crowner and pointer, compass and ignis fatuus.
And now...things have shifted.
It feels strange to realize that 'Blackstar', the album that came into the world just three days ago will be the last bead of the chain. It feels strange that it became a legacy all of a sudden, the final present of an artist, who gave so much to so many. And it makes a shiver running down my spine to realize that it was intended to be nothing else but this, from the very beginning. Facing death with an empty sheet of paper... curios and eager... forcing mortality to put a fingerprint on a canvas. "I can´t answer why…but I can tell you how…"
Somehow it sounds bitter now to say that I loved 'Blackstar' from the moment of its appearance, when it was still free of its saddening shadow, when it still caused a smile upon my face for its brilliance, for its sonic inscrutability and its aesthetic weirdness. Listening to 'Blackstar', the single, and watching its accompanying video for the first time back in November, I was shivering of excitement of the sonic landscapes Bowie had entered again, territories he had visited last in the mid-nineties, the remote trails, the off-kilter paths, realms he felt so appropriate within. Broken up structures, layered threads of sound dispersing and converging while passing oddness and beauty, dignity and fragility, the organic breathing of jazz entwined with synthetic coldness, the threatening shade of a cloud circling around the golden light of sun rising. 'Blackstar' felt like art done by a man, who had nothing to prove to himself anymore but creative hunger, nothing but being artistically alive.
"Something happened on the day he died..." and so 'Blackstar' became not only Bowie's most thrilling piece of work since a long, long time but also his most intimate one, an epitaph carefully engraved by himself. And all the details and all the symbols, all the allegories and all the verities - it becomes so clear now, alights from its ambiguity for enfolding what is probably the most courageous, the most stunning, the most emotional and finally the greatest masterpiece Bowie has ever done - turning his own mortality into art, dancing with the reaper while the red shoe lies stained under the deathbed.
Let's start with the albums artwork that depicts (for the first time ever) not the man himself on the cover but just a symbol, this simple but portentously black star, as if to help you separating the soul from the body, the present from its clasping tenses. He´s stepping behind the athanasia and timelessness of his oeuvre, just a messenger, not even a name anymore. The inner sleeve, revealing an infinite starry heaven as a first sight, is dominated by black. Black words on a black background, so you have to look for them, feel them, deal with them and it is his words that prove more than anything else that he knew what will come and that he faced it in his own unique and sophisticated way.
I.
The albums opener, the often quoted and above mentioned 'Blackstar' is a microcosm in itself. It is a 10 minute textural and stylistic hydra combining twitching drum pattern with flashes of a beam-like saxophone, pulsating electronics with oriental harmonies and some of the most fragile, touching and enchanting melodic flow with somehow world-enraptured sacred chants. It is a spiritual song, floating around a core of awareness and comfort. "In the villa of Ormen [phonetically close to "all men"?] stands a solitary candle… in the centre of it all your eyes…" he's aspirating in a mantra-like loop, creating a disturbing, gloomy and somehow pale atmosphere before ethereal strings ringing in the song's main aisle, which is harking back to his 70s Soul and R´n´B incarnation. "Something happened on the day he died, a spirit rose a metre and stepped aside… I'm a black star…" It is a legacy, a self-definition. Not a white star, not a pop star, not a film star… a black star. He's putting himself back in the vast, invisible, free of an event horizon, heading towards to an infinite singularity and when the video shows him kneeling with folded hands, singing: "I will bring you home…" while looking upwards in a blazing sky it gives you goose bumps for the intensity, sense and verity revealed.
But on the other hand you can't be sure if someone like Bowie made it that easy for you, if there aren't any further layers of meaning below, like waters with a different density. Or did he? The eagle as an allegory for immortality and apotheosis, his quoting of god's words relating to Moses' question for His name, the gemmed skull in the video, the headless skeleton raising skywards… you could go on analysing all the myriads of innuendos, allegories and symbols the words and the moving pictures are dotted with, but it would go beyond the scope of this little piece of writing and honestly; who am I to dare try to find an explanation?
So let me apologize here for the fact that I will just adumbrate the two songs ''Tis A Pity She Was A Whore' and 'Sue (Or In A Season Of Crime)'. Don't get me wrong, they are both brilliant and stunning, firmly fixed within the albums brimming and eclectic sonic landscape and in their reworked appearance they even beat the hell out of their own pre-existence. 'Sue' moved from a disturbing, dusky, brass-laden Jazz grandeur to a pulsating wyvern of energy and distortion, dark and absorbing and definitely an inherent part of Bowie's most unsettling canon of songs, while ''Tis A Pity…', even as the then released demo version already ecstasizing for its cacophonous, challenging oddness, now becomes a polished gem with its layers of sax and electronics, its sprinting drums and vocal's timbre that I missed for such a long time, but both songs were firstly released back in 2014 and so they feel somehow distant from 'Blackstar's main contentual gravity. I don't wanna use the word "filler" here, cause that would be sheer blasphemy, but it feels as if they came to life differently than the other songs, from another place, from another view… from another season…
II.
It starts raining. Of course….
'Lazarus', the albums second single (originally written for same-named stage play, the second important project he was working on until shortly before his departure) will be an eternal protruding monument in Bowie's whole canon for it always will be linked to the last video he ever did. "Look up here, I'm in heaven… I've got scars that can't be seen…" he's singing those words that, from the here and now disarm you with their unshakeable truth. It is a beautiful song, a gentle elegiac river of brass and synthesizers, of glassy guitars and an earthy bass and again there's the lofty saxophone of Donnie McCaslin, which works like a mournful varnish throughout the whole album. "Look up here man, I'm in danger… I've got nothing left to lose…" he's almost begging before the sound rises like a sudden dayspring, flooding the hallway with light and memories. "This way or no way… You know I'll be free. Just like that bluebird… Now ain't that just like me?"
It still breaks your heart and fills you with a certain kind of warming comfort to listen to these lines now. Maybe the Bluebird of Happiness to be found in ancient folklores? Or the Egyptian blue Bennu bird, inspiration for the Greek Phoenix, which is, as the song's biblical namesake a more than obvious symbol for resurrection? Who will finally know, but it is a nice thought for there's so much hope in these words, so much conviction and bitter awareness that you almost feel the leaden veil that must have hovered above him and everybody else involved in doing the album. What strength and will you must own to get through this all? The play, the songs, the videos….
I think there's no way of finding words about the 'Lazarus' film, cause for now language seems not made for it. It is a farewell addressed to the centre of it all and thanks god, now we know what's there. And to be honest, the clips welter and variety of heart-breaking imagery needs no elucidation, just a moment to handle with it. And let's face the fact that the song's final sequence, his last performed appearance ever, when he is moving backwards into the armoire for closing it from the inside will always be etched in our minds as a synonym for Bowie's artistic grandness and grandeur, his creative generosity and for the profundity and meaning he brought to popular culture and to our hearts.
III.
"I'm sitting on a chestnut tree... Who the fuck is gonna mess with me?"
'Girl Loves Me' seems somehow the strangest and most opaque of the new songs in the (dawning) context of the album. It may be due to the track's intangible atmosphere that is only fed from a stoic, reduced bass-drum interplay on the one hand and the volleying words' rhythm on the other. Somehow it lacks any clearly outlined emotion, is stomping along like a naive nursery rhyme, suspiciously neutral as if to blur any deeper meaning. That feeling is boosted by the songs most prominent feature - the language. It is a mixture of Nadsat and Polari, where the former is a lyrical gimmick in Burgess´ 'A Clockwork Orange' and the latter a cipher slang spoken in London's gay scene in the 70s. No need to point out the relevance of both to the song's performer and so it feels like another nostalgia song, linking back the days of youth and the nascent shaping of a musician, who was going to make history over the next few decades, echoing the last albums 'Boss of me', both musically and relating to its topic, like an edgy fun house mirror reflection. And again there are lose threads of meanings evolving between the lines. Is the chestnut tree a hint to Orwell's '1984'? Or to longevity as already Hildegard von Bingen mused about? And just yet we know that we will always remain uninitiated, clueless treasure seekers among textual trapdoors and secret lyrical passages. Moths to the flame of a genius.
IV.
I will tread the last two songs (as sad but true as it is) as a unity, cause not only they flow sonically in each other, but also musically and contently they seem to be linked.
They are the most catchy and peaceable songs on 'Blackstar' and again he unfolds his skills to write melodies, which immediately enter your veins for flooding your body. The acoustic and weightless sadness of 'Dollar Days', with its introducing piano, the coppery shade of the saxophone and the grinding tension between electric strings and heavenly ones and the sweet and silky texture of 'I Can't Give Everything Away' with its murmuring keyboards, fluttering sax-stripes and harmonica references reveal a breath-taking gradient of introspection and melancholy, a touchable fabric of memories, reflections, warm light and even gratification. "If I never see the English evergreens I'm running to it's nothing to me, it's nothing to see" he's singing in 'Dollar Days', vulnerable but convinced. There's sadness in it, but also a lot of brightness and comfort. "don't believe for just one second I'm forgetting you... I'm trying to, I'm dying to". It is a gorgeous song, catching you on the hop with its sparkling fragility and emotional density.
The last song (and it even comes hard to write it) shows up as an almost elated ballad that opens a door to let the light shine in, while the words seem so prophetic now: "I know something is very wrong, the pulse returns the prodigal sons, the blackout hearts, the flowered news, with skull designs upon my shoes..." There's this harmonica, whose harmonies remind of his 'A new career in a new town' song, a hint that's more than brilliant and it is a last symbol of his grandness that the last song of his last album is not a dark and gloomy one, not a sad tearjerker, but one of beauty and sweetness.
And there's even some humour in his last sung words. While everybody is going dissect and pick his words to pieces now (yes, seems I'm one of those too) he's almost impishly confessing: "Seeing more and feeling less, Saying no but meaning yes, This is all I ever meant, That's the message that I sent... I can't give everything away..."
It stopped raining now.
The very last official photograph taken of him sees him smiling and happy as child and I'm sure this is what he wants us to be now...
So, what's left to say after so many wasted words that seem to be so small and so effectless in the end? I have to confess that I was always afraid of that day, but now I find solace in the fact that he went the last way as he intended to do, in his own exceptional fashion.
A sailor is sailing the milky oceans now and we will be forever his venturous crew.
Thanks and farewell.
Miss you
Tracklist

01. Blackstar
02. ´Tis A Pity She Was A Whore
03. Lazarus
04. Sue (Or In A Season Of Crime)
05. Girl Loves Me
06. Dollar Days
07. I Can't Give Everything Away
Line-up

David Bowie - Words, Vocals, Guitars, Keyboards
Donny McCaslin - Saxophone, Flute, Woodwind
Jason Lindner - Piano, Organ, Keyboards
Tim Lefebvre - Bass
Mark Guiliana - Drums, Percussions
and others
Website

www.davidbowie.com
Cover Picture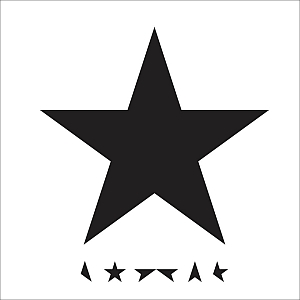 Rating

Music: 10
Sound: 10
Total: 10 / 10