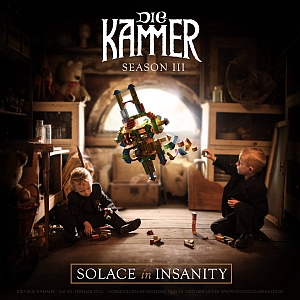 Artist: Die Kammer
Title: Season III - Solace in Insanity
Genre: Singer / Songwriter / Folk / Traditional
Release Date: 5th February 2016
Label: Delicious Releases
Album Review

Ever since their live debut at the 21st Wave Gotik Treffen in Leipzig in 2012 and the release of their first album 'Season I - The Seeming and the Real' in October the same year, DIE KAMMER have become very well known for their unique style of handmade music, and their live shows for being a very impressive experience, since with every note that is played and every word that is sung they make their audience feel how much passion and love they have for their music and for presenting it live on stage. On February the 5th, a bit more than four years after the band was founded by Marcus Testory and Matthias Ambré on the 22nd of December in 2011, their third studio album 'Season III - Solace in Insanity' will be released.
Being basically somewhat lined up like a classical chamber orchestra, with a cello and two violins in the string section, minimal drums, acoustic bass and a tuba for rhythm and two leading guitars and the deep velvet Voice of Marcus Testory in the front, they love to experiment with all kinds of instruments, like a barrel organ for example, a mandolin or an Irish bouzouki. Even a glockenspiel and a musical box can be heard on this album, not to forget the ticking of a real alarm clock. Starting up with the title track 'Solace In Insanity', in which, guided by the voice of Sophie, the little girl, that has been the companion of the band from the very beginning, the listener is lead into a colourful and bizarre imaginarium full of magic sounds and stories.
The Story of 'The Drunk Welshman' for example, who thinks, he has to talk a young lady out of jumping into her own death. Or the one of the two lovers in 'Gingerbread Heart' that have just met, but already there seems to be a shadow hanging over them... The story of the young woman in 'Auld Weeping Willow', who one day vanishes under mysterious circumstances, has touched me deeply. So has the wonderful 'Will You Close My Eyes', which reminded me a bit of PINK FLOYD's 'Wish You Were Here'.
"The Galant Enticer's Tango" is yet another kind of story.
It IS actually a tango with this very typical accordion sound.
And those words of the enticer sound like something one of Sinister Sister's victims might confess to her before he is chopped into pieces.
DIE KAMMER's wide diversity of melodies and sounds ranges from light - hearted, fast songs like 'Sedlaczek' or 'Carnival Of The Peculiar', that invite to dance and sing along, to the tragic mood of eastern folk music and gloomy scenarios that remind one of dark fairy tales told by candlelight. Some songs, like the edgy 'Word and Deed', the lovely 'The Way You Are' or the gloriously crazy 'Intoxication Intravenous' with its alarm clock - intro and marching beat, need a moment to snuggle into ones ear, but after a while they release their magical power on the listener, who can't help being struck by their enchanting power.
Two of my favourite songs are the lightly swaying 'Fairy On The Wire', which contains three (yes, three!) languages in its chorus (never heard that before in any other song!) and the wonderful and epic 'Love For Life', that makes me smile and cry at the same time whenever I listen to it. With 'Sophie's Chimaera' the circle closes and the listener is lead out of the imaginarium again by Sophie's voice. All of the songs on this album are wonderful from the beginning in one way or the other, especially with Max' powerful voice, sometimes soft, sometimes loud, but always full of warmth and empathy, giving them this special, unique touch of comfort and safety.
But they are also absolutely worth a closer look. Because by listening to them over and over again, one may find what lies beneath, and discover their beauty all new again in the little details, that can easily be missed at first sight. There is scarcely another band to be found these days that combines intelligent lyrics and wonderful storytelling so perfectly with the right kind of down-to-earth handmade music and, in addition, the use of such a rich variety of extraordinary Instruments. So, if you like this style of music or are looking for something new and exciting to discover, DIE KAMMER may exactly be what you've been searching for.
Tracklist

01. Solace In Insanity
02. The Drunk Welshman
03. The Way You Are
04. Gingerbread Heart
05. Sedlaczek
06. The Galant Enticer's Tango
07. Intoxication Intravenous
08. Carnival Of The Peculiar
09. Auld Weeping Willow
10. Fairy On The Wire
11. Word And Deed
12. Will You Close My Eyes
13. Love For Life
14. Sophie's Chimaera
Line-up

Marcus Testory - Vocals, Guitar, Melodica
Matthias Ambré - Guitars, Backings, Mandolin, Irish Bouzouki, Melodica, Glockenspiel
Dirk Klinkhammer - Tuba, Mandolin, Melodica
Oliver Himmighoffen - Drums, Glockenspiel
Veronika Münstermann, Tabea Rotter - Cello
Aline Deinert - Viola, Violine
Matthias Raue - Violine
Ingo Römling - Bass
Website

https://die-kammer.com
/
https://www.facebook.com/diekammer/
Cover Picture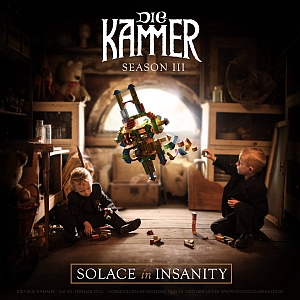 Rating

Music: 10
Sound: 10
Total: 10 / 10