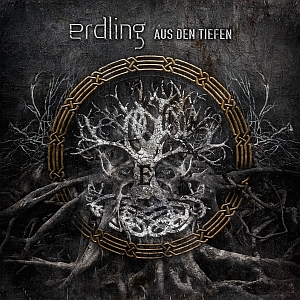 Artist: Erdling
Title: Aus den Tiefen
Genre: Dark Rock
Release Date: 22nd January 2016
Label: Out Of Line
Album Review

What happens when a guitarist wants to stand in front? Right, he founds his own band. And that is exactly how we ended up with the band ERDLING, which is the product of the ex-STAHLMANN-member Neill Devin. And at some level with his debut album Devin managed to jump over his previous project. For a moment there was a belief that STAHLMANN resurrected the whole music genre, until they began to sound just like "another band". In this context ERDLING is kind of overcome of the frustration. As if Neill was told for a long time "no, you should not play that loud, it is no good", so he decides to step out and stand out.
The first and the most right word to describe ERDLING would be "powerful". You can feel it in every song and every note. What a joy it is to hear good powerful German speaking band, which has no strong associations with its "ancestors". Of course there are traditions and stigmas which are very difficult to avoid. And no doubt ERDLING belongs to the modern German rock-scene. But even if on the surface the band may sound like the others, it is just a bit more danceable, a bit louder, a bit harder and simply a little bit better than the rest. In more impressionistic manner, it sounds like the band went to the depths of the German rock, dug into its best pieces and came back with the real storm smashing all on its way.
Suspiciously the name of Chris Harms (LORD OF THE LOST) pops up again, and again connected to a successful project. As if Harms would be the prophet of the new musical Age, and ERDLING could be the omen of this new Age to come. Beware of the German lyrics and such a common metaphors as "storm", "depth", "shadow" or "truth", but don't fall into a trap and follow the fresh ideas which ERDLING brings in its music. 'Aus den Tiefen' is the statement, the rock-manifesto of the glory. Listen to its tunes charged with young energy and irresistible power.
Tracklist
CD1
01. Aus den Tiefen
02. Blitz und Donner
03. Firmament
04. Dickicht
05. Stimme der Wahrheit
06. Schattenland
07. Du bist Soldat
08. Mehr
09. Im Horizont
10. Es ist Zeit
CD2
01. Im Horizont (Akustik Version)
02. Dickicht (DYAO Remix)
03. Stimme der Wahrheit (Hucretha Remix by Heimataerde)
04. Schattenland (A Life Divided Remix)
05. Aus den Tiefen (Chainreactor Remix)
06. Firmament (Piano Version feat. Gared Dirge)
07. Mehr (Wobbled Up Remix)




Line-up

Neill Devin - Vocals, Guitars, Programmings
Niklas Kahl - Drums, Programmings
Neno Knuckle - Guitars
Marco Politi - Bass
Website

https://www.facebook.com/erdlingofficial/
Cover Picture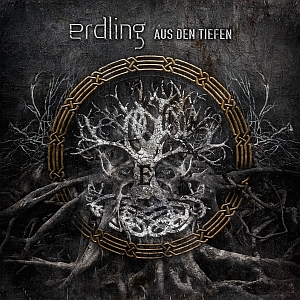 Rating

Music: 8
Sound: 10
Total: 9 / 10