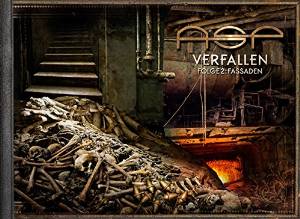 Artist: ASP
Title: Verfallen Folge 2: Fassaden
Genre: Gothic / Rock
Release Date: 1st April 2016
Label: Trisol Music Group (Soulfood)
Album Review

It's been only six months since ASP released their latest album 'Verfallen Folge 1: Astoria' and now there is the second and last part of this story. Inspired by a short novel exclusively written by Kai Meyer, the romantic but also scary and tragic story reaches its peak in this CD. Unfortunately the tale about the hotel Astoria ends here. But it ends with a big finale!
The second album starts how the first one has ended. 'Fortsetzung folgt…' was an ending that promised a story that will be continued. And ASP doesn't disappoint. The kind of remake of 'Fortsetzung folgt…' catches you right there where the latest album ends. Afterwards the intro of the actual album starts. It contains the melody of the main song in part 1 'Astoria'. In general the new album shows many associations and crossovers to the first part. When you hear through the songs of the new CD you will surely recognize that ASP did what they always do. The sound of some songs is new and strange but still ASP. Just in another shape. Always an exciting experience!
This album has everything: Some punkish aspects that remind on the good old song 'Ich will brennen'. Then there are some Goth Metal elements known from bands like NIGHTWISH, growling, ballades with a little alternative and indie touch, up to opera like parts. Especially 'Hinter den Flammen' represents many different genres in one great song. The story reaches its climax in 'Ich lösche dein Licht' and 'Ich lösche dein Licht (Reprise)' where the story is told by the same person but the character changes and so does the sound of the songs but they still belong together.
Unfortunately there are no 'Zwischentöne' like in the first part. Therefore ASP has several slow and very emotional songs on the new CD which function as such. The album ends with 'SouveniReprise' a remake of 'Souvenir Souvenir' from the first CD. It sums up the whole story and reflects what happened. It comes out that the character has lost himself in the hotel Astoria. It will be demolished and no one will ever find out what happened behind its doors…
Tracklist

01. Fortsetzung folgt...2 (Vorspann)
02. Bitte nicht stören! (Intro)
03. Unwesentreiben
04. OdeM
05. Zwischentöne: Höhepunkt
06. Das Kollektiv
07. Hinter den Flammen
08. Zwischentöne: Abfall
09. Köder
10. Ich lösche dein Licht
11. Ich lösche dein Licht (Reprise)
12. Ich bringe dir nichts mehr
13. Umrissmann
14. SouveniReprise
Line-up

Asp – Vocals
Tossi Gross – Bass, Live-Background-Vocals
Sören Jordan – Lead Guitar
Lutz Demmler – Guitar, Live-Background-Vocals
Stefan Günther – Drums
Website

www.aspswelten.de
/
https://www.facebook.com/AspsWelten
Cover Picture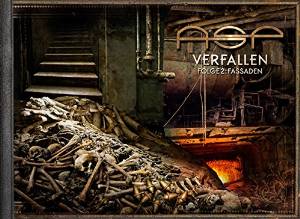 Rating

Music: 9
Sound: 10
Total: 9.5 / 10