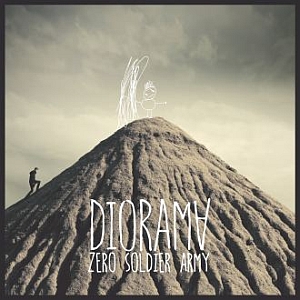 Artist: Diorama
Title: Zero Soldier Army
Genre: "The band doesn't know. And the band doesn't care."
Release Date: 9th September 2016
Label: Accession Records
Album Review

At long last, the wait is over: DIORAMA have unleashed their 'Zero Soldier Army'! About 3.5 years after the release of 'Even the Devil doesn't Care', the band from Reutlingen, Germany, that uniquely presents Dark Electro next to Alternative Rock, finally shares twelve new, eclectic tracks with us. DIORAMA have been around for two decades and everyone who'd been expecting that they would simply repeat themselves on their by now ninth studio album, will probably be disappointed. But deservedly so, for one should know that DIORAMA is one of the "interesting" acts of the dark scene, one of the exceptional projects that always call for the highest of expectations. And if you had those, you'll find 'Zero Soldier Army' without question quite fulfilling.
"Don't you know my zero soldier army?"
This is the rhetorical question that DIORAMA slowly build up to in the first verse of their album opener 'ZSA'. The acronym obviously stands for the album's strong title which presents the oxymoron of a soldier-less army – brilliant! Vocalist Torben Wendt explains:
"The songs were conceived in a time of increasingly complicated global crises which coincide with fanatical nationalisms and other delusions. We wanted to counteract our bewilderment in the face of the fiasco we're heading towards with a term symbolizing defencelessness and militancy at the same time – the ZERO SOLDIER ARMY."
While the introductory sounds can be described as mellow, setting an elegiac tone with its strings arrangements and Torben's slow, melancholic singing, the song suddenly explodes into a dark marching blast with howling guitars, gun fiery drums, and dramatic synths. And finally, clear piano notes resound as an outro.
The second song 'Off' is framed in a similar way: There's a calm start, this time featuring higher, melodic vocals, which leads up to a surprising twist, and finally there's a piano chord bringing it all to an end. So what's the rather unexpected middle part like? Get ready for an electro tune driven by infectious beats and – wait for it – some captivating sprechgesang of the vocalist. After the more spoken than sung verse, you can then let yourself go in a melodic chorus that creates a kind of upbeat mood despite the sombre topic of the lyrics:
"I belong to more comfortable days / While disease always finds its ways / My skies will not clear up / I'm doomed to stay in my maze."
There're also forceful
"Let them burn!"
shouts and all of this makes 'Off' an addictive title that grows on you more and more with every listening.
The following 'Defcon' convinces with a characteristic DIORAMA chorus, which the one or the other listener might recall as the band presented this one live at the M'era Luna festival a month ago. The powerful background vocals of the whispered line
"Every time we collide"
add some drama and the entire tune spreads some dark circus vibes. 'Defcon' stomps towards the end and there're a millisecond of a break to intensify the regained stomping – Let's just keep on nodding, dear fellow music-heads, until DIORAMA play their melodic refrain once more during which Torben then sings in an almost operatic way. So, by track No. three one can already be assured that 'Zero Soldier Army' promises to present a diverse and rich DIORAMA opus including a variety of masterful vocals. And don't you think that 'Defcon''s final trumpeting synth sounds makes one think of an electric elephant?! The following 'Beta' is for sure one of the electro favourites with its clear, melodic vocals that have a slightly oriental feel at times, the whispered background shouts, and the way the smasher is growing. Not clapping and moving along to the dark and danceable 'Beta' seems simply impossible.
'Smolik' is another track the band already played live at M'era Luna before the album release. Once again Torben employs a harsh speech-song style to present quite a few warnings that you often find on danger signs:
"No underaged drinking! / Beware of the dog! / Watch your step! Mind the gap!"
The chorus consists of the repetitive question:
"What about the unborn alien under your skin?"
Hey-shouts, Sci-Fi sounding synths, and crushing guitars enrich 'Smolik'. And now, we've reached the song in the centre of the record which is simply titled '&' - a melancholic ballad, musically quite minimalistic putting the spotlight on the tranquil, spine-tingling vocals and lyrics. With the words
"I don't mind your / self-destruction / and your promises / that will all expire,"
'&' ends on a calm note. Then, on we march with 'Polaroids', another song of rifle fire with
"This is it!"
shouts and an emotional chorus that all DIORAMA and of course DIARY OF DREAMS devotees must doubtlessly adore. And there's also an extra serving of some bitter irony
: "Goodbye, my love / I'm busy having fun / Ha, ha, ha, ha!"
On 'Reality Show', DIORAMA conjure up a freaky circus atmosphere once again and for some reason the driving tune makes me think of MUSE at times. 'Amnesia Club', another gem on the album, needs to be particularly highlighted! Certainly, the band will get a hurricane of applause for this one at live shows. In the beginning, we hear a cheering crowd at some concert or party and a club's doors being slammed shut – Welcome to the club of forgetfulness where
"only music will be there"
and
"unclouded greatness in the air"
! The hauntingly atmospheric intro and the beats lead to a Dark Wave Electro smasher and the "party" chorus just begs for joining in the vocals. Definitely, we're having a sinister blast here on 'Zero Soldier Army'! The progressive 'Comfort Zone' is spiced up with some Middle Eastern sounding elements and its
"Laa lalalaa lalalaa"
lyrics may remind you of Serj Tankian/ SYSTEM OF A DOWN. With the five-and-a-half-minute-long, mysterious and suspenseful instrumental titled 'Nebulus' and the stunning 'Stay Undecided', which sounds slightly surreal and at times also oriental, DIORAMA close their multi-facetted new opus.
'Zero Soldier Army' has been worth the wait! Theme-wise, the new songs are a perfect diorama of the bewildering times we live in. As the vocalist concludes,
"We have no weapons. But we have love, freedom, and music. And Gin."
Sound-wise, it's a high-class record perfect for all music lovers, dancers, thinkers, and melancholics who appreciate truly exceptional and progressive electro tunes. The band around Torben Wendt has created a unique and diverse album which proves that they keep on evolving without losing their characteristic DIORAMA signature.
"While producing ZERO SOLDIER ARMY, we rediscovered how much we enjoy this powerful, electronic sound, and we took it one step further."
Tracklist

01. ZSA
02. Off
03. Defcon
04. Beta
05. Smolik
06. &
07. Polaroids
08. Reality Show
09. Amnesia Club
10. Comfort Zone
11. Nebulus
12. Stay Undecided
Line-up

Torben Wendt – music, lyrics, vocals, keys, percussions
Felix Marc – co-production, keys, vocals
Zura Nakamura – guitars
Marquess – drums
Website

http://www.diorama-music.com
/
https://www.facebook.com/dioramawastaken
/
http://www.zerosoldierarmy.eu
Cover Picture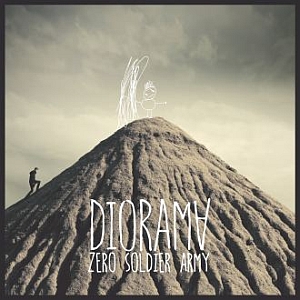 Rating

Music: 9
Sound: 10
Total: 9.5 / 10