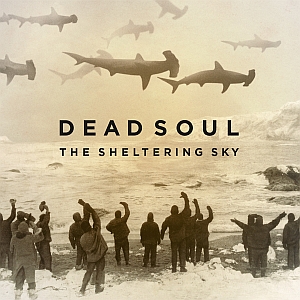 Artist: Dead Soul
Title: The Sheltering Sky
Genre: Dark Rock / Electronic Doom Blues
Release Date: 23rd October 2015
Label: Razzia Notes & Century Media Records
Album Review

Are you craving for something new and exciting? DEAD SOUL's gloomy Blues laced with Electronic and Metal sounds is often described as a meeting of artists such as NINE INCH NAILS, NICK CAVE, JOHNNY CASH, and DEPECHE MODE. Allow me also to throw in some MONSTER MAGNET because of the Retro Stoner Psych Rock elements here and there. Now that's quite a balancing act. Their second record titled 'The Sheltering Sky' shows that DEAD SOUL are all that – but in their very own "Dark electronic Doom Blues in symbiosis with Industrial rage" way – plus, far more than this!
DEAD SOUL is a Swedish duo that creates truly interesting music by merging the dark Electronic tunes of multi-instrumentalist and producer Niels Nielsen with some Delta Blues, which is the world of guitarist and vocalist Anders Landelius (SLIDIN' SLIM). They also enrich these singular tunes by some crushing Metal guitars. This way, DEAD SOUL present an exciting synergy of sounds made by machine, on the one hand, and tunes made by man, on the other; of electronic tones, on the one side, and organic Blues, on the other. Similar to their debut album 'In the Darkness' (2013), DEAD SOUL celebrate this "unholy alliance" once again on their second genre-bending record titled 'The Sheltering Sky'. In October 2015, it was released via Anders Fridén's (IN FLAMES) Swedish label Razzia Notes and via Century Media, the Metal label founded in Dortmund, Germany. So, let's dive into 'The Sheltering Sky'!
The up-tempo tune 'Until the Last Breath' kicks things off with a prominent drum beat adding one electronic layer after the other and convinces with Anders' dark timbre and a polyphonic, hymnal chorus. This seven-minute-long opener and longest track on the album gets more noisy as it progresses and ends in a great crescendo of drums and crunching guitars. Some acoustic guitar introduces the fast paced single called 'The Fool' - a rocking song featuring amazing electric guitars and a sing-along chorus during which Anders impresses us singing also in an upper register. In the following melancholic tune called 'Shattered Dreams', atmospheric organ tunes surround Anders' characteristically soul-searching and pensive lyrics. Towards the end, this absorbing song dramatically builds up with its howling guitars before it fades away. The doomy Blues piece 'In Between' presents haunting verses, a forceful refrain, and closes with another burst of noisy guitars and atmospheric electronica. And then, piano chords and the calmly sung line "Broken and lost / On a dirt road of dust / Shaken and stirred / But free like a bird" arrest all attention: The minimalistic 'Dirt Road' is a melancholic and soothing ballad - "Take these arms of mine / Everything will be fine" - and a gem standing out on the first half of the album.
The instrumental 'Ladies & Gentlemen...' is less than a minute long and spreads a tribal feel that collides with sounds that might imply a train station of modern society. It leads right into 'The Abyss' which is an insanely powerful song with its lashing guitars that shake you up; Anders raises his voice and it climaxes with another killer crescendo in the end. The more tranquil 'Home by the Sea' combines cheerful sounding guitar notes with more sombre atmospherics and darker vocal lines. This fusion of brightness and darkness, the union of bloom and gloom, and also a truly gorgeous chorus make 'Home by the Sea' a wonderful track. In contrast, 'Thy Will be Done' starts with a bang and is another song presenting DEAD SOUL's perfect union of brute force and blue calmness. And with the relaxing sound-scape of 'The Final Day', even if it might be dystopian in tone, DEAD SOUL finally end their opus on a calmer note bringing the listener "some peace of mind".
Does an album cover displaying flying sharks arouse your curiosity? Are you ready for some moody, unique, and powerful Electro Doom Blues? Then go to explore and enjoy DEAD SOUL's sonic cosmos of 'The Sheltering Sky' - a multi-faceted and magnetizing masterpiece!
"People seem to hear so many different things when they listen to our music and that is just what we like,"
Niels explains.
"If one person hears THE DOORS while another one thinks it sounds like NIN, and a third thinks PINK FLOYD though Anders had SON HOUSE in mind when working on the basic song structure, I think we've succeeded."
Indeed, they have! And one cannot help but wonder what DEAD SOUL's future material might sound like – something to look forward to, for sure.
Tracklist

01. Until the Last Breath
02. The Fool
03. Shattered Dreams
04. In Between
05. Dirt Road
06. Ladies & Gentlemen...
07. The Abyss
08. Home by the Sea
09. Thy Will be Done
10. The Final Day
Line-up

Niels Nielson – electronica
Anders Landelius – vocals, guitar
Website

http://www.dead-soul.com
/
https://www.facebook.com/deadsoulofficial
Cover Picture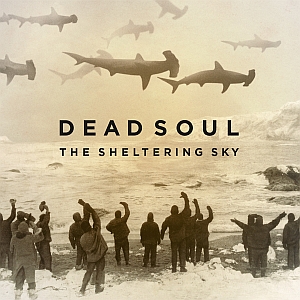 Rating

Music: 9
Sound: 10
Total: 9.5 / 10