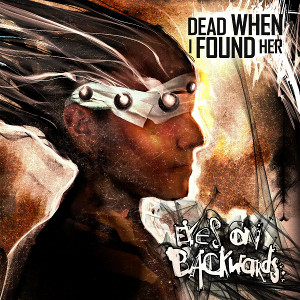 Artist: Dead When I Found Her
Title: Eyes On Backwards
Genre: Industrial
Release Date: 4th November 2016
Label: Artoffact Records
Album Review

Seriously I could swear we had a DWIFH album release around the same time last year or do my memories deceive me here? Actually, nobody was more surprised than me once the word got out that the fourth album we now know as 'Eyes On Backwards" was already nearing its completion and ready for a late 2016 release. It has been described as the densest material the project had as yet created and substantially different than what was presented on its predecessor 'All The Way Down'. In hindsight I think that some of the material included on the accompanying EP already gave a hint on the direction of the forthcoming record just on a smaller scale. The album doesn't waste any time with too expansive introduction and throws 'Tantrum' at you with a surprising force. As short as it is, its relentless nature doesn't allow any respite and only leaves destruction in its wake. For lack of a better description it is like a compressed ball of rage that is release with a terrifying scream.
The point of it really disrupting the thin curtain separating you from the abyss for my came with 'Shining Path'. The violence it makes you feel comes from it inflicting a subtle psychological pressure on the listener. For that it neither takes speed nor does it take any sort of force. It opens the cracks that are already there and then hits you from the inside. At times the sheer amount of detail put into this tracks creation might seem a bit overwhelming. Make no mistake though as there is not a single tone out of place on this vicious little monster. While I was doing mi first spin of the album 'Braile' was actually the one track that got me hooked instantly. Not that it was the catchiest thing on god's green earth. Quite the opposite, actually. It kept haunting me long after its last sounds faded. I sincerely believe SKINNY Puppy would've been proud having a track like that. The drum section cuts through anything with clean precision while distant voices keep on whispering. It's leading you to an inevitable confrontation with the futility of your ways.
'High Anxiety' comes as somewhat of a relief in the way that it embodies a rather classic combination of DWIFH ingredients. It is melancholic, rather than it being sinister with percussive elements scattering all over the place. The atmosphere is immersive to the point of you getting completely lost inside its wistful realms. 'Midlife Eclipse' will go down in the band's history as their most surprising track yet, driven by a percussive inferno and vocals bordering on insanity. If I have anything to compare it with sonically it would be the 'Last Rights' era with a distinct modern edge to it.
'Eyes On Backwards' brings to mind a clear description thinking about it as a whole: Downright mad. It is pushing several aspects of the DWIFH sound to extremes it hasn't touched at any point before this release in such clarity. That being said, there is still that distinct signature amidst the chaos that wouldn't leave the sound even in its darkest corners. Like an anchor if you will. The album proves to be an exciting ride time and again and currently is amongst some of the best music out of the electro industrial corner.
Tracklist

01. Tantrum
02. The Big Reverse
03. Shining Path
04. Braille
05. High Anxiety
06. Unsolved History
07. Midlife Eclipse
08. The Pines
09. Serus Mundi
Line-up

Michael Arthur Holloway - All Music & Production
Website

http://dwifh.com
/
http://www.facebook.com/deadwhenifoundher
Cover Picture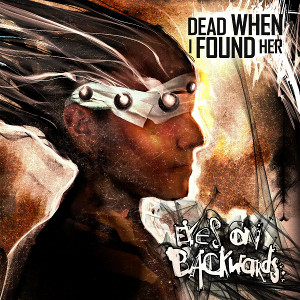 Rating

Music: 9
Sound: 9
Total: 9 / 10