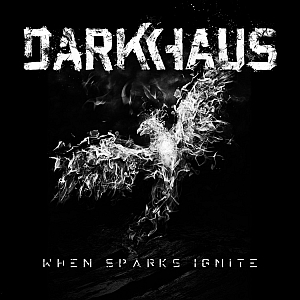 Artist: Darkhaus
Title: When Sparks Ignite
Genre: Dark Rock / Alternative Rock
Release Date: 30th September 2016
Label: Oblivion (SPV)
Album Review

Driving guitars, a distinct powerful voice, and melodies both catchy and dark, these are some of the ingredients a DARKHAUS album is made of. Two years after their debut album 'My Only Shelter' from 2013 and the EP 'Providence' from last year, the quintet of international musicians has released its second full-length album 'When Sparks Ignite'.
Originally founded by Rupert Keplinger (EISBRECHER) and Gary Meskil (PRO-PAIN), DARKHAUS soon rose to a band of five, completing their line-up with Scottish singer Ken Hanlon. They play dark rock, with broader alternative and metal influences and a touch of electronic music. These electronic nuances on 'When Sparks Ignite' create a darker atmosphere that is topped with heavy riffs and a generally more forceful sound. But dark and heavy is not all DARKHAUS have put into their sophomore. Quite on the contrary, the album starts off very energetically with 'All of Nothing', a good opener that combines synth elements with almost soft verses, a melodic chorus, and aggressive guitars providing for the bridges. The sound is great, with a livid bass and a short but inviting guitar solo. DARKHAUS have our attention and we continue our journey into a mind that has been broken before but returns stronger.
This is, at least, one of the topics to be found on 'When Sparks Ignite'. Loneliness, heartbreak, weakness – common emotions and fears among people. Until sparks ignite and we gather our strength to fight our way to a full life, to happiness. If these words sound cheesy to you, we do apologize. But songs like 'Feel Me Pain', 'After the Heartache', 'Helpless', and the slow ballad 'Tears of Joy' serve us these well-known meals, yet again made of catchy choruses and heavy guitars. And it is a quite delightful recipe because of Ken Hanlon's intense voice and the guitars that are properly shoved into our faces – and ears. 'Devil's Spawn', 'Oceans', and the last track 'Bye Bye Blue Skies' (do not get fooled by the title here), however, are powerful rock songs with a drive that is hard to resist. A drive that seems to be the main ingredient of any DARKHAUS release – if we neglect 'Tears of Joy' on this regard. Listen to 'After the Heartache', for example, with all its pain and pathos, and dive head-first into its powerful rhythm only to discover a vibrant guitar solo you might not have expected.
'When Sparks Ignite' offers twelve tracks with a runtime of forty-nine minutes. The album is produced well and, more important, DARKHAUS play their music extremely well. These five are experienced and proficient musicians and their individual skills can be heard on each song. Despite that, the album seems to lack variety here and there and although it is much darker than the debut, the melodies are maybe a bit too catchy. But it is this certain DARKHAUS drive we enjoy when listening to 'When Sparks Ignite'. It is hard to turn away from it. Compared to live performances, the album seems tamer – but it rocks nonetheless.
Tracklist

01. All of Nothing
02. The Last Goodbye
03. Feel My Pain
04. Second Chance
05. After the Heartache
06. Helpless
07. Devil's Spawn
08. Oceans
09. Lonesome Road
10. To Live Again
11. Tears of Joy
12. Bye Bye Blue Skies
Line-up

Ken Hanlon – Vocals
Rupert Keplinger – Guitar
Marshall Stephens – Guitar
Gary Meskil – Bass
Paul Keller – Drums
Websites
http://www.darkhausmusic.com
/
https://www.facebook.com/DarkhausOfficial
Cover Picture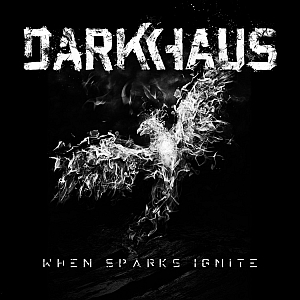 Rating
Sound: 8
Music: 7
Total: 7.5 / 10