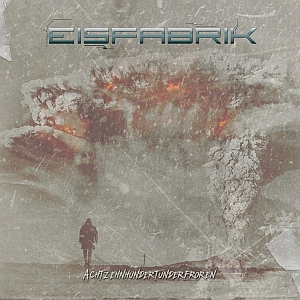 Artist: Eisfabrik
Title: Achtzehnhundertunderfroren
Genre: Electronic / Future Pop
Release Date: 25th November 2016
Label: NoCut
Album Review

EISFABRIK is something between dark electro and future pop with a "Jack Frost" as a concept. 'Achtzehnhundertunderfroren' (a normal title for a German-speaking band) is their second studio album. And everything is super typical on this work: the beats, the synths, the vocals. EISFABRIK fits perfectly to any synth pop compilation. Their debut was released just last year, but they sound just like any old-timer, as if they have been a part of the scene for dozen of years now. So this album won't fall off from your shelf with VNV NATION, IN STRICT CONFIDENCE and FROZEN PLASMA.
It is that much what would be possible to say about this not really outstanding band, if it wouldn't be so much fun about the visual part of the project. Even in their own description this part is somehow bigger than the musical statement. It's an understandable step. EISFABRIK, as a touring band, is not the first and not the last band which uses visual effects as a trump. But the child-innocence of it makes the band notably cute. The musicians put a lot of sense into their frozen-concept, all the titles, lyrics, videos and promo-art is all about snow, freeze, winter and ice. Dr. Snow, the Frost and Celsius - those are the names of the protagonists... Really? Did they even try? Next, the guys have a "real" robot helping out on a stage and in the videos... because the oldest sci-fi trick says: light-emitting diodes are able to make everything look futuristic and robot-like... another important character of EISFABRIK - a guy in a costume of a white guerrilla... sorry, Yeti. A Disney-Princess à la Frozen and a bunch of penguins is totally missing on this ice festival of life!
To resume: if you wonder in what direction the scene moves – it stays still for years now. But a sense of humor and the strong loyalty of the fans keep it alive.
VIDEO
https://youtu.be/uVUD-fn_UyI
Album teaser:
https://www.youtube.com/watch?v=Elp6xvimdX4
Tracklist

01. The Coldest Summer
02. A Murdered Love
03. Sensations of Pain
04. Zu den Sternen
05. Hell is made of Ice
06. Love Planet 69
07. Magical Winter
08. The Survival of the Strongest Mind
09. It's not Goodbye
10. Millennium Find
11. Rainbow Child
12. Die letzte Seefahrt
Line-up

Dr. Schnee
Der Frost
°Celsius
Website

http://eismusik.de
/
https://www.facebook.com/eisfabrikofficial
Cover Picture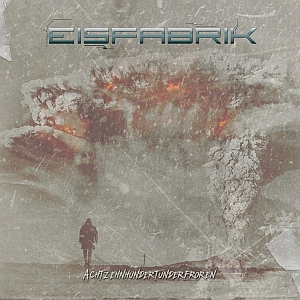 Rating

Music: 7
Sound: 7
Total: 7 / 10